The Tapestry Condo (Tampines) Showflat
The Tapestry Condo Showflat/Showroom Gallery: (+65) 6100 1380
Express Service to Serve you better with Fast Response! SMS/Whatsapp to (+65) 91505616:
"The Tapestry"_"Name"_"Email"_"Your Messages"
The Tapestry Showflat is opened on an appointment basis only. Register your interest in the form below for advance viewing of The Tapestry showroom. For shorter waiting time or immediate response, kindly SMS/Whatsapp to (+65) 91505616:
"The Tapestry"_"Name"_"Email"_"Your Viewing date and time"
Alternatively, you can call The Tapestry Condo Showroom hotline: +65 6100 1380 to check if the showflat is open. A salesperson have to be assigned to you when you arrive at the showroom to show you around. We will advise you accordingly who to look for.
The Tapestry Condo – Sales Procedure
The Tapestry Showroom will be open from 10th March 2018 onwards. The showflat will be open strictly by invitation only for over 2 weekends. This will be the VIP Viewing period, after which sale date will commence for those who register their interest. Price will be release on sale date and registered clients will decide whether to buy or leave (no forfeiture). Register your interest today to receive your invitation!
Summary
Register to receive The Tapestry VIP invitation
Agent will be assign to show you around
VIP viewing open for only a period of 2 weekends
Price will be release on sale date (To be announce)
Only register potential buyers will be allowed into the site on Sale date
Potential buyers will decide whether to proceed with booking or leave (without any forfeiture
Register below to receive your Tapestry Condo VIP invitation
Register Interest for The Tapestry Condo
The Tapestry Condo Review - Latest News and Reviews
9th March 2018: Updates on The Tapestry VIP booking procedures
30th Dec 2017: Register your interest for the latest updates on The Tapestry condominium updates. Receive early information such as indicative pricing, e-brochure, floor plan, and a private invitation to view The Tapestry Tampines showflat once it is ready!
April 2017: Tampines Parcel C located at Tampines Avenue 10 Housing site was bidded at S$370.1 million by CDL. Stay tuned for the latest updates. In the meantime, interested buyers looking at this area can view Alps Residences just beside this parcel
The Tapestry Condo - The Development & Facilities
The Tapestry Singapore is located along Parcel C of Tampines Street 86. The condominium will comprise of 7 blocks with 861 units in total. There will be a range of bedrooms to choose from, with many breakdowns of each bedroom types to fit majority of individual family needs.
Developed by City Development Limited or CDL, The Tapestry Tampines condominium will be the next major launch in Tampines to house with one of the lowest pricing priced for year 2018. With the low PSF, CDL is able to build bigger units with a comfortable pricing that many can be able to afford. The Tapestry Condo will be ideal for upgraders in the east looking for bigger space, as well as first time buyers with our wide range of 1 and 2 bedrooms to choose from.
Without comprising the size of each individual unit, this development also comes with efficient layout spaciously design with a good flow from the entrance all the way to the living, dining, and bedrooms. Every unit will come with quality furnishing and fittings.
Register your interest in the form to receive a private invitation to The Tapestry Tampines showroom and enjoy the best pricing and discount on our private showroom VIP preview
The Tapestry Condo - Key Selling Points
Developed by reputable long time developer City Development Limited (CDL)
Wide range of bedrooms and bedroom types to choose from
Low quantum and psf in 2018 market without comprising the sizes
Close proximity to Nature and Urbanisation including 3 Malls and new Tampines Hub
Close to good schools such as St Hilda's, Poi Ching, Temasek Poly and UWC (SEA)
Efficient layout and space management
Full condominium facility artfully design based on The Tapestry condo theme
Each unit will come with slightly better than average quality furnishings and fittings
The Tapestry Factsheet
Project Name: The Tapestry
Developer: Bellevue Properties Pte Ltd (Subsidiary of City Developments Limited)
Architect: ADDP Architects LLP
Landscape Architect: Tinderbox Pte Ltd
Builder: Woh Hup (Private) Limited
M&E Engineer: P&T Consultants Pte Ltd
District: 18
Address: Tampines Street 86
Brief Description: Proposed erection of 7 blocks of 15 storey with a total of 861 units comprising of 1-5 bedrooms types and penthouses.
Site Area: est. 21,717.70 sqm / 233,769 sqft
Tenure: 99 years
Total Units: 861
Parking: 2 Levels of Basement parking
867 Parking lots including 6 Handicapped Lots
Additional 13 car park lots for childcare centre, and 5 electric charging lots
Estimated T.O.P: 31 October 2021
Estimated Legal Completion: 31 October 2022
The Tapestry Condo Nearby Schools
Within 1km
Poi Ching School
St. Hilda's Primary School
Within 1-2km
East View Primary School
Gongshang Primary School
Junyuan Primary School
Tampines North Primary School
Tampines Primary School
*Note that the research made on The Tapestry Condo school proximity, as above, is based on rough estimates. It is still advisable to contact your school of interest to check if it falls within the distance stated above.
The Tapestry Condo Location Map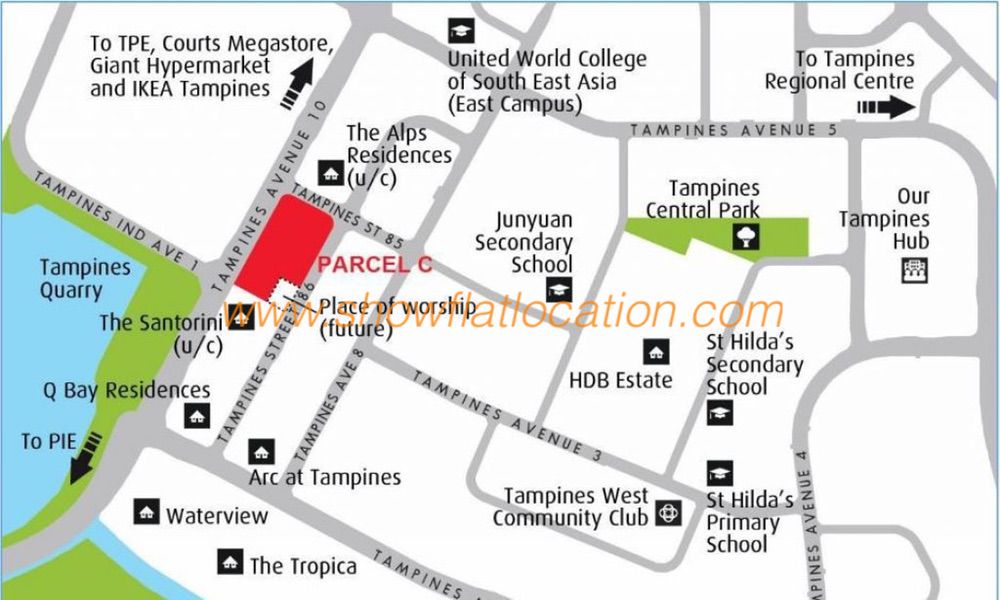 The Tapestry Condo Site Plan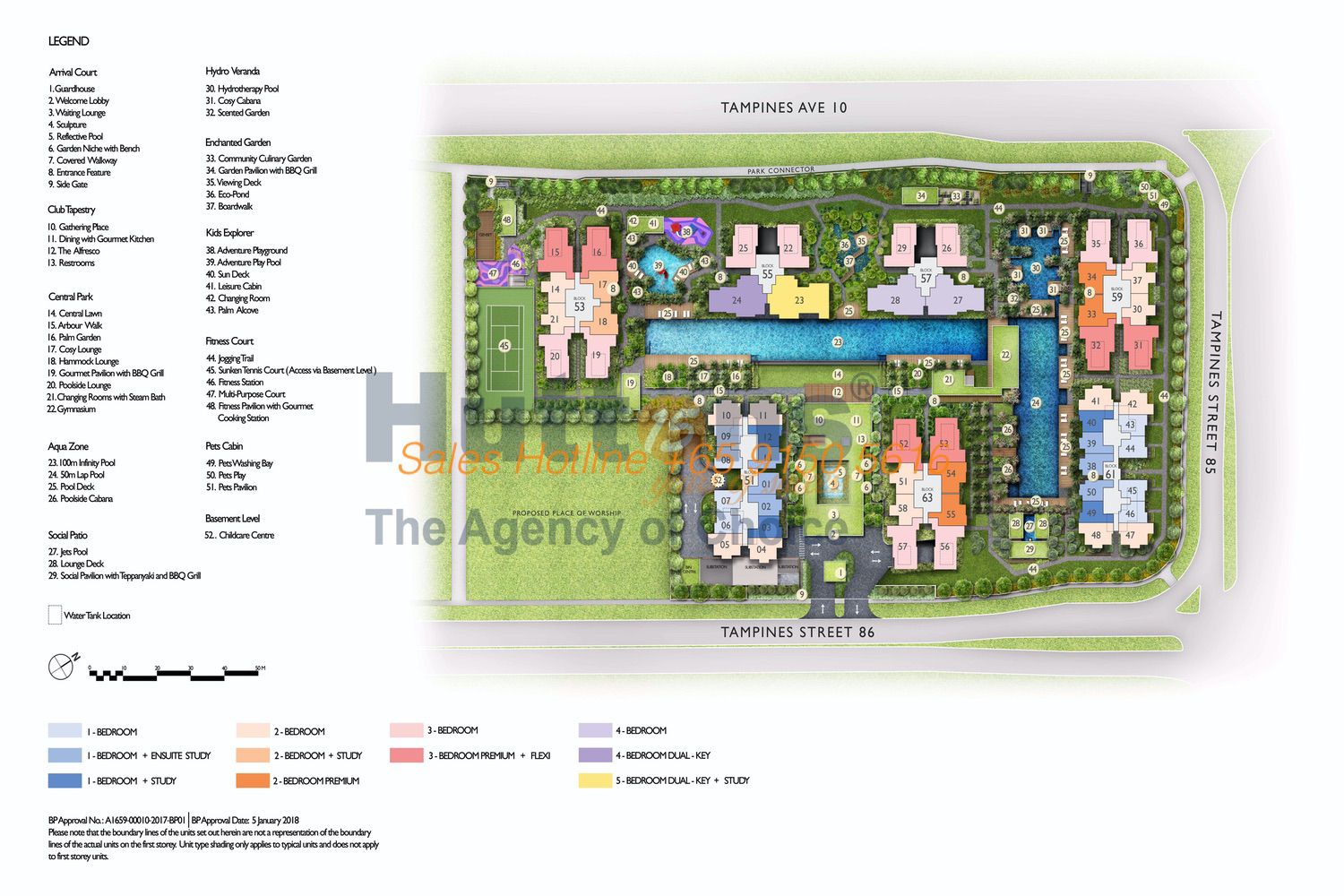 The Tapestry Floor Plan
The Tapestry Unit Mix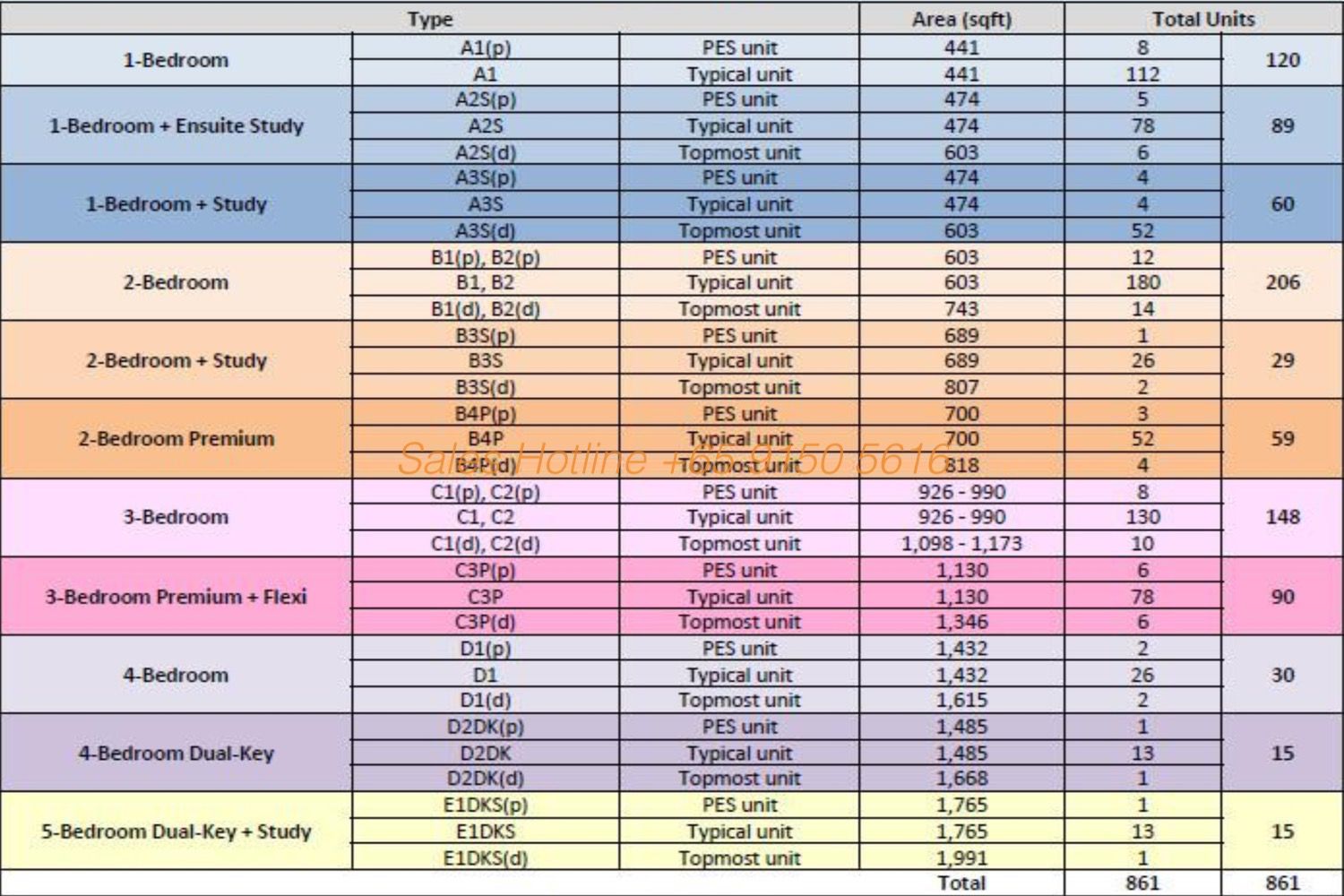 The Tapestry Showflat Units
1 Bedroom + Ensuite Study – Type AS2 (P) 44 sqm / 474 sqft
2 Bedroom Premium – Type B4P (P) 65 sqm / 700 sqft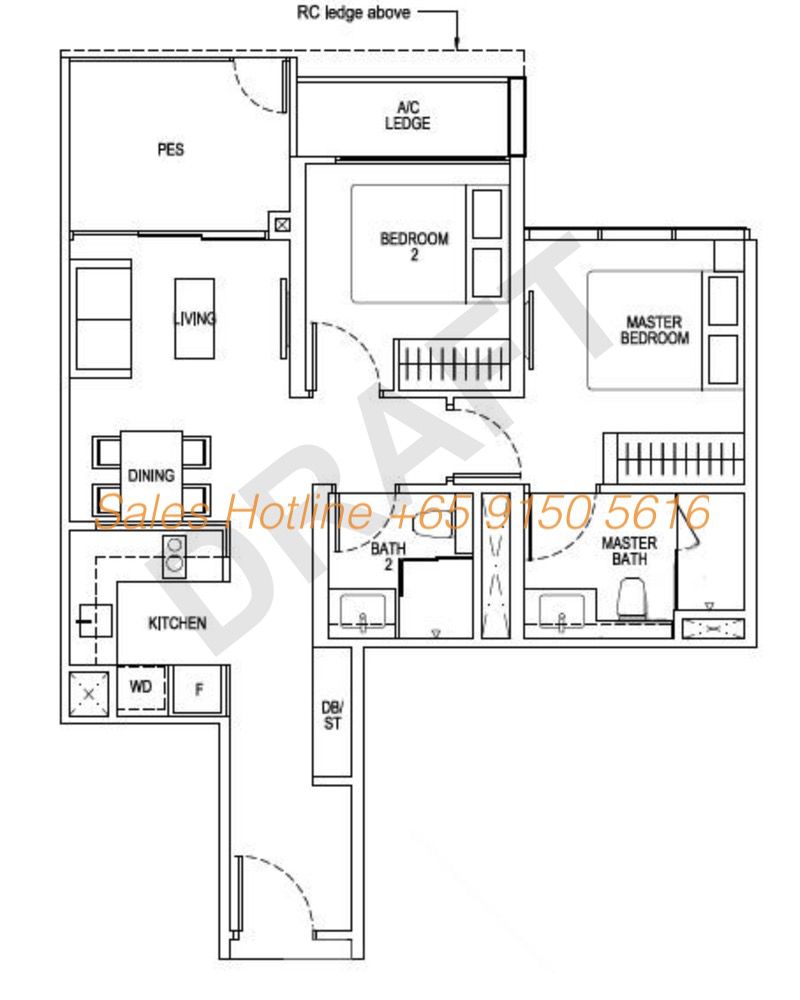 3 Bedroom Premium + Flexi Type C3P (P) 105 sqm / 1130 sqft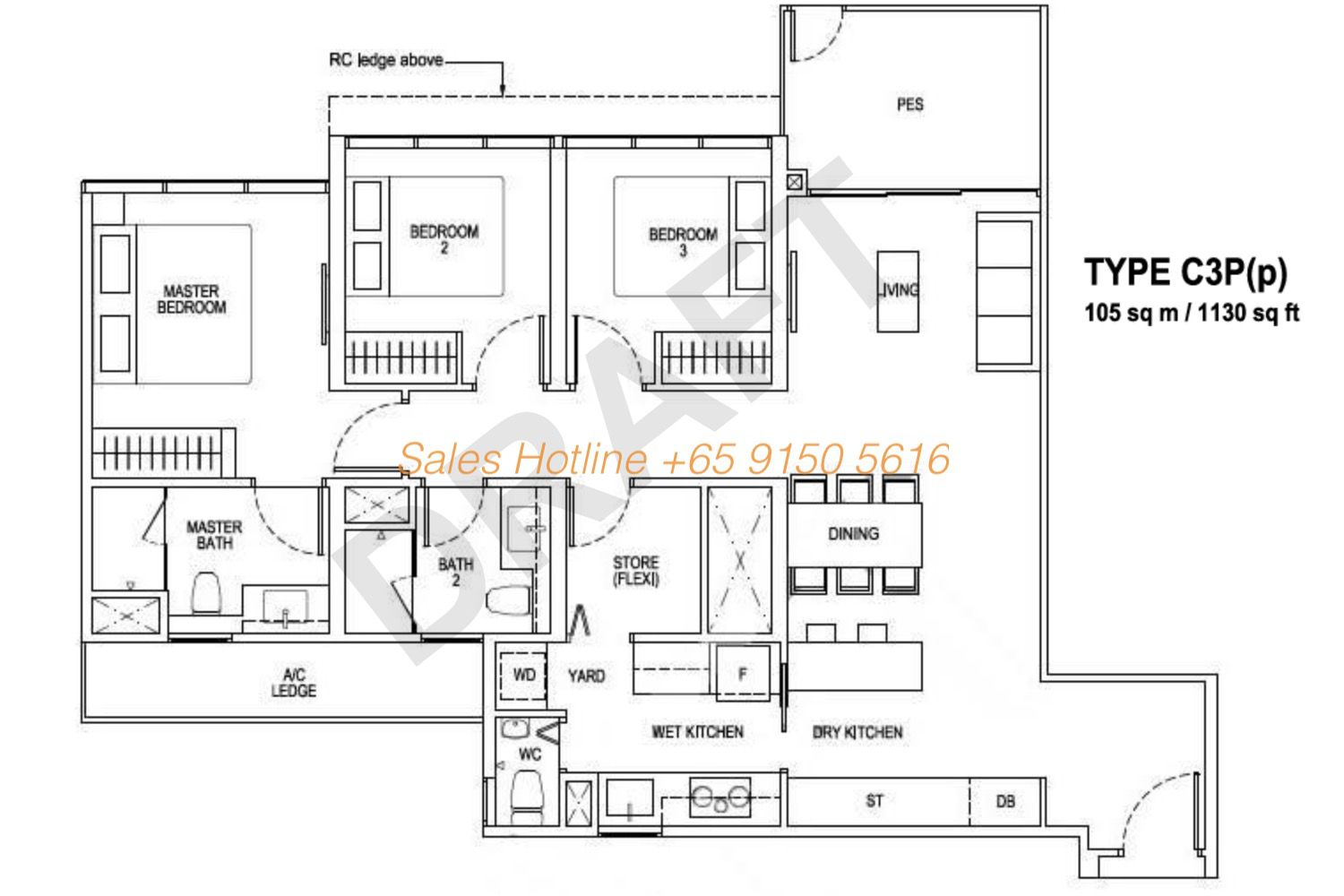 The Tapestry Condo Price
Indicative Prices as of 9/03/18
Residential
1BR from $596K
1+S from $648K
2BR (603sqft) from $796K
2+S from $913K
2BR Premium from $920K
3BR from $1.15M
3BR Premium Flexi from $1.35M
4BR from $1.65M
4DK from $1.71M
5DK from $2.1M
For an exact pricing of a unit, register for an appointment to view The Tapestry Tampines showroom / showflat by calling or filling the form at the bottom of this page.
Register Interest for The Tapestry Showflat
Like It Share It! The Tapestry CDL