The Peak Cambodia Singapore Sales Enquiry: +65 6100 1380
Overseas Sales Enquiry: +65 9150 5616 (Whatsapp/SMS/Email: janson.huttons@gmail.com)
Register Interest for The Peak Cambodia
Latest Updates on The Peak Cambodia
Latest updates July 2018: The Peak Cambodia Offices are currently fully sold. If you are keen in investing a unit at The Peak Cambodia, have a look at
The Peak Cambodia Residential Tower 1 and Tower 2
The Peak Shoppes (Recently launch level 2 and level 3!)
The Peak Shoppes (Managed by CapitaLand)
The Peak Shoppes is the latest launch by Oxley Gem offering buyers around the world to own a freehold shop unit in the heart of Phnom Penh Cambodia. With already an iconic brand managing The Peak Hotel (Managed by Shangri-La), The retail mall will be managed this time round by CapitaLand. 2 levels will be released for sale starting from about USD80,000 onwards, before discount. The Peak Shoppes will include 10-15 years guaranteed return as follows:
Year 1-5 @ 5% per annum
Year 6-10 @ 6% per annum
Year 11-15 @ x% per annum
Guarantee Rental Return percentage are nett, which will be paid out quarterly after completion. Opening of Cambodian Bank Account required to receive payout
The Peak Cambodia Shoppes - Payment Schedule
1) Booking or reservation fee of USD$1200 or SGD1700 to developers project account
2) Sales and Purchase Agreement (SPA) to be received within 14 days
3) 20% of purchase price payment less US$1200 booking fee within 7 days of SPA received date (extension available for overseas clients due to waiting time for documents to be couriered)
4) Progressive payment followed by deferred payment
10% payment in 31st Dec 2018

10% payment in 31st Mar 2019

10% payment in 30th Jun 2019

50% payment on completion estimated Dec 2020
The Peak Shoppes - Booking Procedures
Oxley Holdings is a Singapore listed developer and The Peak sales gallery is located in Singapore. For those residing in Singapore, kindly call and fix an appointment to view The Peak Showroom to find out more on The Shoppes and Residential development.
For interested buyers who are interested to find out more or wish to book a unit are able to do so at the comfort of your own home anywhere around the world. All communication will be done via email or via text messaging apps. Once confirmed, booking fees and subsequent monies transaction will be made via telegraphic transfer. I will be guiding you step by step on to ensure a smooth transaction, and offer post services until completion of The Peak Cambodia Shoppes/Residential.
To find out more, kindly fill in the form below. You may contact me via Call/Whatsapp/Messaging apps @ +65 91505616, Or email me at janson.huttons@gmail.com
Introduction to The Peak Phnom Penh, Cambodia
The Peak Cambodia is the latest mix development to be launch in Phnom Penh next to Mekong River beside Diamond Island. It will comprise of residential, commercial shop, offices, and hotel units. The Peak will be developed by the same developer following the success of its first launch, The Bridge; Oxley International Holdings Pte Ltd & Worldbridge Land (Cambodia) Co, Ltd. The Bridge experienced an overwhelming response with more than 95% sold out of the 1695 units available. The demographics of the purchaser saw that 70% were Cambodians. The other 30% comprise of majority Asian country around the region including China, Singapore, Hong Kong, Taiwan and Malaysians. Minority European countries such as Italy, Switzerland, UK and Middle Eastern countries also show keen interest in the development. Cambodia have shown a strong and stable property growth over the years, with its median property pricing doubling every 4 or 5 years over the past decade and rental yield of 7-10% range. With majority of its purchasers being their own local Cambodians, it is literally a healthy sign for those investors who vested upon The Bridge. This means they can sell their freehold property to both the locals and foreigners as well.
The Peak features a timeless and iconic tower of 55-Storey mixed development, all clad in luxurious bronze. There will be 2 residential Tower comprising of 507 units each, and will be linked together via a Sky-Bridge at the top. The first few levels of The Peak Cambodia will be shopping malls. On the ground floor, there will be mezzanine shophouses, followed by 3 levels of retail and 1 level of retail + Foodcourt. Just beside the 2 tower will be 300 units of hotel room. Based on last quarter of 2014, it is stated in a press release that Shangri-La have signed the Memorandum Of Understanding with Oxley that they will be operating and managing this hotel. This hotel will be integrated seamlessly into The Peak Cambodia.

The Peak Cambodia Facilities
The Peak Oxley features a wide array of recreational, fitness, entertainment and leisure activities to its residents. There will be 3 levels of such facilities seen. On the Podium Deck at the 14th Floor, there will be a multitude of recreational and fitness facilities to choose from. These includes:
Pool Deck
Swimming Pool
Kids Play Pool
Yoga Room
Gymnasium
Restrooms that includes a Steam Room
Multi Function Room
BBQ Pavilion
Outdoor Pavilion
Outdoor Lounge
Kids Play Zone
Landscape Deck
Function Room
Reading Room
Games Room
Gourmet Function Room
Landscape Wall
Landscape Feature
On The Bridge Deck (level 52 onwards) linking the 2 residential towers together, there will be 3 levels; 2 of which will be occupied by the Sky Gym, and 1 level will be the Sky Lounge. These Bridge deck will be having an unblock view overlooking mekong River.
At the top of the development on the 55th floor roof deck, there will be an infinity pool available for the residents. Soak and relax in the pool which overlooks the scenic river and sunset view. There will be Jacuzzi and a lounge, sunset viewing deck, an pool deck. With all these facilities in place, The Peak Cambodia make residents feel that they are on a holiday hotel resort.
The Peak Cambodia Oxley Unit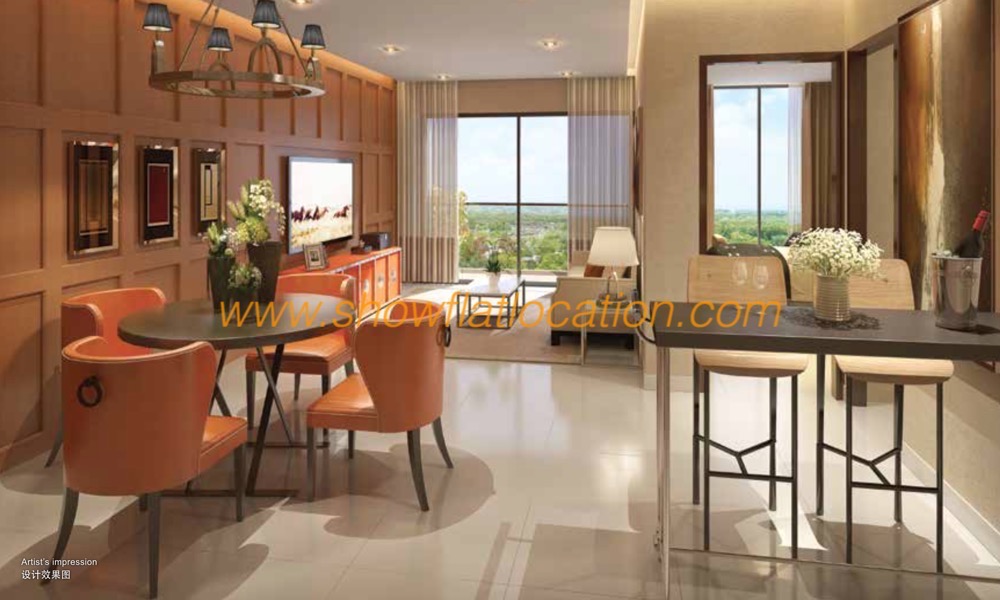 The Peak Oxley have design their residential units to be of decent sizing. The developer's practice in Cambodia is that most new development under construction will be just an empty unit – literally. Even the tiles are not built! However since Oxley is a listed Singapore Developer, they are bringing the Singapore way of new condominium launch concept over to Cambodia. The unit will be partially furnished. These includes tiles, air-conditioning, kitchen and the washrooms. All the purchaser's of The Peak @ Cambodia will have to buy are the furnitures.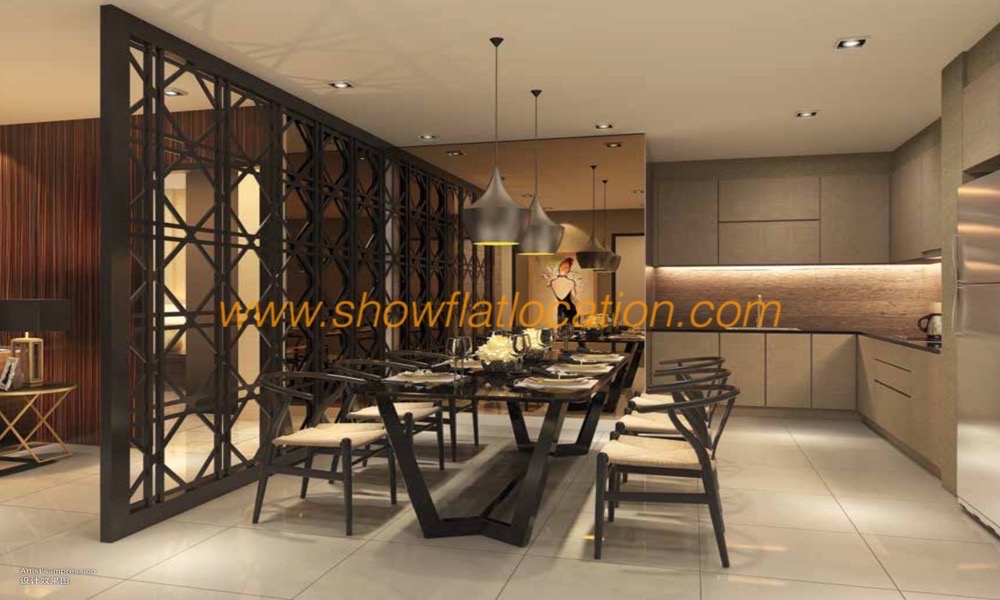 The Peak Oxley offers purchasers a choice of studio, 1 bedroom, 2 bedroom + Study, 3 Bedroom, and Penthouses.
The Peak Cambodia Factsheet
Developer: Oxley Gem (Cambodia) Co. Ltd (a joint development between Oxley and Worldbridge Land)
Project Name: The Peak
Address: The Peak will be in Phnom Penh City, Kingdom of Cambodia, Located at Village No. 14 along Sam Dach Hun Sen Road in Chamkarmorn District.
Brief Description: Proposed development of 55-storey Mixed Development comprising of 2 residential tower, and a Hotel/office tower managed by The Peak Shangri-La. There will be a total mixed of residential, office, commercial retail and shops, offices, F&B, and hotel.
Site Area: Approximately 136,379 sqft / 12,670 sqm
Tenure: Freehold
Total Units: 1014 apartments
Parking: 1420 Car lots
Completion: December 2020
The Peak Cambodia Location Map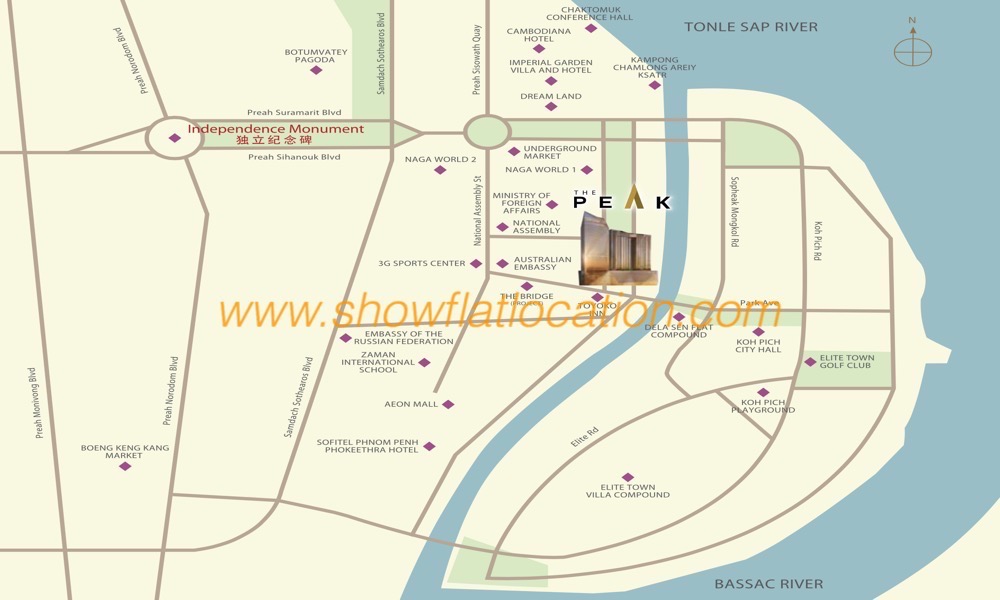 Strategically located in the heart of Phnom Penh, The Peak will be the first of its kind mix development (residential, commercial, hotels) to be launch in the prime city centre. Just 30 minutes drive away from Phnom Penh International Airport, The Peak Cambodia is also in close proximity to the financial district hub of just 15 minutes drive away. For Expats working long term in the financial district and is renting this area, there is a Zaman International School nearby to cater for those families. Surrounding The Peak includes the different embassies such as the Russian Embassy and the Australian Embassy. The National Assembly which is like the Parliament house is located minutes away. There is also a Casino located over at Naga World Hotel. With such huge tourism in this area and growing in number annually, Naga World Hotel 2 is now currently under construction. The Theme Park – Dream Land, is located further north of The Peak for entertainment. To the south-west of the development, there is the newly construction mall which have just completed in late 2014 – Aeon Mall. This mall is the largest mall in the area currently and is from Japan. East of the development features a reclaim land named Diamond Island. In this huge plot of land you will find a driving range and golf club centre, exhibition centre, The stunningly beautiful landed villa golden compound (Elite Town Villa Compound), Malls and movie theatres.
The Peak Oxley have bought this land in a very strategic location. This plot is similar in comparison to Orchard Road of Singapore, 30 years ago. With such rich heritage buildings such as the Independence Monument and the architectural design of boutique shops, pubs, eateries and houses dating back to the different generation, it is a mix and blend of old and new that gives that nostalgic feeling in itself. Thus a hotspot for tourism in the area. There is definitely a potential of capital appreciation for the property price in this area.
Besides location, the next major factor to consider when investing in overseas property is to know the developer's profile. Oxley Holding Pte Ltd, is a Singapore developer listed on the SGX exchange and have a track record of developing residential, industrial, and commercial property in Singapore. Areas include the Prime Orchard area along Oxley road to the suburbs of Singapore. Other factors to consider when investing in overseas property include project location, return on investment, and potential capital appreciation.
Reasons to Invest in THE PEAK CAMBODIA
Low risk starting from US$150K
High returns on potential capital appreciation of projected doubling every 5 years
High rental yield with rental returns of estimated 7-10% anually
First mover advantage at the start of the property boom
Developing country with nowhere but upwards
No additional buyer stamp duty (Unlike in Singapore)
Not restricted by Total Debt Servicing Ratio (Unlike in Singapore)
No Capital gain tax or Seller Stamp Duty (unlike in Singapore and some other countries)
Guaranteed Rental Returns from Developer
Prime Location
Hotel integration managed by reputable hotel chain management around the world, Shangri-La
Modern timeless design clad in bronze
Live, work and play at The Peak Cambodia
Walking distance to Casino, Embassies, Aeon Mall, Ministry of Foreign Affairs, tourist hotspot, pubs & eateries etc
Near to CBD financial centre
Phnom Penh International Airport within 30 minutes drive
24-hour security system: CCTV, Card Access
The Peak Cambodia News Articles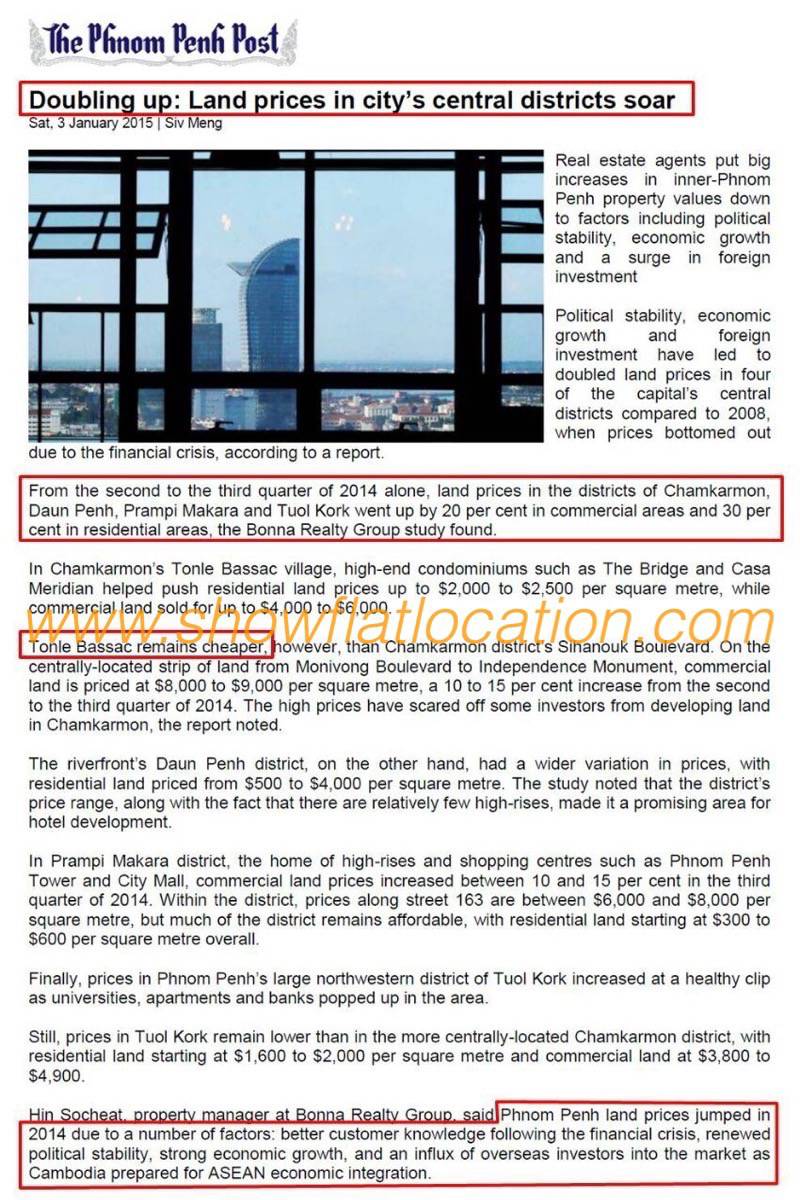 In January 2015 Phnom Penh Post, property land prices is seen doubling particularly in the prime area where The Peak Cambodia is located. Having the foresight in the Cambodia market, Oxley have done its intensive research and have bought a few plots of land in this area in the past years at a low price allowing for their launches to be sold not only at an affordable but attractive amount below the average prices seen in the region.
The Peak Cambodia Price
Indicative pricing before discount as follows:
Studio City View – from US$193k
Studio River View – from US$219k
1 Bedroom City View – from US$221k
1 Bedroom River View – from US$244k
2+study City View – from US$299k
2+study River View – from US$319k
3 Bedroom City View – from US$305k
3 Bedroom River View – from US$332k
*Note that prices are indicative only and before discounts.
The Peak Cambodia Residential Sales Procedure
1) Booking or reservation fee of USD$1200 or SGD1700 to developers project account
2) Sales and Purchase Agreement (SPA) to be received within 14 days
3) 20% of purchase price payment less US$1200 booking fee within 7 days of SPA received date (extension available for overseas clients due to waiting time for documents to be couriered)
4) Progressive payment followed by deferred payment
10% payment in 1st Aug 2017

10% payment in 1st Feb 2018

10% payment in 1st Aug 2018

50% payment on completion estimated Dec 2020
Other Cost to factor in:
Legal Fee: Notary public witness of S$60-80 per person in Singapore. Lawyer Fee (not compulsory) to run through contract and documentation work of US$300 in Cambodia. *Contracts will be in English
Stamp Duty: 4% of purchase price upon handover of title deed/project completion
Property Tax: 0.1%/year
Rental Tax: 10% (for residence) or 14% (for foreigners) /year of gross rental
VAT: 10% which will be absorbed by Developer
*It is possible for foreigners who wish to make a purchase without viewing of the showflat. This can be done via telegraphic transfer to the developer's project account for the booking fee. Subsequent payment can be made through a remittance company or telegraphic transfer at your local bank. Documents will be courier to your address for signing. Enquire now for more details.
To know more about investing in The Peak Cambodia, kindly register by calling our showflat hotline: +65 6100 1380 / Whatsapp or SMS @ +65 91505616 (Janson Ang) / or filling in the form below. Viewing of The Peak showroom will be available. Call now to book an appointment to view The Peak Showflat in Singapore or book a unit online and our sales personnel will assist you step by step.
Register Your Interest For The Peak Cambodia
The Peak Cambodia Office Fully Sold!

The Peak Cambodia Office space is currently for sale. From a low and affordable quantum of USD1xxK, these freehold Grade A office space comes with or without the option of having the Guaranteed Rental Return (GRR);
Year 1-2: 8% Guaranteed Rental Return
Year 3-4: 10% Guaranteed Rental Return on a mutual agreement between Developer and Owner
The Peak Cambodia Office is located on Tower 1, from level 13A (14th Floor) to level 28. Shangri-La Hotel will be from level 30-54, with 18 levels of hotel rooms and 7 levels of hotel facilities. Tower 2 and 3 will be for the residential development which comprises of 1014 apartments, and 5 storey of retail mall.
The Peak Cambodia Office Payment Schedule

Booking Fee of US1,200 or SGD1700
10% Less Booking Fee with 14-21 days
10% by 1st July 2017
10% by 1st January 2018
10% by 1st July 2018
10% by 1st January 2019
50% on completion estimated Dec 2020
For The Peak Residential payment schedule and other taxes, scroll down below for the information
The Peak Office Site Plan & Floor Plan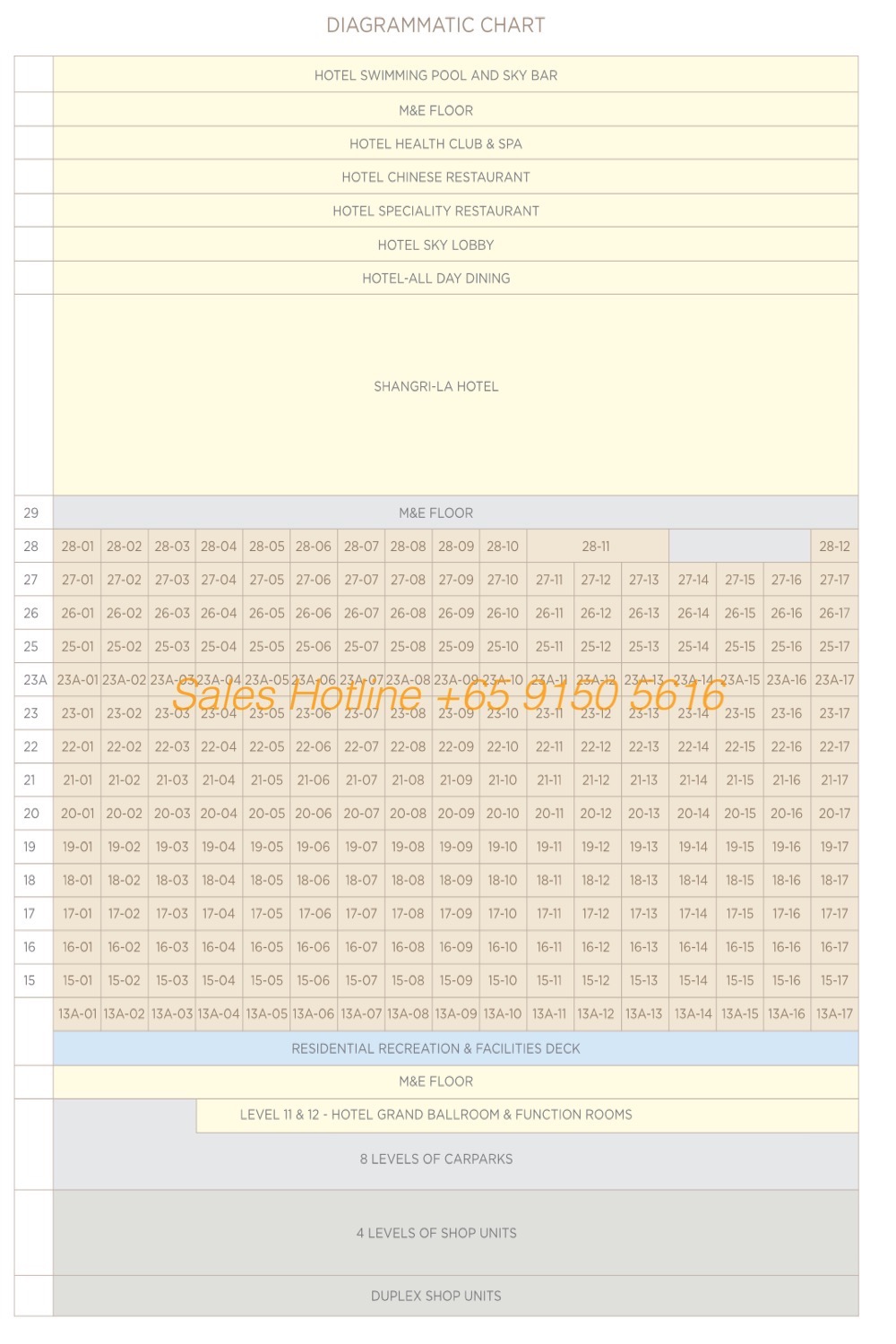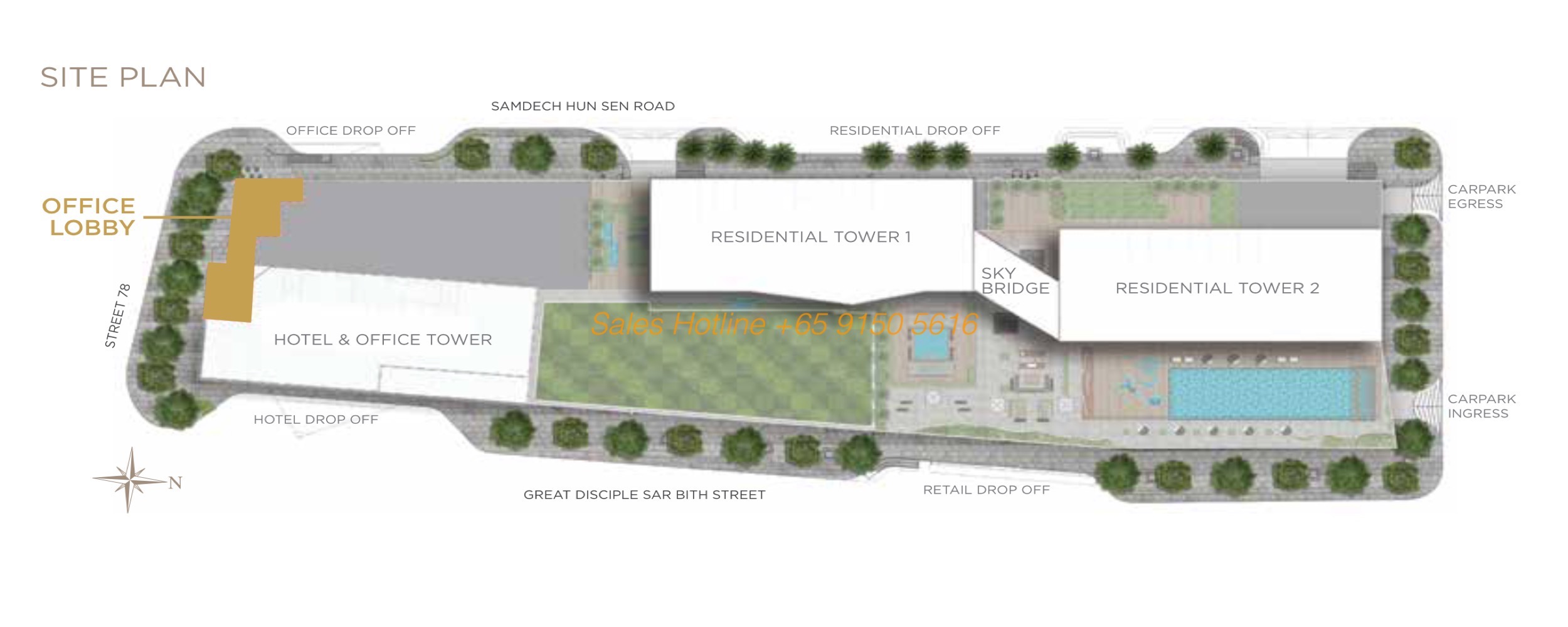 The Peak Cambodia showflat is opened by appointment only. Register your interest for more information on the development and Phnom Penh's Property Market. To Book a unit at The Peak Cambodia, simply visit The Peak Cambodia Showroom, or fill in the form below. International buyers may book a unit without being physically present in the sales gallery. Enquire now for more information or Whatsapp +65 9150 5616 (Janson)
Register Your Interest For The Peak Cambodia
Like It Share It!