Seaside Residences Singapore
Seaside Residences Showflat/Showroom Gallery: (+65) 6100 1380
Register interest by SMS/Whatsapp to (+65) 91505616:
"Seaside Residences"_"Name"_"Email"_"Your Messages"
Register your interest in the form to have the latest updates on Seaside Residences showflat opening. Seaside Residences showroom is expected to open soon. Register now for the latest updates and receive VIP invitation viewing before the official public launch.
NOTE: VIP viewing is strictly by private invitation and appointment only. Register in the form below to enjoy special discounts in the pre-sale launch.
Register Interest for Seaside Residences
Seaside Residences Review - Latest News & Updates
29th April 2017: Seaside Residences Price guide as of today
1 Bedroom Suites 506 sqft – from S$885,000 (17th floor)
1 + Study Suites 560 sqft – from S$929,000
2 Bedroom VIVA 786 sqft – from S$1,231,000
2 Bedroom TRIO (Dual Key) 829 sqft – from S$1,334,000 (last 2 units)
3 Bedroom Vantage 1130 sqft – from S$1,679,000
3 Bedroom + Study VIVA 1087 sqft – from S$1,599,000
3 Bedroom PRIVE with private lift – from S$1,937,000
4 Bedroom PRIVE Sea Facing – from S$3,226,000
All prices are subjected to change! Act now and register an appointment to view Seaside Residences Showflat. Seaside Residences Showroom exclusive viewing is strictly by appointment only
24th April 2017: Seaside Residences showroom remains open through the weekday and weekend for viewing. Call to book an appointment today. Available showroom units include 1-5 Bedrooms.
23rd April 2017: Seaside Residences received overwhelming response during our private preview sales held on the 22nd of April. Out of the 843 units, only 560 units were released. With 392 units sold on Saturday, Seaside Residences received positive response in sales due to the recovering property market sentiments. In addition, Seaside Residences is the only mega new launch project this year with majority of the units facing the sea as well as being located within close proximity to Siglap MRT station. Apart from an average selling psf of S$1700, the strong sales also indicate that buyers still value the rarity what Seaside Residences can offer. Register your interest to view Seaside Residences showflat today by appointment only.
20th April 2017: 22nd April 2017 will be the preview day sales for registered buyers only. For those who have seize the opportunity to register for Seaside Residences Preview, here are the procedure for this coming Saturday Balloting exercise:
0900 hrs – Multiple Purchasers
1130 hrs – Single Purchasers
Mode of sales will be Balloting to purchase. Light refreshment and Buffet lunch will be provided. Recommended to take public transportation. No Parking on Site!
12th April 2017: Latest News! Final weekend viewing. Cheque cutoff registration for preview will be on 16th April. Register to view showflat for the best pricing and choice selection of units
10th April 2017: Seaside Residences Showflat remains open throughout the weekdays. Register an appointment today to view Seaside Residences Showroom. Strictly by appointment only!
8th April 2017: Seaside Residences received overwhelming crown turnout on our first day opening for private viewing. Register an appointment today to receive a private invitation to view our showroom today!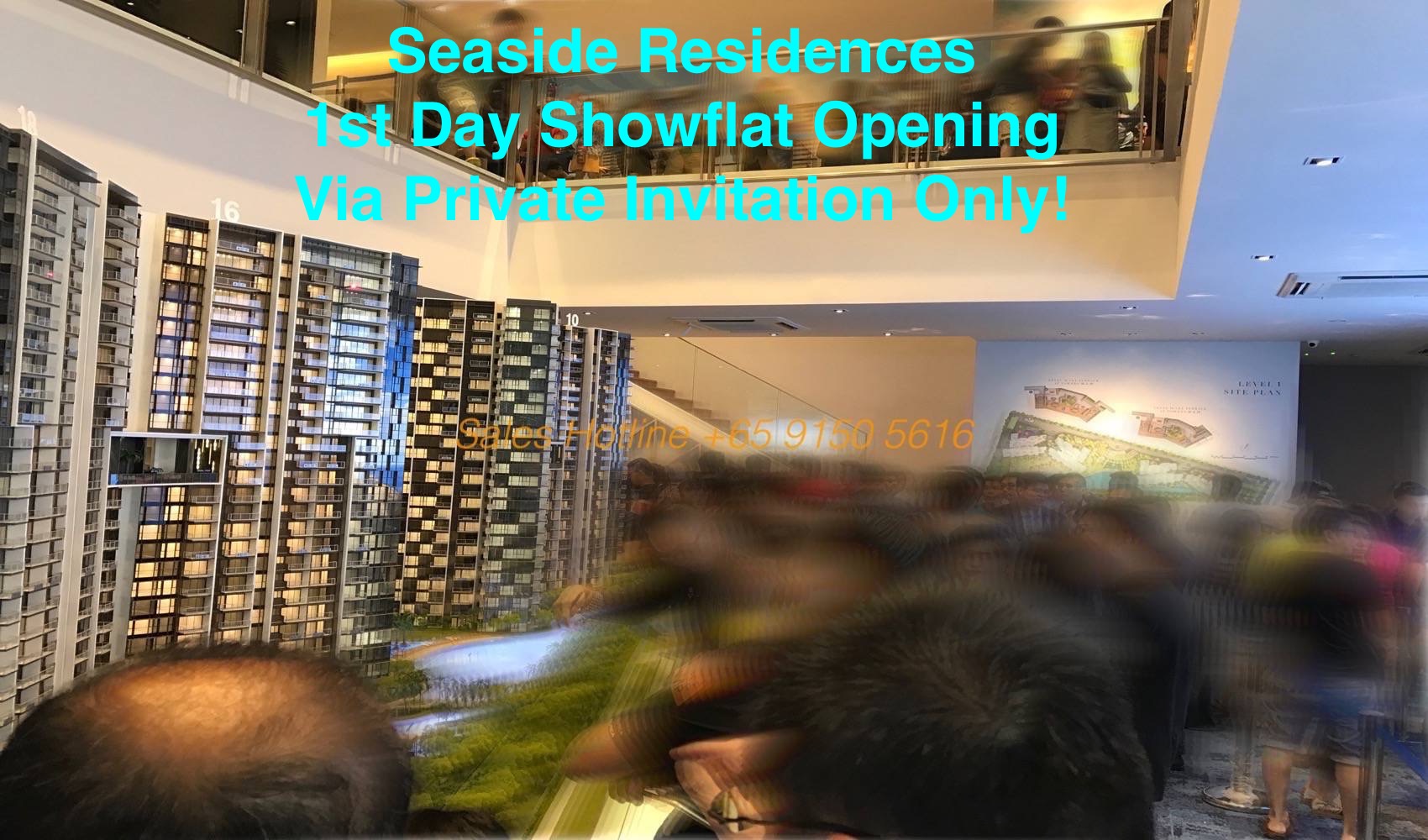 7th April 2017: Seaside Residences Showflat will commence 2 weeks of viewing starting from 8th April Saturday tomorrow! Seaside Residences Showroom opening from 10am until late. Private viewing strictly via appointment only. Call +65 91505616 or register in the form above for an exclusive private viewing of Seaside Residences showflat today!
28th March 2017: Standby for more information to be release on the 4th of April 2017. Set to be the hottest launch in the east for 2017, Seaside Residences showflat is confirmed to be open on the 8th of April for Private viewing. During this period, private viewing will be carried out strictly by appointment of registered buyers only. Hurry and register your interest today to be invited to view Seaside Residences showroom
16th March 2017: Seaside Residences price (Indicative) have been updated. Scroll below to view!
14th March 2017: Seaside Residences Sneak preview seminar will be held on 25/3/17. Mark your calendar and register for this seminar which will be covering topics on
Taking advantage of Seaside Residences low entry price in District 15 Seaside view
Discover the future growth and rejuvenation of the east based on URA masterplan
Understanding the huge impact of upcoming Changi Airport development (T4 and 5), Project Jewel and Aerospace industry
How Thomson East Coast Line will affect properties in the east including Seaside Residences Condo
Banking and legal Matters
Legal Facilities available when you attend the seminar!
Hurry and register your interest for Seaside Residences Singapore Today!
9th March 2017: Seaside Residences set to open showflat tentatively on the 8th of April. Have you registered yourself for a private viewing in the form yet?
Rare district 15 Beachfront property in the heart of Siglap
Seaside Residences with majority unit (70%) having seas view!
Only around 23.4% composed of buildings while the remaining 76.6% comprised of beautiful landscaping and condominium facilities
3 Minutes walk to future Siglap MRT
4 Minutes walk to coastline stretching over 15km
Register your interest today for a private viewing once Seaside Residences Showflat is open
24th Feb 2017: New draft Seaside Residences site plan and content updated. Stay tuned for Seaside Residences Floor Plan coming to you soon! Register now for the latest updates and first hand information
18th Feb 2017: Latest! Seaside Residences Siglap is to launch very soon (expected March/April). This development will be the blockbuster in the East for the year! It is expected that units will be spaciously designed with quality furnishing and finishes. Stroll away to upcoming Siglap MRT or wake up everyday with spectacular view of the sea. Register your interest today for the latest updates. More information will be released soon.
23rd Jan 2017: Seaside Residences is set to launch in 3-4 months time. Register your interest today for the latest updates on Seaside Residences private preview
11th Jan 2017: In today's Straits Times Publication, Frasers Centrepoint Singapore plans to launch Seaside Residences by the end of April. The development will comprise of 843 units ranging from 1 to 5 bedrooms and penthouses, sizes in between 424 sqft – 2690 sqft. Analyst have projected a launch price of an attractive S$1550-1650 psf and is expected to have wide take up on launch day. Register your interest before the public launch of Seaside Residence to enjoy the best discount and choice selection of units on the VIP preview day. Stay tune for the opening of Seaside Residences showflat for private viewing by filling in the registration form on this page today!
Seaside Residences - All about Lifestyle and Location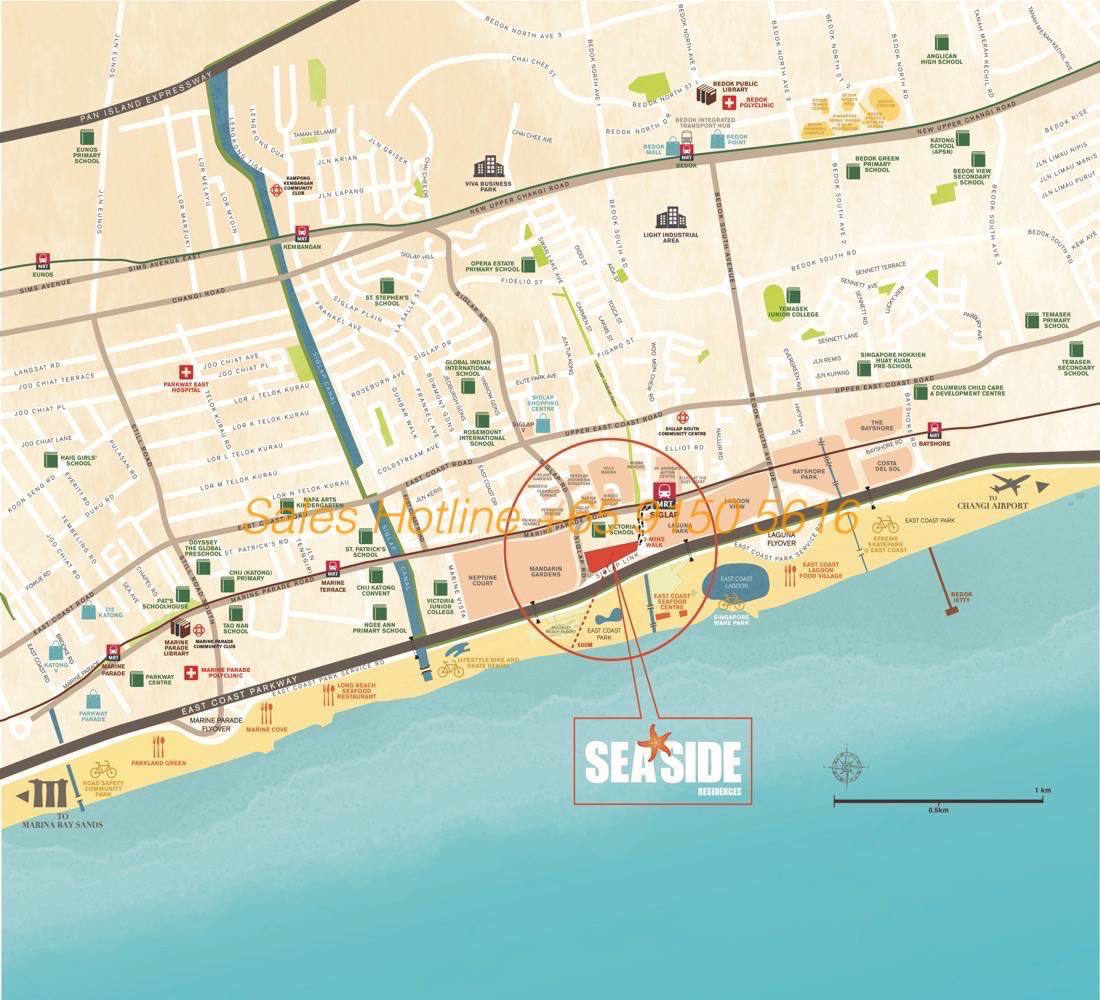 Seaside Residences Singapore Condominium is located along Siglap Link which is just a stone throw away to future Siglap MRT at just 3minutes walk. This will be part of the Thomson-East Coast Line (TEL) bound to complete in 2023. Seaside Residences Siglap Road offer all the daily convenience that resident needs. The development will be well connected to Major Roads leading Expressway such as ECP (East Coast Parkway) and PIE (Pan-Island Expressway) which are minutes drive away to the Central Business District (CBD) and Changi International Airport. Located close by will be 2 major towns including Bedok and Marine Parade. East Coast is known to be the "Holland Village of the East" with the many fine dining outlets, bistros, hipster cafes, boutique shops, and many more that residents can choose from. Nearby shopping outlets includes Bedok Mall, I12 Katong, and Parkway Parade. A drive further down will bring you to more shopping options including Changi City Point and Kallang Leisure Park.
Seaside Residences is located close to different Community Centre such as Siglap South Community Club. Just 2km drive up will take residents to the Marine Parade Community Club with Library included. In addition, for daily necessities, Seaside Residences offer 2 retail shops within the development. If that is not enough, residents may walk down to the nearest Cold Storage over at Siglap Centre. A drive further down will provide more options including NTUC Fairprice at Bedok Mall and Chai Chee, and Sheng Siong Supermarket. Apart from many small eateries in the area, the main food centres surrounding Seaside Residences Condo will be the Marine Parade Food Centre and East Coast Lagoon Food Village.
Expect a carefree lifestyle over at Seaside Residences Singapore. Take a walk over at the Singapore Wake Park, Siglap Park Connector along Siglap canal, and walk on down 5.9km to the Marina Barrage. Other sports and activity that teenagers would love will be the Xtreme Skatepark. Or for the elderly, take a stroll or fish along Bedok Jetty, or participate in various activities held at the Bedok Sports and Recreation Centre. The nearest golf course will be over at Tanah Merah Country Club. Seaside Residences offers various healthy and fun lifestyle in close proximity to the development.
Seaside Residences sits on a plot within walking distance to coast. Sit back and relax over at the beach resort nearby, or have a sumptuous meal over at East Coast Seafood Centre. Siglap residences will get to enjoy the amenities all within walking distance. Register your interest today to secure a unit over at Seaside Residences on preview day
Seaside Residences - The Development & Facilities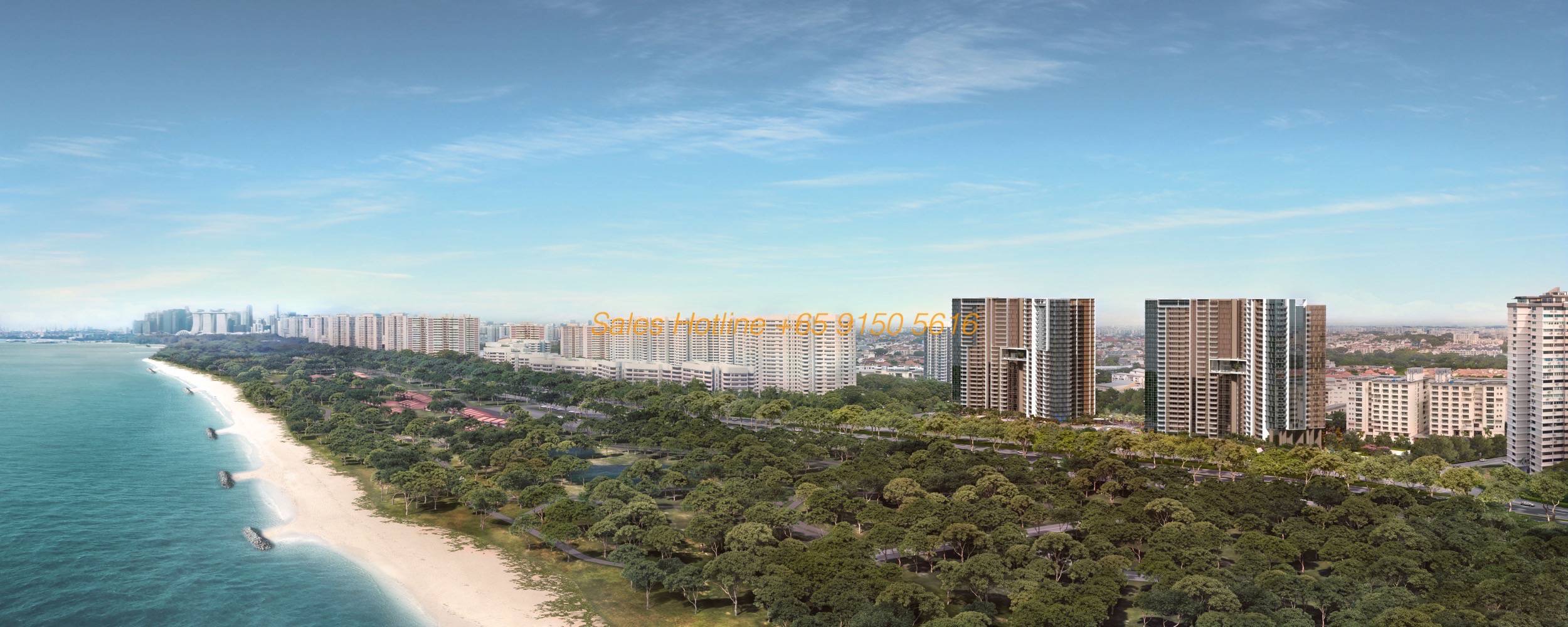 Seaside Residences Condominium stand majestically at 4 blocks of 27 storey high and offer breathtaking panoramic view of the sea. It will include full condominium facilities, with a whooping 115m long infinity pool and a sky terrace located between the 14th and 16th storey.  With a plot size of 207,847 sqft, Seaside Residences condo will offer a total of 843 units with a range of one bedroom to five bedroom penthouses to choose from. In addition, each bedrooms will have many different types to choose from catering to buyer needs.  Each unit is cleverly designed to maximise the internal living space, fitted will quality furnishing and fittings. Also included in the condominium are 2 shops for added convenience to residents of Seaside Residences.
Enjoy spectacular view with 70% over units facing towards the Sea. Register your interest today to view Seaside Residences Showflat. Seaside Residences showroom viewing is strictly by appointment only. Register now in the form above for a non-obligatory viewing.
Seaside Residences Condo Factsheet
Project Name: Seaside Residences
Developer: East Vue Pte Ltd. A Joint Venture among Frasers Centrepoint, Sekisui House, and Keong Hong Holdings)
Architect: ADDP Architects LLP
Landscape Architect: Tinderbox Pte ltd
Main Contractor: Keong Hong Construction Pte ltd
District: Seaside Residences District 15
Address: Siglap Link
Plot Ratio: 3.5
Brief Description: Proposed residential development of 4 blocks, 27 storey, 843 residential units comprising of 1 to 5 bedrooms Penthouses. Full condominium facilities including a 115m infinity pool, a sky terrace and 2 commercial shops
Site Area: 207,847 sqft or 19,309.6 sqm
Tenure: 99 Years Leasehold
Total Units: 843 Units
Car Park Lots: 843 lots + 6 accessible lots
Estimated T.O.P: 1st April 2021
Estimated Legal Completion: 1st April 2024
Seaside Residences Land Bidding Price and Estimated Selling Price
Seaside Residences Condominium is set to launch primarily the mid to upper segment of the market, with views overlooking East Coast Park, the beach, and panoramic views of the sea. The 1.8 hectare land parcel was acquired via Government Land Sales and attracted eight bids, with Frasers Centre Point winning the top bid. Seaside Residences will be a joint venture development with FCL Topaz holding 40% share (unit of Frasers Centrepoint), Sekisui House holding 40% share, and KH Capital (unit of Keong Hong Holdings) holding the remaining 20% share.
The highest bid translates to S$858 per square foot per plot ratio (psf ppr), while the second highest bid was 4% behind coming in at S$825 psf ppr from Hong Leong Holdings, City Developments and TID Residential. GuocoLand came in third place at S$801 psf ppr, followed by joint venture among UOL, Singapore Land, and Kheng Leong, coming in at S$800 psf ppr. Allgreen Properties came in at the lowest bid of S$477 million or S$656 psf ppr.
The highest bid suggest a bullish property market outlook in the current suppress market. Market watchers have translate the breakeven price of around S$1320-S$1350 psf, and selling price expected to be around S$1,550 to S$1650 psf. Comparing with existing projects, Analyst have pointed that the most comparable project in terms of location will be Costa del Sol, with a median transacted price of S$1,210psf. However it is still hard to compare as the development was completed in 2004 and thus the site is left with 81 years lease. With no fresh supply of such development in the area, Siglap Residences will be attracting many interest with no competition for other projects in the area once it is up for sale. Already, the site have attracted 8 bids, with the top 4 bids by reputable developer very much close to each other.
Seaside Residences Singapore Surrounding Market Analysis
In the recent Straits Times Publication, Fraser won the top bid at S$850 psf ppr. Factoring in building and construction cost, the breakeven price will be estimated to be around S$1320-S$1350. Developer will price normally at a 15-20% profit margin. Knowing that this plot of land is very much sort after (based on the close bidding among the developers to secure this plot and other factors), it is likely that the developer will be targeting a 20% profit margin. This highly sort after and rare plot will be the first project in 15 years to be built along East Coast Parkway with sea views. 70% of the units will be orientated towards the sea, thus the name Seaside Residences. The site will be a stone throw away from the under-constructed Siglap MRT Station (TEL Line) and 1km walk to the beach.
Comparable New Development: Due to the lack of 99 years leasehold supply in the vicinity, there are no new launch comparable development in the area. Comparing to freehold development under construction, these development will be down over at the under-construction Amber MRT, and Marine Parade MRT. The projects are Amber Skye and Marine Blue. No doubt they are freehold, they are small in land size and not comparable to the facilities that can be found over at Seaside Residences. Both projects are priced in the range of S$1700-2000 psf, with the smaller units pricing at the higher end per square foot. These makes the development not ideal for investment as ultimately, the rental yield will be very much affected by the price.
If you fall into the category of wanting to own a brand new sea view development along East Coast, with huge land size and full condominium facilities but yet at an affordable pricing, Seaside Residence is your chance to register your interest today! Do not hesitate to register for a private invitation to view Seaside Residences during the private preview.
Seaside Residences - Reasons to buy
Regardless of owning Seaside Residences for own-stay or investment, purchasers would want their property to increase in value over time. Seaside Residences condominium gives the opportunity for buyers a safe haven to park their money for mid to long term as they see their property appreciate in phases. The following shows the list of points that adds value to Seaside Residences:
Owning a property in the east starting from an affordable quantum
Located within 3 minutes walk to Siglap MRT will attract tenants and short period of time before unit is rented out for those who are looking for investment
Higher rental yield as oppose to owning a freehold property whereby investors would pay a much higher quantum
Reputable developer Frasers Centrepoint
Majority of units having rare and spectacular sea view
Close proximity to Changi Business Park and Tampines Regional Central
Upcoming Changi Terminal 4 and 5 will provide more jobs and employment which translates to more tenants and expats looking for a place to rent
Seaside Residences Nearby Schools
Victoria School
Bedok Green Primary School
CHIJ (Katong) Primary School
Ngee Ann Primary School
Opera Estate Primary School
St. Stephen's School
Tao Nan School
*Contact your school of interest to check if it falls within the 1km Distance. Seaside Residences offer residents many choice of good schools in the locality.
Seaside Residences - Thomson-East Coast Line
Seaside Residences Singapore sits in the heart of Siglap. The nearest MRT will be the upcoming Siglap station, which is part of the Thomson-East Coast Line. As published by LTA and in the Straits Times, Thomson-East Coast Line may be extended to connect directly to Changi Airport. With this particular east side of Singapore being an inconvenience to those who do not drive, Thomson-East Coast Line will definitely boost transportation convenience is this part of Town. After the announcement of this line, property around these area saw their value increase immediately. The next phase of increase will be the completion of the Thomson-East Coast Line, with Siglap station set to complete in year 2023. Hurry and secure a unit at Seaside Residences Siglap before it is too late!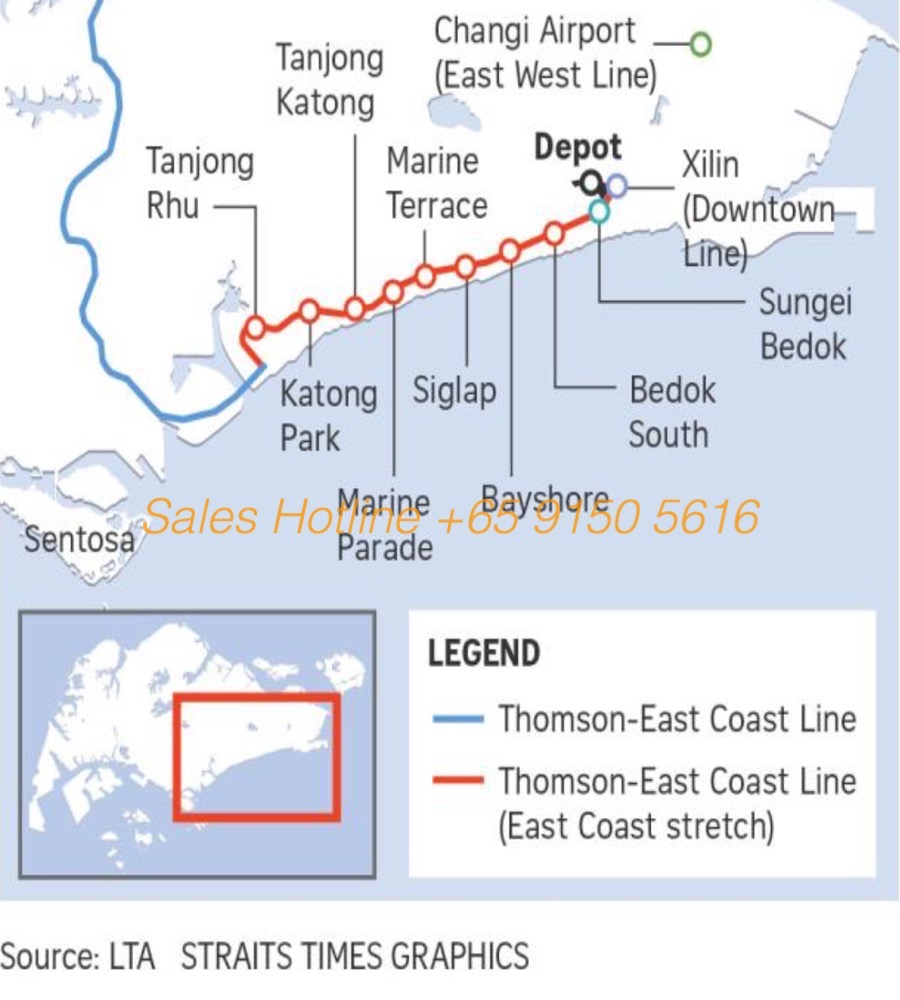 Seaside Residences Condo Site Plan


Seaside Residences Condominium is designed to maximise views of the Sea. With the orientation of each stacks, over 70% of units will get the seaside facing.
Seaside Residences Floor Plan
Seaside Residences offers a wide range of choices and sizes to cater to different buyers. Request for Seaside Residences Floor Plan or Register to view Seaside Residences Showflat to understand more on the unit facing and unit types
1 Bedroom Suites (420 – 506 sqft / 39 – 47 sqm) – 109 Units
1 + Study Suites (560 – 775 sqft / 52 – 72 sqm) – 188 Units
2 Bedroom Viva (678 – 807 sqft / 63 – 75 sqm) – 197 Units
2 Bedroom Vantage (786 – 936 sqft / 73 – 87 sqm) – 24 Units
2 Bedroom Trio (829 – 980 sqft / 77 – 91 sqm) – 23 Units
3 Bedroom Viva (1023 sqft / 95 sqm) – 38 Units
3 Bedroom + Study Viva (1087 – 1302 sqft / 101 – 121 sqm) – 77 Units
3 Bedroom + Study Vantage (1130 sqft / 105 sqm) – 22 Units
3 Bedroom Prive (1206-1475 sqft / 112 – 137 sqm) – 108 Units
4 Bedroom Vista (1485 sqft / 138 sqm) – 10 Units
4 Bedroom Prive (1679 – 1938 sqft / 156 – 180 sqm) – 42 Units
5 Bedroom Penthouse (3294 sqft / 306 sqm) – 3 Units
Shops (581 sqft / 54 sqm) – 2 Units
Seaside Residences offers 7 choices of layout themes to choose from. In addition, in each individual themes, there will be many different types and sizes for buyers to choose. Here are some of Seaside Residences floor plan example:
Seaside Residences Floor Plan – Suites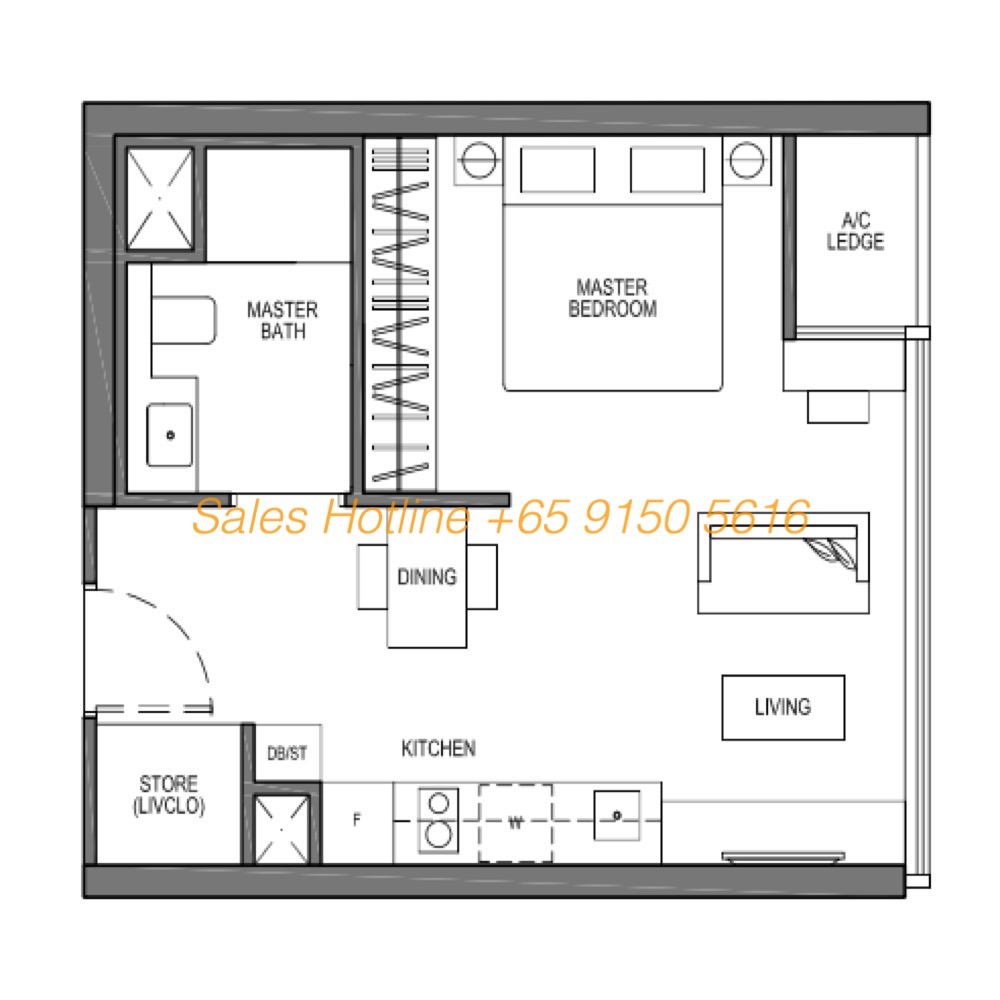 The suites offers 1 bedroom and 1 + Study unit types in the development. With living, dining, and bedroom spaces blending seamlessly together, residents will still get breathtaking views from these units
Seaside Residences Floor Plan – Viva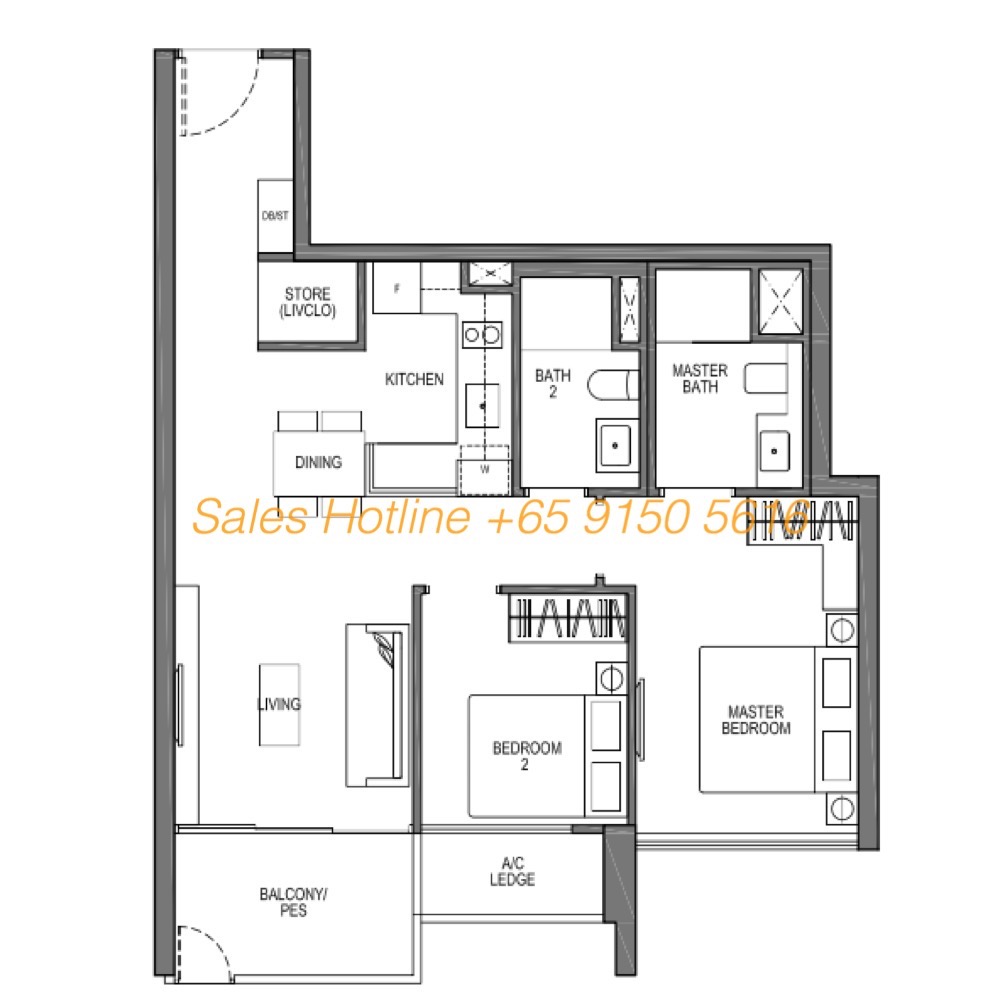 Viva offers 2 Bedrooms, 3 Bedrooms, and 3 + Study unit types. All bedrooms are able to fit at least a queen size bed, with separate living and dining spaces to entertain guest.
Seaside Residences Floor Plan – Trio
The above Seaside Residences Floor Plan represents a dual key unit, also known as a Trio in this development. These layout caters to those that is looking for multi-generation living or investment. The above floor plan shows 2 separate entrance, leading to a studio, and a 1 bedroom unit.
Seaside Residences Floor Plan – Vantage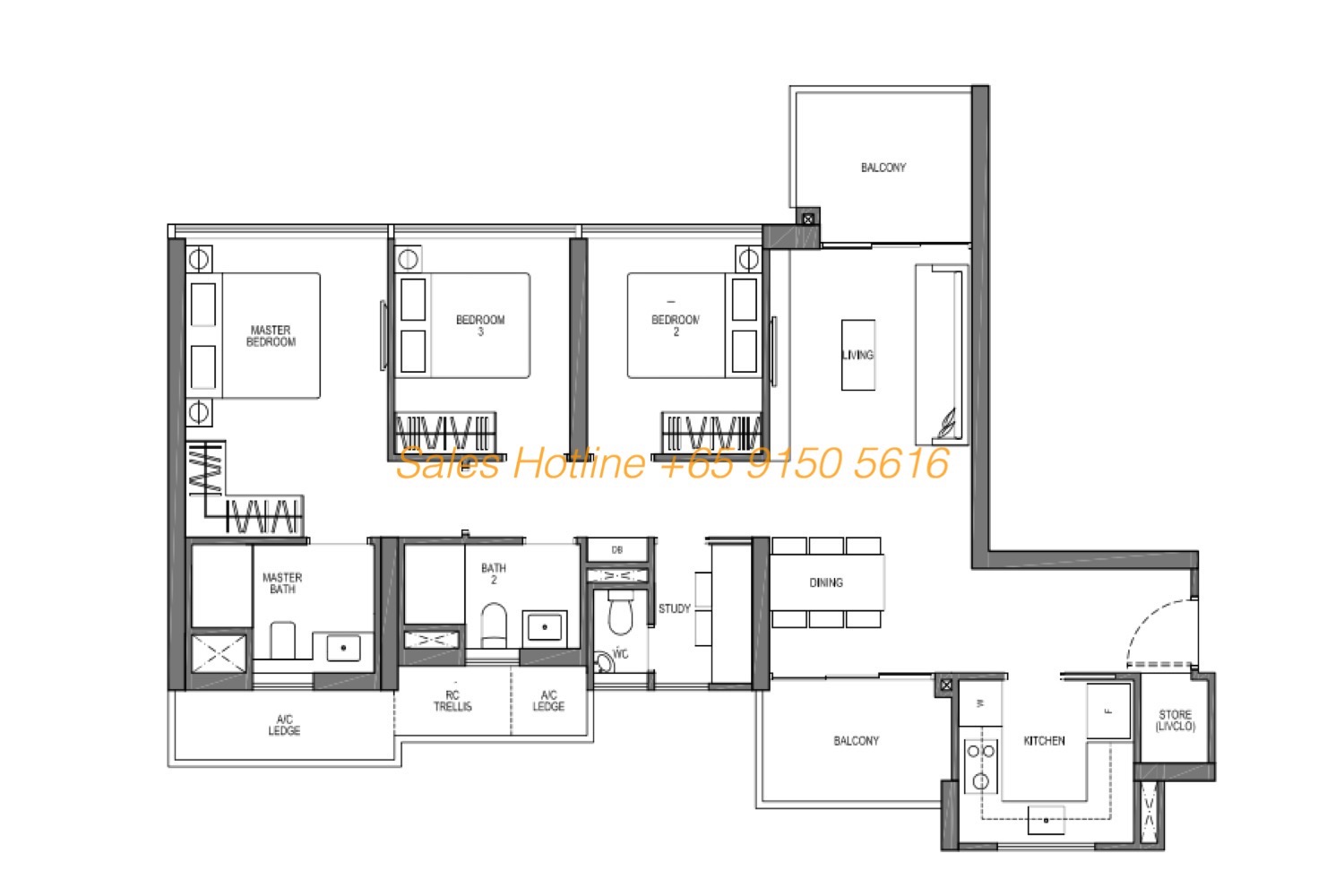 The Vantage offers units of 2 and 3 bedrooms types. As the name implies, Vantage units offer good views of both landed and sea view. Most importantly, these unit layout as shown in the floor plan example, provide cross ventilation and abundance of light into the unit.
Seaside Residences Floor Plan – Vista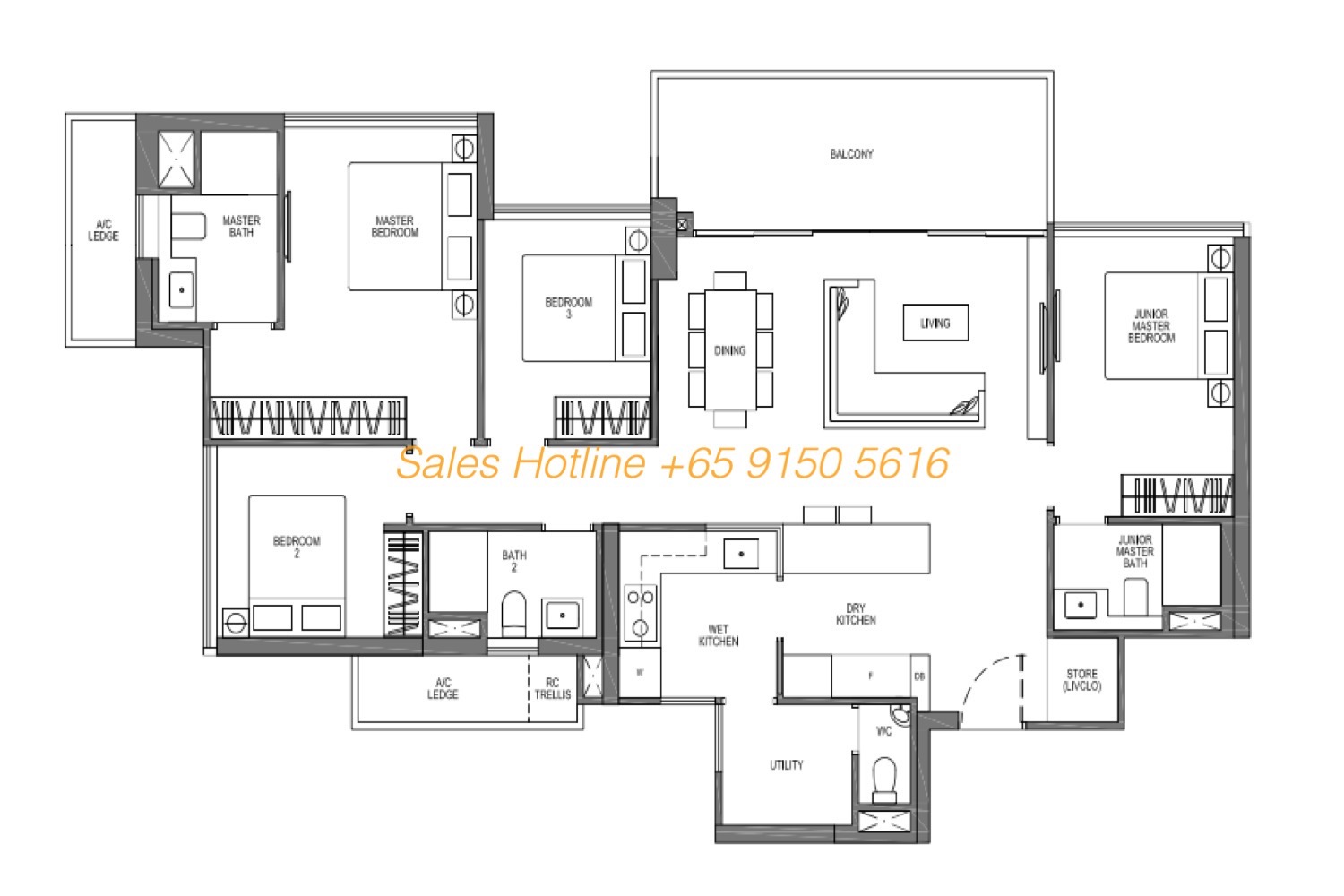 Vista floor plan layouts offer purchasers a choice of having an extended living and dining room spaces link to the balcony. All rooms are spaciously design as well to fit at least a queen size bed. Vista is available only for the 4 bedroom types
Seaside Residences Floor Plan – Privé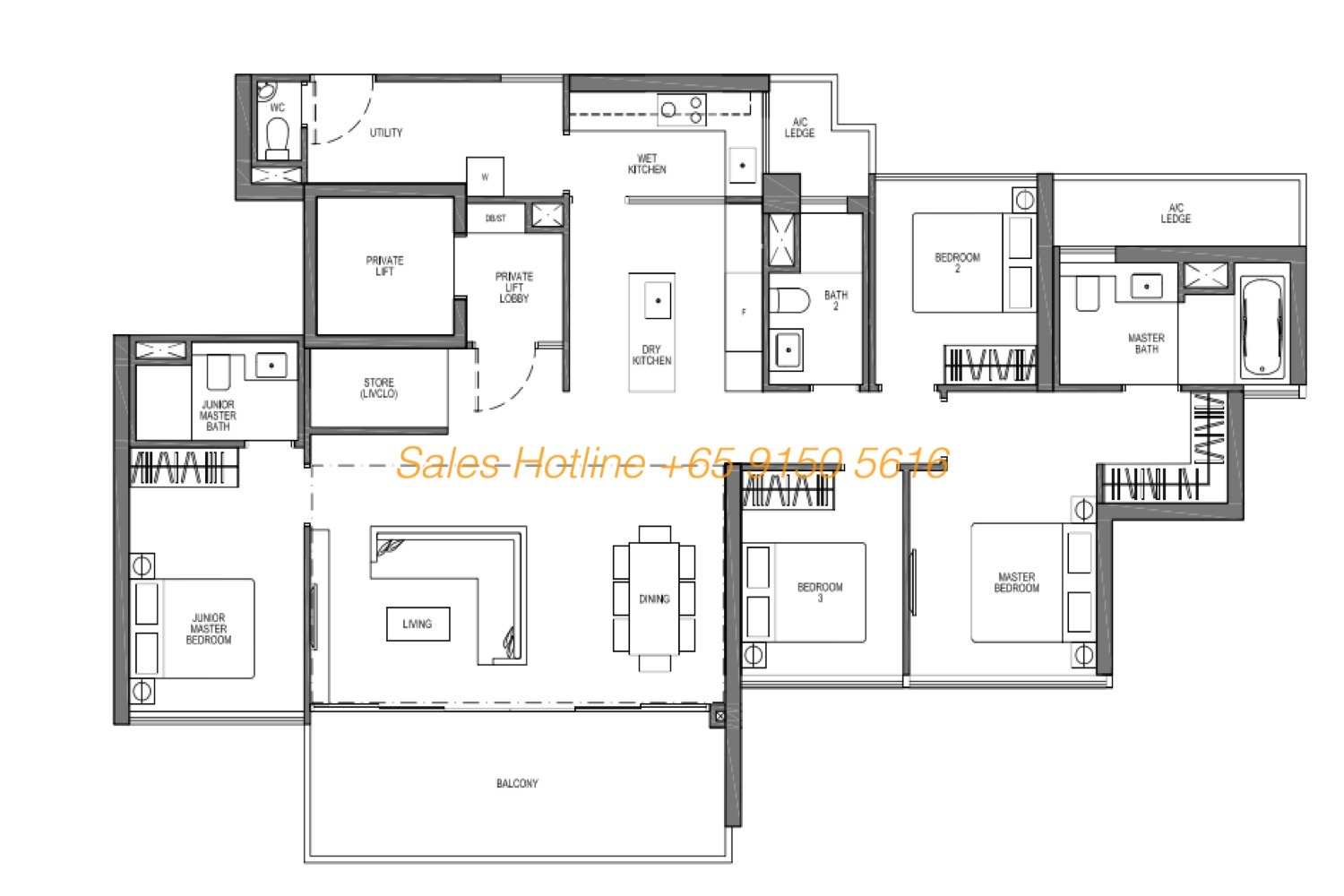 Privé unit types cater more to those who truly enjoy privacy and exclusivity. All Privé units comes with a private lift and spectacular view of the Sea. Units includes the 3 bedroom and 4 bedroom types
Seaside Residences Floor Plan – Penthouses
Last but not least are the Penthouses. These units are exclusive and only available upon request. Register your interest in the form below for more information on Seaside Residences Penthouse.
Seaside Residences Price
Indicative Seaside Residences Price Updated 16/3/17
1 Bedroom from $7xxk
1 + Study from S8xxk
2 Bedroom from $1.0xmil
3 Bedroom from $1.5xmil
4 Bedroom & Penthouses – stay tuned!
Bidded at S$858 Per Square Foot Per Plot Ratio (psf ppr), 4% higher than the second highest bidder of of S$825 psf ppr. Market watchers expect break-even price of $1350 psf, and selling price of S$1500-1600 psf. Stay tuned for the latest updates
For an exact pricing of a unit, register for an appointment to view Seaside Residences showroom / showflat by calling or filling the form at the bottom of this page.
Seaside Residences - Why VIP Preview?
Have you secured your private invitation to view Seaside Residences yet? If not, register your interest in the forms provided on this page! During the private viewing, potential purchasers will get a better feel and understanding of the development. After which, they can register their interest to attend the private preview, where the private sales will commence. Seaside Residences will not be for sale to those that did not register their interest during the private viewing stages. After the private preview sales is done, Seaside Residences will be open for the public launch for the remaining units.
Here are the reasons why you should register your interest if you are keen:
Private viewing only for registered invitees
No obligation to buy the day you view, even if you are interested it is not for sale until preview day
After private viewing, interested parties can opt to register to attend the preview day sales
Actual prices will be release on preview day
Register parties can proceed with purchase or walk away without any forfeiture
Missing out on the private preview launch for Seaside Residences may affect the choices you make to purchase during the public launch. Good units will be taken up on the private preview day, purchasers may miss out on discounts and offers etc. Hurry and register your interest in the form below to view Seaside Residences showflat!
Register Interest for Seaside Residences
Like It Share It! Seaside Residences