Carpmael Thirty Eight (38 Carpmael Road)
Carpmael Thirty Eight Showflat/Showroom Gallery: (+65) 6100 1380
Express Service to Serve you better with Fast Response! SMS/Whatsapp to (+65) 91505616:
"Carpmael 38"_"Name"_"Email"_"Your Messages"
Carpmael 38 Showflat is opened on an appointment basis only. Register your interest in the form below for advance viewing of Carpmael 38 showroom. For shorter waiting time or immediate response, kindly SMS/Whatsapp to (+65) 91505616:
"Carpmael 38"_"Name"_"Email"_"Your Viewing date and time"
Alternatively, you can call Carpmael Thirty Eight Showflat hotline: +65 6100 1380 to check if the showflat is open. A salesperson have to be assigned to you when you arrive at the showroom to show you around. We will advise you accordingly who to look for.
Register Interest for Carpmael Thirty Eight
Carpmael Thirty Eight Review - Latest News and Updates
27 Sep 2017: New contents, pictures and floor plans uploaded. Carpmael Thirty Eight will preview tentatively in October. Register your interest to receive a private invitation for Carpmael 38 showflat preview
25th Sep 2017: Carpmael Thirty Eight will feature 2 bedroom dualkeys, 3 bedrooms, 3 + study, and 4 bedrooms unit type to choose from. More details updated in content. Register your interest for an exclusive information updates on upcoming price, floor plan, ebrochure, VIP preview and more!
20th Sep 2017: This new launch Project will be known as Carpmael Thirty Eight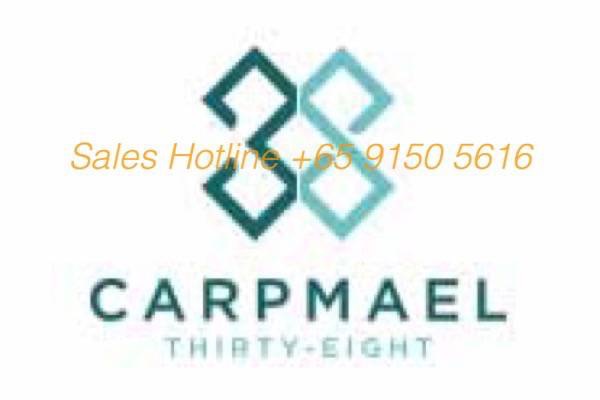 1st Sep 2017: Carpmael 38 will be launching soon. Stay tuned for the latest updates and project information.
Carpmael Thirty Eight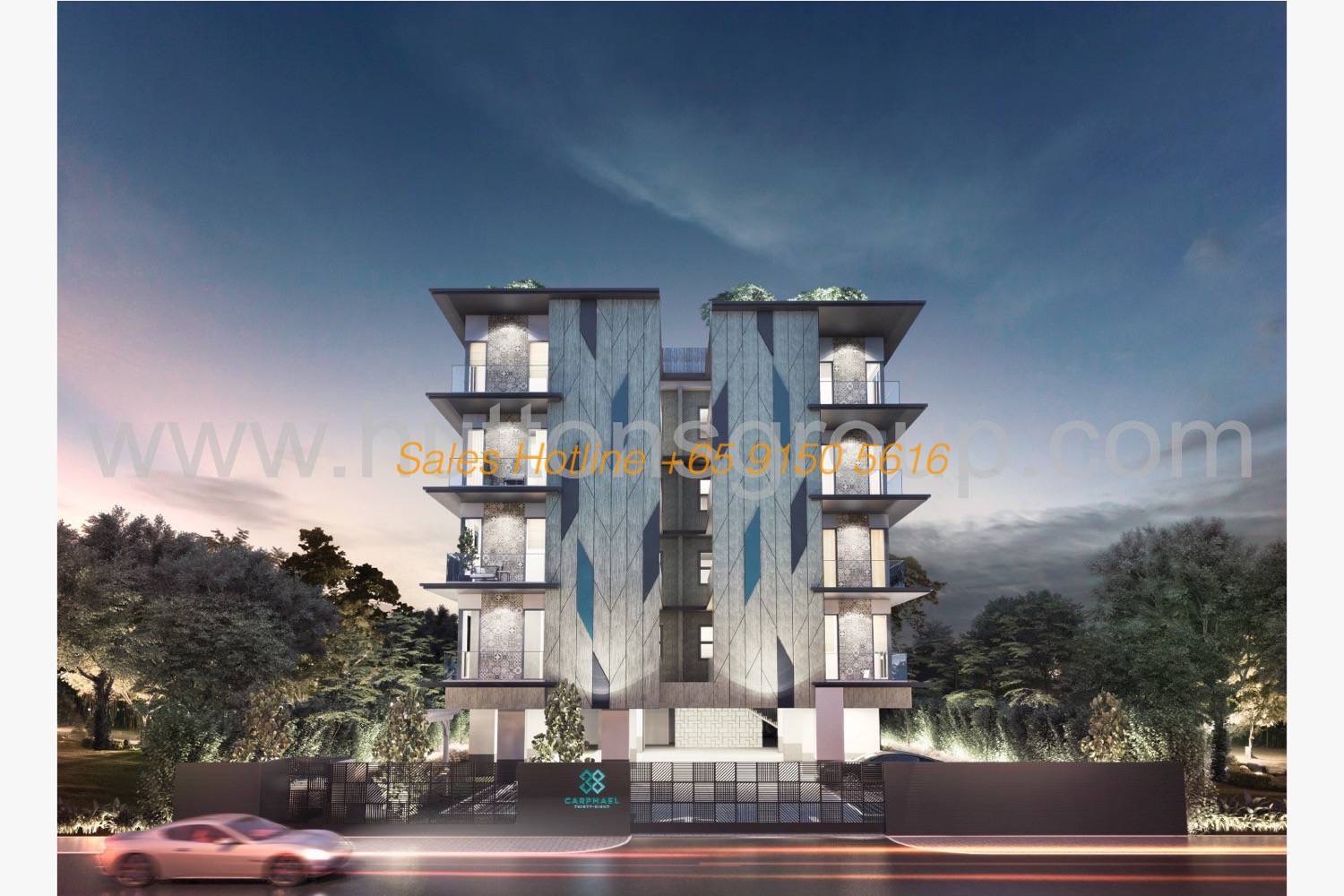 Carpmael Thirty Eight (38) is a rare freehold residential development located in the precinct of Paya Lebar central along 38 Carpmael Road. Developed by Lim Wen Heng Contruction (Singapore company), Carpmael 38 will be the latest and much anticipated new launch residential development in this area. This is due to the rarity of new land sales in the Paya Lebar area, let alone being FREEHOLD.
The Connectivity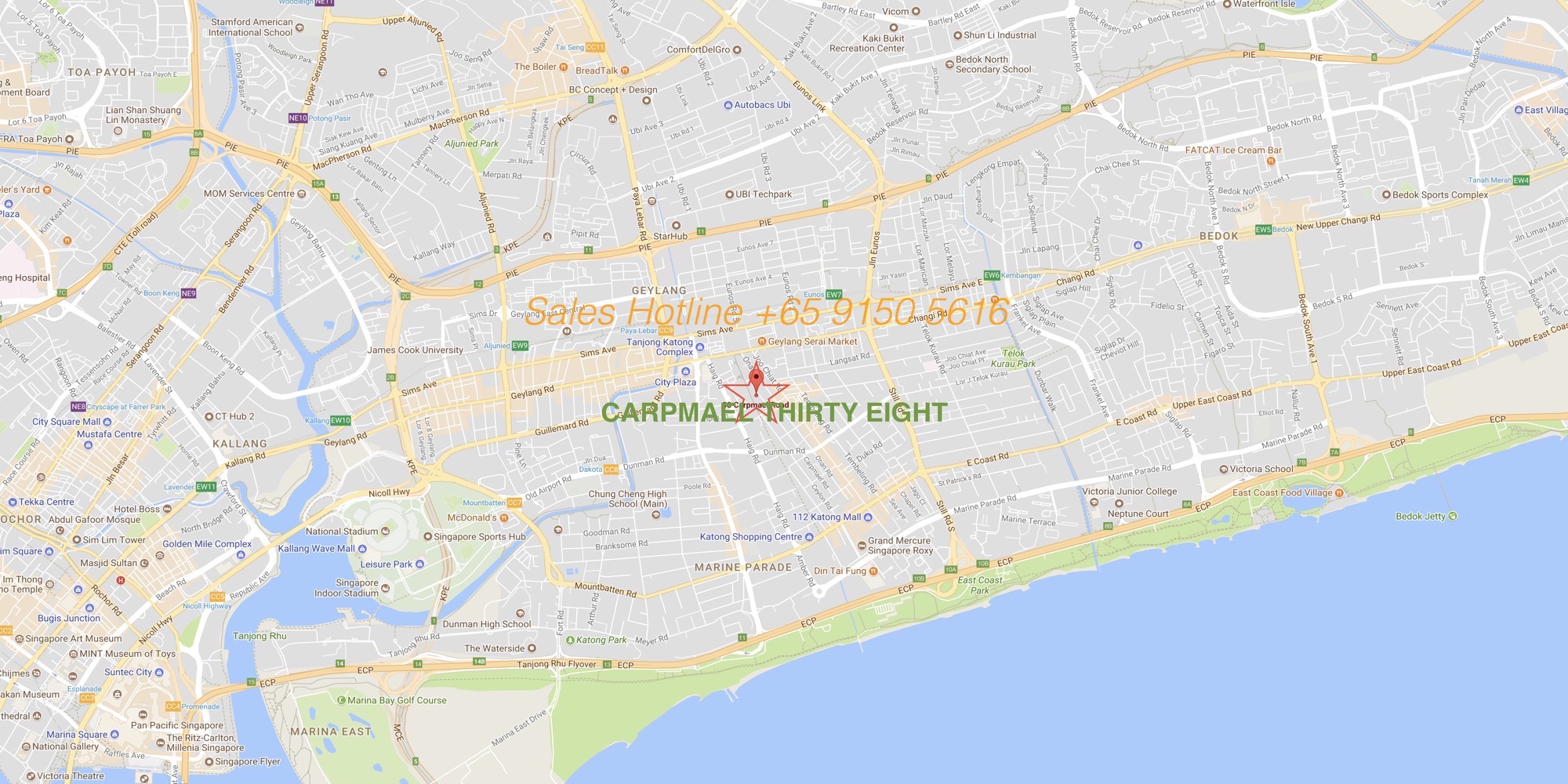 Located in District 15, Carpmael Thirty Eight is located less than 4km to city. The 2 closest MRT station under 1km will include Paya Lebar MRT (Circle/East West Line )and Eunos MRT (East West Line). Dakota (Circle Line) is located just slightly above 1km from Carpmael 38. Residents can also enjoy the daily convenience as the development is located in close proximity to 3 major supermarkets all within walking distance. These includes NTUC Fair Price at Joo Chiat Complex, Sheng Siong Hypermarket at Tanjong Katong, and Giant at Tanjong Katong Complex. Residents at Carpmael 38 can find various food haven within close proximity. Such includes
Haig Road Market and Food Centre – 328m
Geylang Seral Market – 397m
Dunman Food Centre – 610m
Blk 4A Eunos Crescent – 1.07km
51 Old Airport Road Food Centre – 1.44km
The Development and Facilities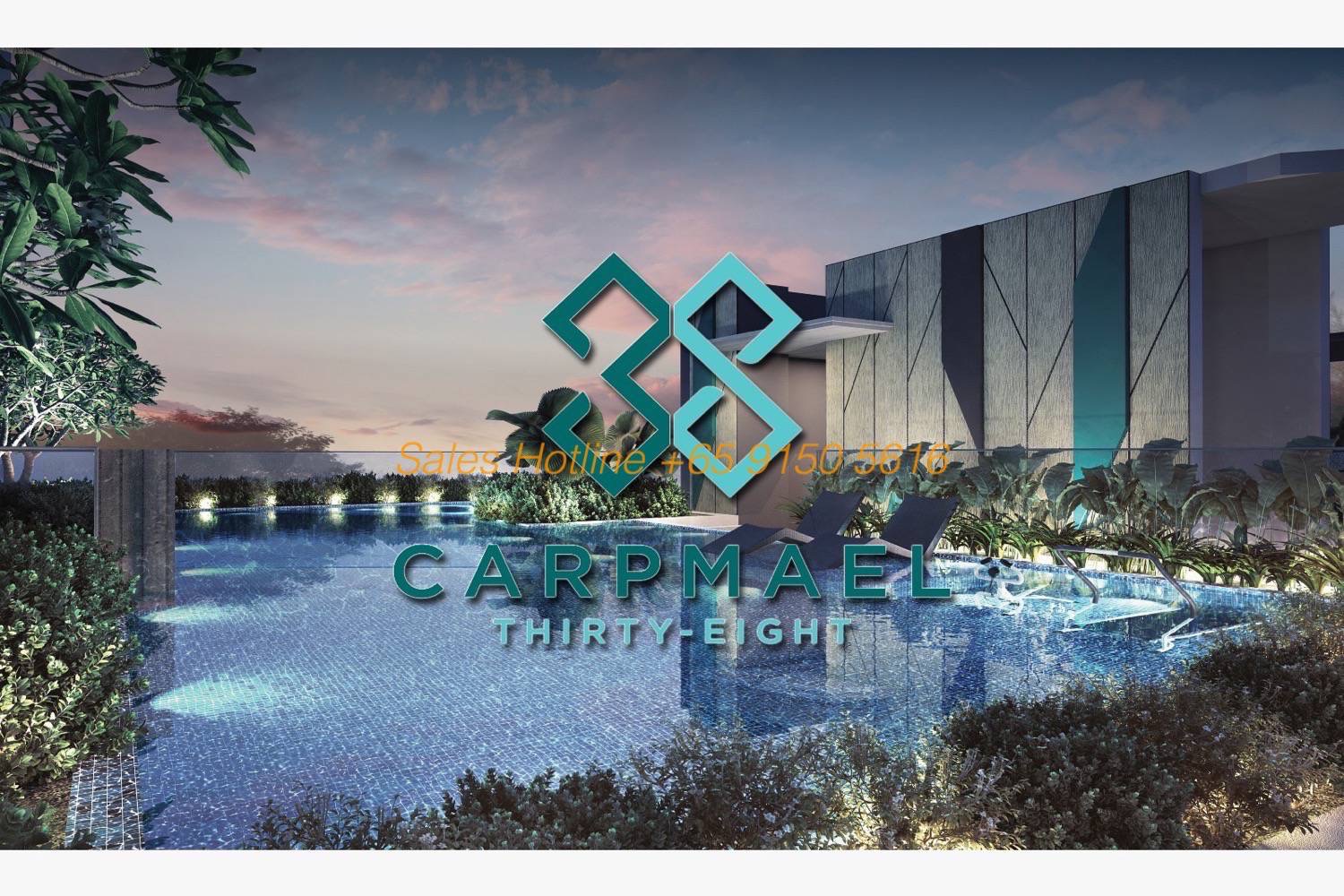 Carpmael Thirty Eight located along 38 Carpmael Road features a brand new freehold residential development developed Singapore construction company Lim Wen Heng. Carpmael 38 will feature a limited mix of 2 Bedroom Dualkey, 3 Bedroom, 3 + Study, and 4 bedroom units. There will be an exclusive 16 units in total with size ranging from 721 sqft for the 2 bedroom dualkey, to 1270sqft for the penthouse. All units will enjoy high floor to ceiling height at 3.3metres for the living, dining, bedroom, and balcony spaces. Purchasers for Carpmael Thirty Eight will enjoy luxury fittings and quality furnishes throughout the unit and development.
Common facilities includes
Children's Play Equipment
Garden Lounge
Landscape Pavilion
Children Pool
Swimming Pool
Wet Deck
Aqua Gym
Water Jet
Roof Top Lounge
Dining Pavilion
Register your interest to view Carpmael Thirty Eight Showflat VIP preview today
The Developer
LWH Carpmael Pte Ltd, a subsidiary of Lim Wen Heng Construction Pte Ltd, started off in 1994 as a Singapore private limited company as a construction specialists in the construction industry. Specialising in general building construction and civil engineering works, LWH Construction Pte Ltd is registered with BCA's Registry of Contractors. Some of the company's important objectives includes:
Providing better quality for customer and find ways to improve thereafter for subsequent projects
Delivering project within the timeframe
Ensuring safety at work place with zero fatality
responding to customer's feedbacks
Some of the major projects that they were involve in the past includes Centropod @ Changi, Spottiswoode 18, Newton Edge, Wilkie 80 and many more.
Current ongoing projects includes Eon @ Shenton, Liv on Wilkie, Liv on Sophia, Jade Residences, Natura @ Hillview and many more. Carpmael Thirty Eight will be the latest upcoming projects added to their portfolio.
Register your interest to view Carpmael Thirty Eight Showflat today for the latest information including showroom viewing, pricing, floor plan, availability and many more! View of Carpmael Thirty Eight Showroom is strictly on an appointment basis only
Carpmael Thirty Eight Factsheet
Project Name: Carpmael Thirty Eight
Developer: LWH Carpmael Pte Ltd
Solicitor: Rajah & Tann Singapore LLP
Architect: TEKTONIK STUDIO
Civil & Structural Engineer: KCL Consultants Pte Ltd
M&E Consultant: Elead Associates Pte Ltd
Landscape Architect: TBC
Main Contractor: TBC
District: 15
Address: 38 Carpmael Road
Brief Description: Proposed residential apartment comprising of 5 storey of 16 units in total featuring 2 Bedroom Dualkey, 3 Bedroom, 3 Bedroom + Study, 4 Bedroom. Carpmael Thirty comes with communal swimming pool and various facilities on the roof terrace
Gross Site Area: est. 1,161.3 sqm / 12,500 sqft
Tenure: Freehold
Total Units: 16
Parking: 16 + 1 Barrier Free lot
Estimated T.O.P: 31 Dec 2020
Estimated Legal Completion: 31 Dec 2023
Carpmael Thirty Eight Nearby Schools
Childcare and Kindergarten (Within 500m)
The Kids' Inn @ Joo Chiat, Great Beginnings Montessori Pre-School, My First Skool, PCF Geylang Seral Blk 9, Pu Hui Kindergarten, Zee Juniors. Over more than 100 centres and Kindergartens within 2km
Primary School (Within 2km)
Haig Girls School, Tanjong Katong Girls' School, Tanjong Katong Primary School, Kong Hwa School, Eunos Primary School, Geylang Methodist School (Primary), CHIJ (Katong) Primary, Maha Bodhi School, Canossa Convent Primary School
Secondary School (Within 2km)
Tanjong Katong Secondary School, Northlight School, Chung Cheng High School (Main), Broadwick Secondary School, Manjusri Secondary School, Geylang Methodist School, Macpherson Secondary School
International school – St Gerard's International School
*Note that the research made on Carpmael 38 school proximity, as above, is based on rough estimates. It is still advisable to contact your school of interest to check if it falls within the distance stated above.
Carpmael 38 Location Map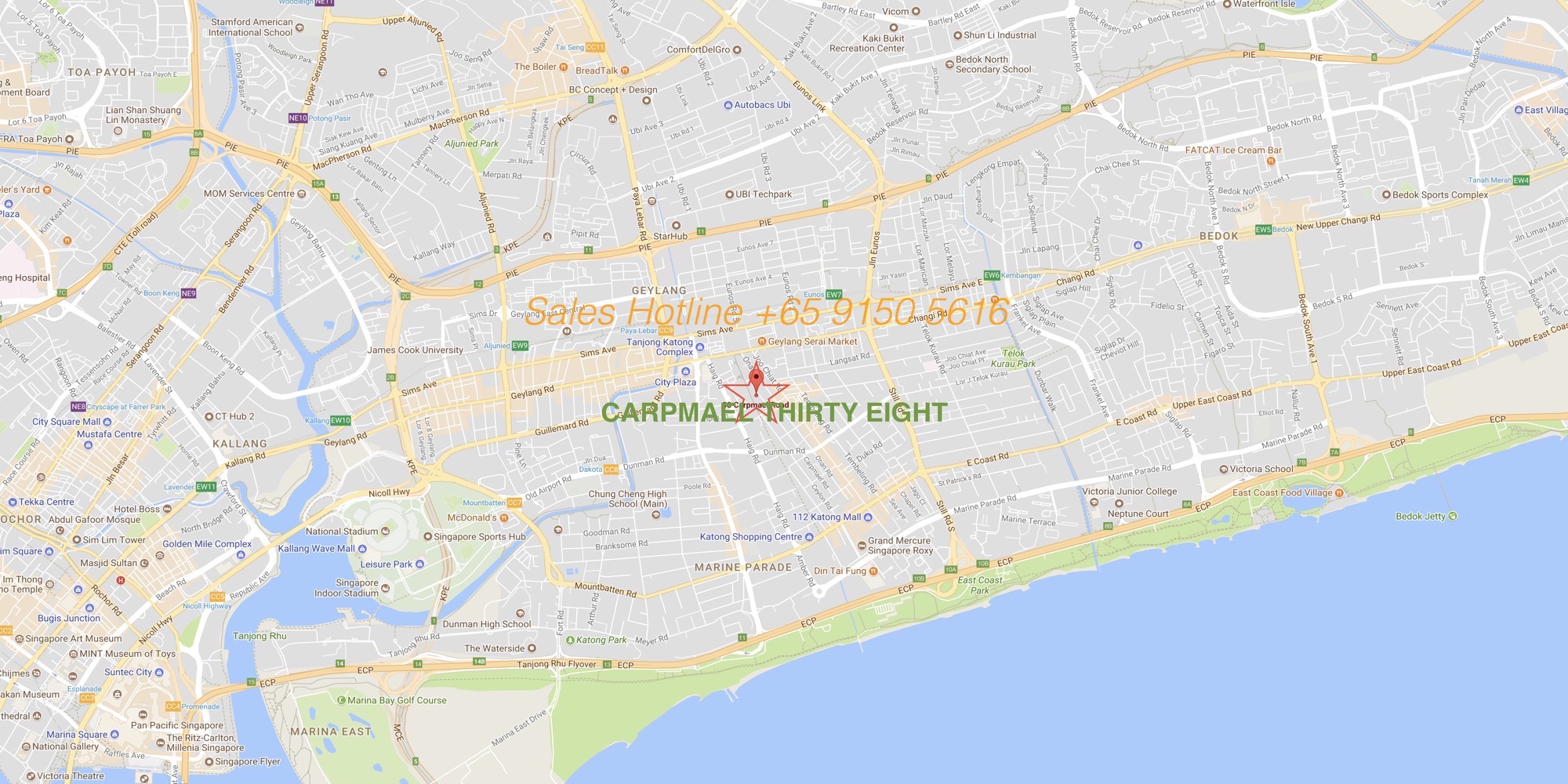 38 Carpmael Condo Site Plan
Coming Soon
Carpmael Thirty Eight Floor Plan
2 Bedroom Dualkey (2 Units) – 721 sqft / 67 sqm
3 Bedroom (4 Units) – 1076 sqft / 100 sqm
3 Bedroom (1 Units) – 1098 sqft / 102 sqm
3 Bedroom Penthouse (1 Units) – 1270 sqft / 118 sqm
3 Bedroom + Study (4 Units) – 1173 sqft / 109 sqm
4 Bedroom (4 Units) – 1259 sqft / 117 sqm
Carpmael Thirty Eight Price
Indicative Prices
Residential
2 Bedroom Dualkey: From $
3 Bedroom: From $
3 Bedroom + Study: From $
4 Bedroom: From $
For an exact pricing of a unit, register for an appointment to view Carpmael 38 showroom / showflat by calling or filling the form at the bottom of this page.
Register Interest for Carpmael Thirty Eight
Like It Share It! Carpmael Thirty Eight 38