Sims Urban Oasis
Sims Urban Oasis Showflat/Showroom Gallery: (+65) 6100 1380
Register interest by SMS/Whatsapp to (+65) 91505616:
"SIMS URBAN"_"Name"_"Email"_"Your Messages"
Sims Urban Oasis is developed by listed developer GuocoLand and is located in district 14 at the corner of Sims Drive and Aljunied Road. Situated in an established neighbourhood, all amenities and infrastructures are there for the convenience of the residents. With Aljunied MRT just 5 minutes away, it is just 5 stations away from City Hall MRT. Sims Urban Oasis is well connected via major roads and highways which includes PIE, KPE, and Nicoll Highway. These roads leads to the other parts of Singapore such as the CBD area and Changi International Airport, all within 10-15 minutes drive.
Located in close proximity is the Sports Hub, where you can find fitness entertainment and other leisure activities during the weekend. Sims Urban Oasis also offers expats a good choice to stay in where their children can study in the James Cook University Campus set up to cater to 3400 students, which will further expand to 7500 in 3 years time.
Sims Urban Oasis is strategically located close to Paya Lebar, where the new Paya Lebar Commercial and Central Business hub will be built. All drawn in the Government Master Plan, this will be the new upcoming Paya Lebar Sub-Regional Centre which offers not only new jobs and business opportunities, but also and excellent choice for property investment opportunities in the area. In addition, the relocation of the Paya Lebar Airbase will remove the height restrictions in future, which in turn frees up the land parcel to develop higher residential and business buildings that will boost the land value in the area.
Register your interest to view Sims Urban Oasis Showflat to learn more about the opportunities that this development can give to you in the long run. Sims Urban Oasis Showroom is open only by appointment. Register your appointment date with us by filling in the form below
Register Interest for Sims Urban Oasis
Sims Urban Oasis Review - Latest News and Updates
7th April: Register an appointment to view Sims Urban Oasis showflat actual unit viewing. TOP soon! Price will be increase soon so register your interest today
Sims Urban Oasis - The Development Facilities & Siteplan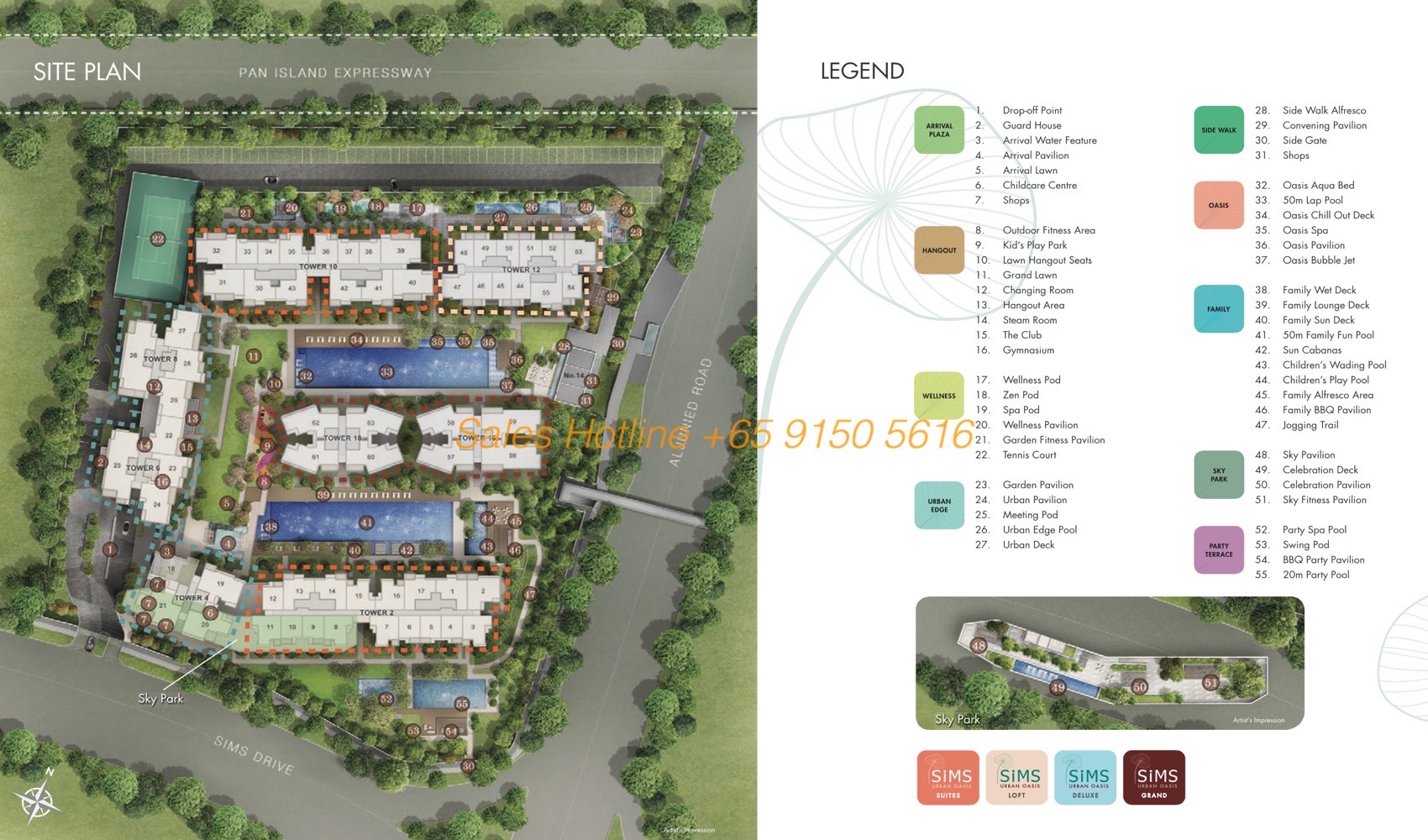 Sims Urban Oasis offers residents a wide range of choice from 1 Bedrooms to to 5 bedrooms units. The development also offers an investment choice of a dual-key units, or for a more luxury preference, a lofty unit choice with high ceiling. With a total of 1024 residential units, the 2.4 hectare development also offers residents a resort lifestyle living with full condominium facilities, as well as an olympic size swimming pool. Residents will also get to choose to enjoy one of the 50 over facilities, as well as the sky park over on the level 19 which offers a panoramic view of the Marina Bay. There will be 6 shops to cater to all residents, and a childcare centre within the development. These facilities brings the convenience right to the doorstep without leaving the premises.
Hurry and register your interest today to view Sims Urban Oasis Showflat Gallery. Sims Urban Oasis Showroom is opened on an appointment basis. Register now for more information
Sims Urban Oasis Factsheet
Project Name: Sims Urban Oasis
Developer: GuocoLand
Architect: ADDP Architects Pte Ltd
Landscape Architect: COEN Design International Pte Ltd
District: 14
Address: 1/4/6/8/10/12/14/16/18 Sims Drive Road
Brief Description: Residential development comprising of 8 towers of 18 to 19 storey high, with full condominium facilities, 6 commercial shops, childcare centre, MSCP Carpark and basement parking
Site Area: est.  sqm / 23,900 sqft
Plot Ratio: 3.0
Tenure: 99 Years
Total Units:
1024 residential units
6 Commercial Units
1 Childcare Centre
Parking:
820 Residential Lots
6 Handicapped Lots
2 Commercial Lots
3 Childcare Centre Lots
Estimated T.O.P: 2020
Sims Urban Oasis Nearby Schools
Within 1
Geylang Methodist Primary and Secondary School
James Cook University
Within 1-2km
Canossa Convent Primary School
Bendemeer Primary School
Cedar Primary School
Kong Hwa School
*Note that the research made on Sims Urban Oasis school proximity, as above, is based on rough estimates. It is still advisable to contact your school of interest to check if it falls within the distance stated above.
Sims Urban Oasis Location Map

Sims Urban Oasis Floor Plan
1 Bedroom Suites (409-527 sqft / 38-49 sqm)
1 Bedroom Loft (463-484 sqft / 43-45 sqm)
2 Bedroom Suites (624-678 sqft / 58-63 sqm)
2 Bedroom Loft (710 sqft / 66 sqm)
2 Bedroom Deluxe (786 sqft / 73 sqm)
3 Bedroom Suites (818-958 sqft / 76-89 sqm)
3 Bedroom Deluxe (958-1023 sqft / 89-95 sqm)
4 Bedroom Deluxe (990 sqft / 92 sqm)
4 Bedroom Grand (1206-1249 sqft / 112-116 sqm)
4 Bedroom Deluxe (1442 sqft / 134 sqm)
5 Bedroom Deluxe (1722 sqft / 160 sqm)
Sims Urban Oasis Price
*Prices updated as of 12th November 2016
Indicative Prices
Residential
1 Bedroom Loft: From S$72xk
2 Bedroom Suites: From S$90xk
2 Bedroom Loft: From S$97xk
3 Bedroom: From S$1.2xmil
3 Bedroom Dualkey: From S$1.3xmil
4 Bedroom: From S$1.3xmil
For an exact pricing of a unit, register for an appointment to view Sims Urban Oasis showroom / showflat by calling or filling the form at the bottom of this page.
Register Interest for Sims Urban Oasis
Like It Share It! Sims Urban Oasis