Rezi 35
Rezi 35 Showflat/Showroom Gallery: (+65) 6100 1380
Express Service to Serve you better with Fast Response! SMS/Whatsapp to (+65) 91505616:
"Rezi 35"_"Name"_"Email"_"Your Messages"
Rezi 35 Showflat is opened on an appointment basis only. Register your interest in the form below for advance viewing of Rezi 35 showroom. For shorter waiting time or immediate response, kindly SMS/Whatsapp to (+65) 91505616:
"Rezi 35"_"Name"_"Email"_"Your Viewing date and time"
Alternatively, you can call Rezi 35 Showflat hotline: +65 6100 1380 to check if the showflat is open. A salesperson have to be assigned to you when you arrive at the showroom to show you around. We will advise you accordingly who to look for.
Register Interest for Rezi 35
Rezi 35 Review - Latest News and Updates
5th Oct 17: Rezi 35 Condo now open for soft launch. Rezi 35 price guide as follows
1 Bedroom -> $702k – $737k
1+Study -> $724k – $742k
2 Bedroom -> $966k – $1.188m
2 + Study -> $1.172m – $1.196m
3 Bedroom -> $1.264m – $1.411m
4 Bedroom -> $1.602m – $1.977m
*note that information is accurate of today's date. For more information on Rezi 35 condominium showflat viewing, register your interest in the form provided
30th Oct 17: New information uploaded! Target launch for Rezi 35 5th Nov 2017. Register your interest for the latest updates
10th Oct 17: Stay tuned for the latest updates on the latest freehold launch in Geylang Lorong 35. Register your interest for the latest updates and information for Rezi 35 and receive a private invitation for our VIP showflat viewing before the official launch!
Rezi 35 - The Development & Facilities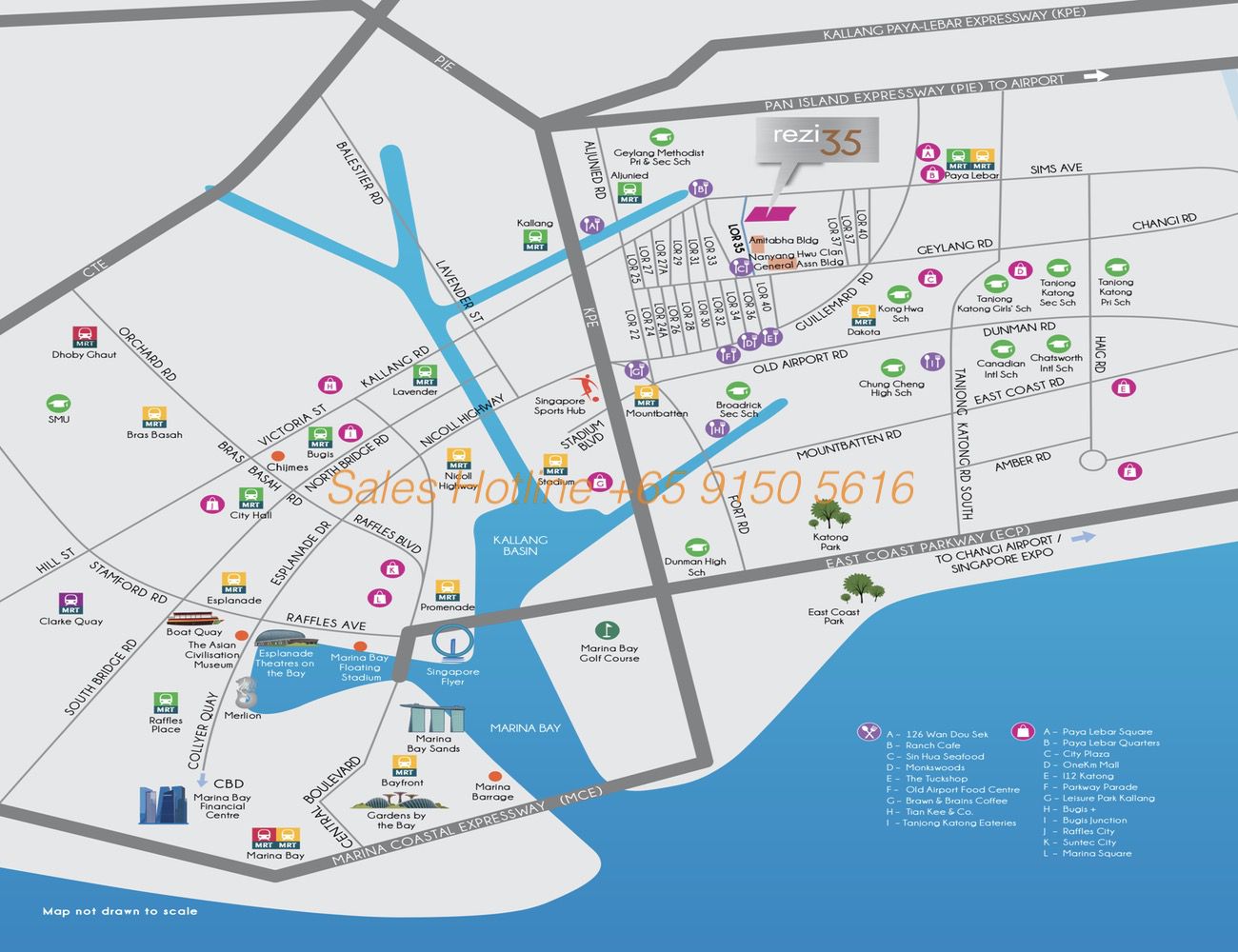 Rezi 35 is a freehold boutique apartment developed by Development 35, a joint venture between Tee Land and KSH Holdings. The development will feature 1 block of 8 storey residential apartments ranging from different bedroom types for residents to choose from. It will have basic communal facilities such as a swimming pool and gym for residents to enjoy.
Rezi 35 is located in the residential area of Geylang and will be closer towards Paya Lebar MRT. It will be just a few minutes walk away from the upcoming Paya Lebar Central, which will comprise of future shopping malls (with cinema) and Grade A offices. Rezi 35 residents can enjoy the convenience of daily amenities such as NTUC Fairprice over at Geylang Lorong 38 about 200 metre away. Other varieties include Giant supermarket at Aljunied Avenue 2 and Tanjong Katong Complex. There is also Sheng Siong hypermarket at Tanjong Katong about 700m away. In addition, there will be more supermarket, restaurants, eateries, and other shopping/dining options when the new Paya Lebar mall is ready. Stay tuned for more information on the launching date.
Register your interest to receive first hand information and private invitation to view Rezi 35 showflat. Enquire now for the best pricing and discounts!
Reasons to purchase Rezi 35
Rezi 35 offers potential buyers a chance to own a brand new and yet affordable Freehold development within walking distance to Paya Lebar MRT. In addition, Paya Lebar MRT is an interchange consisting of East-West line (green), and Circle line. Located in the City Fringe, residents can find their way to City Hall and Raffles place in just 5 & 6 MRT stop respectively.
The future of Paya Lebar will see a transformation into a bustling commercial hub integrated with lifestyle activities that will include parks and other recreational activities. Currently undergoing development includes the
Paya Lebar Quarters due to complete in around 2021
future developments integrated with Geylang River with many more shops and offices along this strip
a future civic centre located just beside the new Geylang Serai Market
Many more infrastructures underway to cater for the convenience of accessibility to the area. These includes covered walkways, underground walkways, and overhead bridges
Relocation of Paya Lebar Airbase due to complete in 2030 will affect Rezi 35 and the developments around the region greatly in the long run. Relocation of the airbase to Changi East will free up an estimated 800 ha (bigger than Bishan and Toa Payoh). This new space will then cater to new homes, offices, commercial and factories in the area. More importantly, the shifting of Paya Lebar Airbase will lift up the height restriction for Rezi 35 and surrounding developments. This means it will have a potential for developers to be targeting this region for a spree of enblocs as these areas are mostly freehold and have a plot ratio of 2.8 (up to 36 storeys) to 3.0 (36 storeys up). Currently because of the flight path from Paya Lebar Airbase, the area in Geylang and surrounding that of Rezi 35 are at most 8 storeys.
Register your interest to view Rezi 35 showflat to know more about the upcoming transformation and surrounding rejuvenation down the pipeline. Rezi 35 showroom is strictly open on an appointment basis only. Enquire now for an appointment
Rezi 35 Factsheet
Project Name: Rezi 35
Developer: Development 35 (Joint venture KSH Holdings & Tee Land)
Architect: Park + Associates Pte Ltd
Main Contractor: To be appointed
District: 14
Address: Geylang Lorong 35
Brief Description: Freehold residential development with a proposed erection of 1 block of 8 storey apartments with communal facilities including a leisure pool, pool deck, BBQ area, Gym, shower area etc
Site Area: est. 1114.70 sqm / 11,999 sqft
Tenure: Freehold
Total Units: 44
Parking: Drive in to 11 surface carpark, 1 open carpark, 32 mechanical car lots, and 1 handicapped lots. Total 44 lots + 1 handicapped lot
Estimated T.O.P: 31st Dec 2020
Estimated Legal Completion: 31st Dec 2023
Rezi 35 Nearby Schools
Within 1km
Kong Hwa School (Primary)
Geylang Methodist School (Primary)
Geylang Methodist School (Secondary)
Broadrick Secondary School
Within 1-2km
Eunos Primary School
Maha Bodhi School
Chung Cheng High School (Main)
Tanjong Katong Girls' School
Tanjong Katong Secondary School
Manjusri Secondary School
Macpherson Secondary School
Macpherson Primary School
Canossa Convent Primary School
Tanjong Katong Primary School
International Schools 1-2km
Eton House International School (Broadrick)
Eton House International School (Mountbatten 223)
Eton House International School (Mountbatten 717)
Eton House International School (Mountbatten 718)
Canadian International School (Tanjong Katong Campus)
Chatsworth International School East Campus
*Note that the research made on Rezi 35 school proximity, as above, is based on rough estimates. It is still advisable to contact your school of interest to check if it falls within the distance stated above.
Rezi 35 Location Map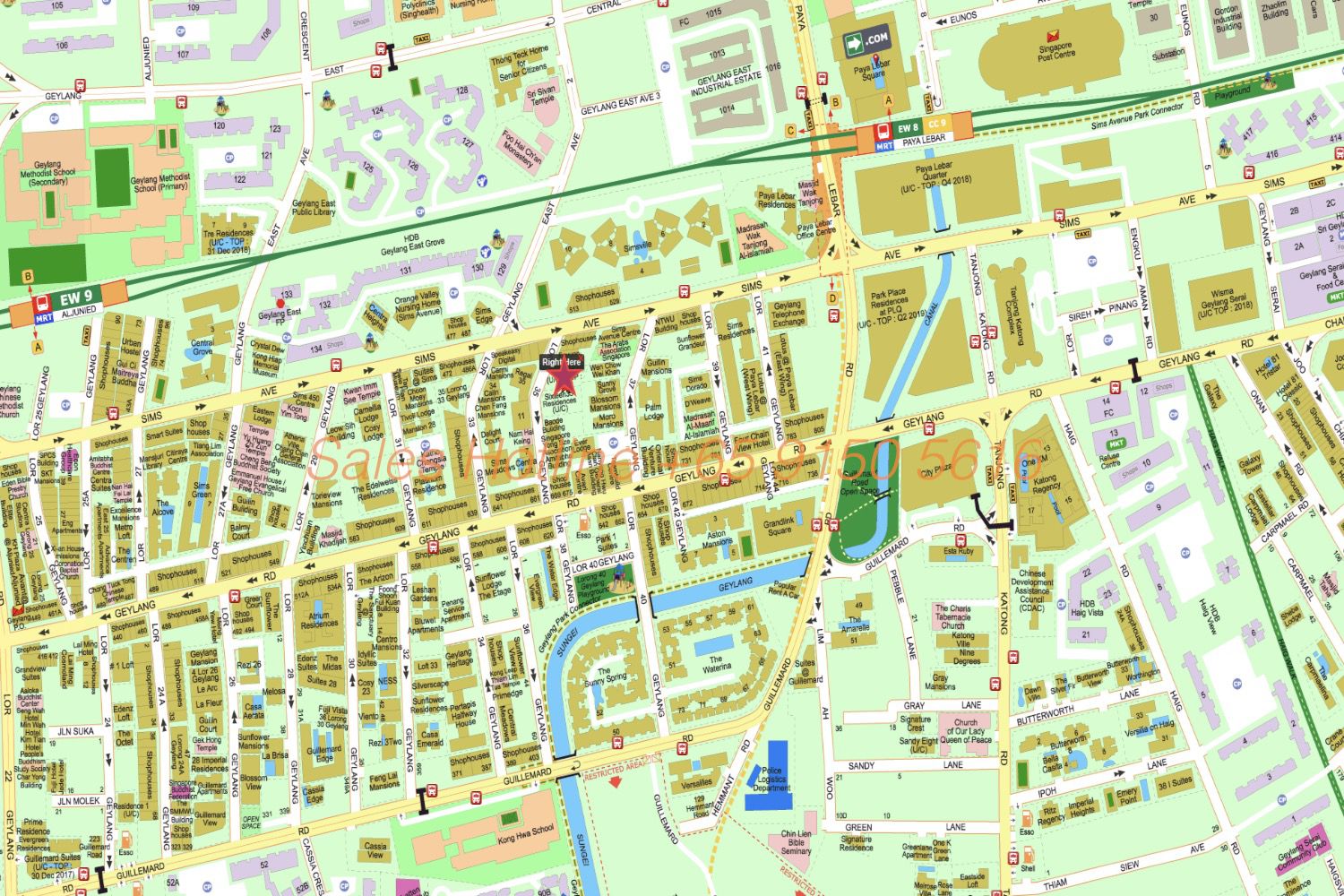 As marked (red star) on the map, Rezi 35 is located within a short walk to Paya Lebar MRT (est 500 metre) to the west of Sims Road. Residents of Rezi 35 can also enjoy to upcoming Paya Lebar Quarters which will be completed in 2019. It will include grade A offices, shopping malls, cinema, more dining options, and many more. Existing shopping mall located just beside Paya Lebar MRT is the Tanjong Katong Complex, and Paya Lebar Square which includes offices and shopping options. The revamp of Singapore Post Centre will include more prominent anchor tenants, on top of the already abundants shopping/dining options.
Rezi 35 Condo Site Plan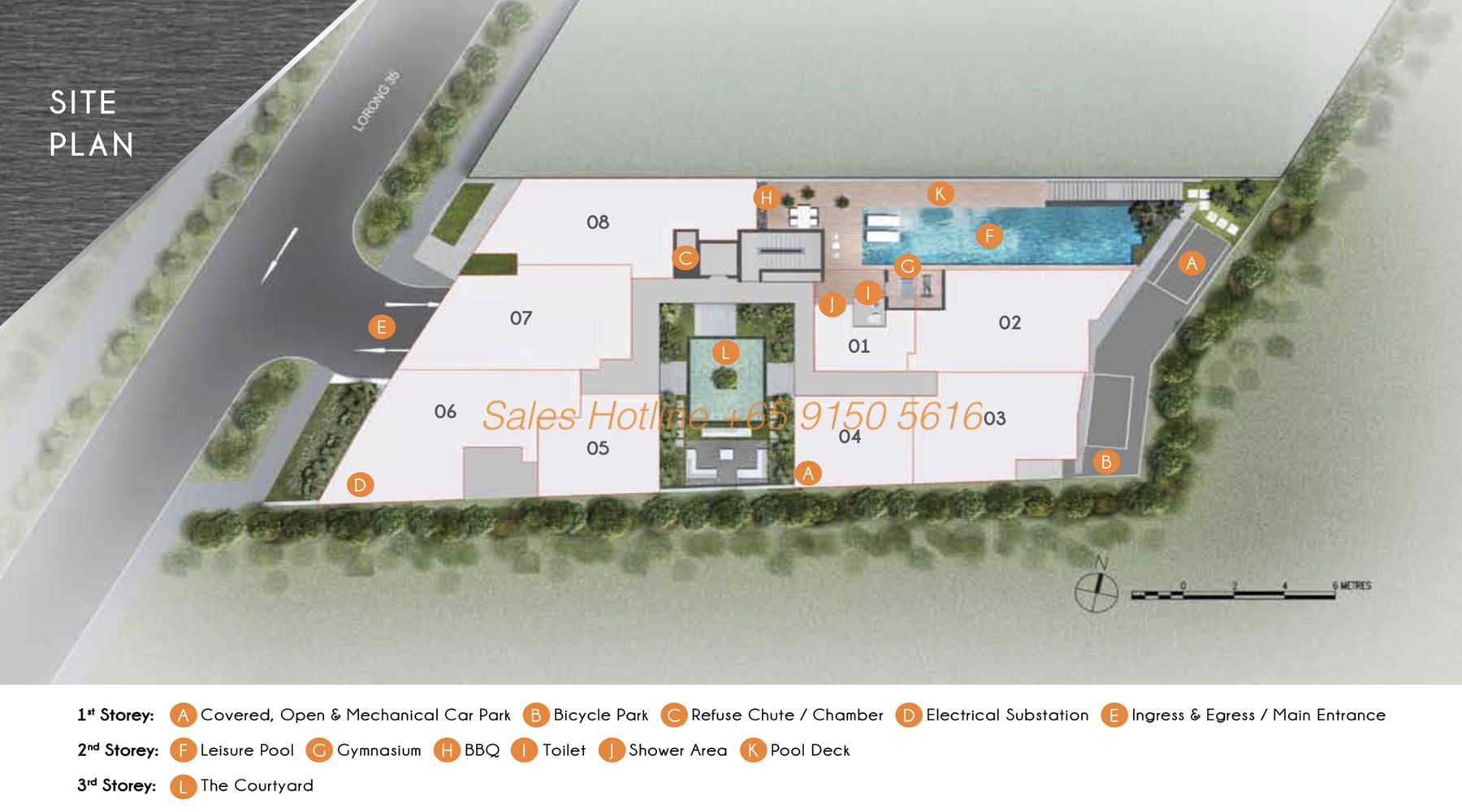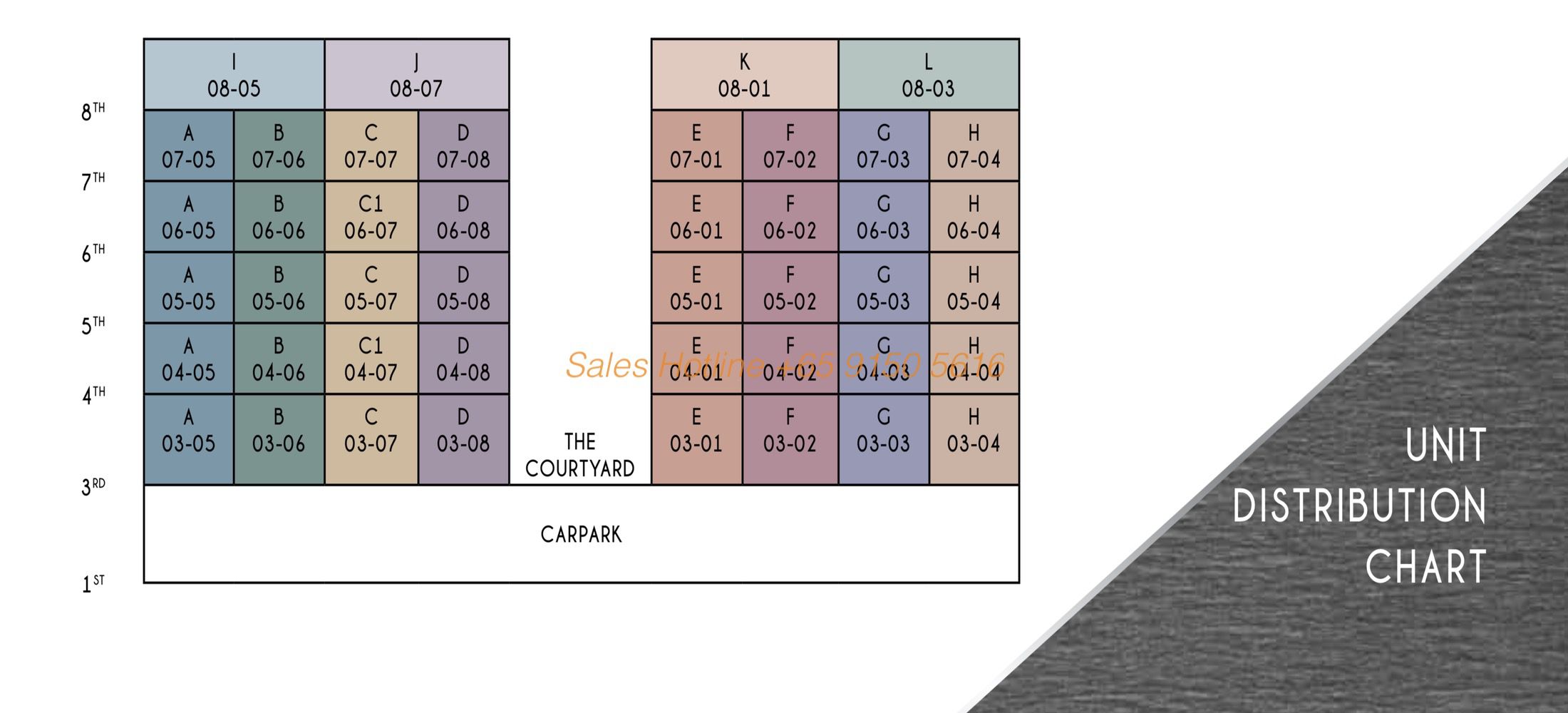 Rezi 35 Floor Plan
1 Bedroom ( 441 – 452 sqft / 41 – 42 sqm), Maintenance Fee $250
1 + Study ( 452 sqft / 42 sqm), Maintenance Fee $250
2 Bedroom ( 646 – 893 sqft / 60 – 83 sqm), Maintenance Fee $300
2 + Study ( 840 – 850 sqft / 78 – 79 sqm), Maintenance Fee $300
3 Bedroom ( 797 – 1163 sqft / 74 – 108 sqm), Maintenance Fee $300-350
4 Bedroom ( 1281 – 1647 sqft / 119 – 153 sqm), Maintenance Fee $350-400
Rezi 35 floor plan sample for 1 to 4 bedroom. For the full Rezi 35 Floor plans, kindly request in the link below
Rezi 35 Price
Indicative Prices
Residential
1 Bedroom: From $702k
1 + Study: From $724k
2 Bedroom: From $966k
2 + Study: From $1.172mil
3 Bedroom: From $1.264mil
4 Bedroom: From $1.602mil
*prices accurate of 4th Nov 2017. For the latest Rezi 35 price and availability, Call or whatsapp @ +65 91505616 (Janson Ang)
For an exact pricing of a unit, register for an appointment to view Rezi 35 showroom / showflat by calling or filling the form at the bottom of this page.
Register Interest for Rezi 35
Like It Share It! Rezi 35