Kingsford Waterbay
Kingsford Waterbay Showflat/Showroom Gallery: (+65) 6100 1380
Express Service to Serve you better with Fast Response! SMS/Whatsapp to (+65) 91505616:
"Kingsford Waterbay"_"Name"_"Email"_"Your Messages"
Kingsford Waterbay Showflat is opened on an appointment basis only. Register your interest in the form below for advance viewing of Kingsford Waterbay showroom. For shorter waiting time or immediate response, kindly SMS/Whatsapp to (+65) 91505616:
"Kingsford Waterbay"_"Name"_"Email"_"Your Viewing date and time"
Alternatively, you can call Kingsford Waterbay Showflat hotline: +65 6100 1380 to check if the showflat is open. A salesperson have to be assigned to you when you arrive at the showroom to show you around. We will advise you accordingly who to look for.
Register Interest for Kingsford Waterbay
Kingsford Waterbay Review - Latest News and Updates
NOTE: Kindly note that Kingsford Waterbay Showflat is offsite. Kindly fix an appointment to view Kingsford Waterbay Showroom in advance. Strictly by appointment only
May 2018: Counting down to the last 55 Unit of Kingsford Waterbay! We are currently 95% sold. Register your interest now to enjoy special Developer's discounts and best pricing today!
4th June 2017: Kingsford Waterbay offer residents a choice to own a spacious unit with luxurious sizing at an affordable price. With more than 10 units sold every week, it remains one of Singapore's top selling project in the northeast region. Enquire now to view our spacious showflat unit layout
19th May 2017 updates!
Kingsford Waterbay Maintenance Fee (Estimated)
1 Bedroom – S$241
2 Bedroom – S$289
3 Bedroom – S$289
4 Bedroom – S$289 (Type D1/D1a) to S$337
5 Bedroom – S$337
Strata Terrace – S$337
Strata Semi-D – S$337 (3 Bedroom) and S$385 (4 Bedroom)
Shops – S$210 to S$220
Kingsford Waterbay - The Development & Facilities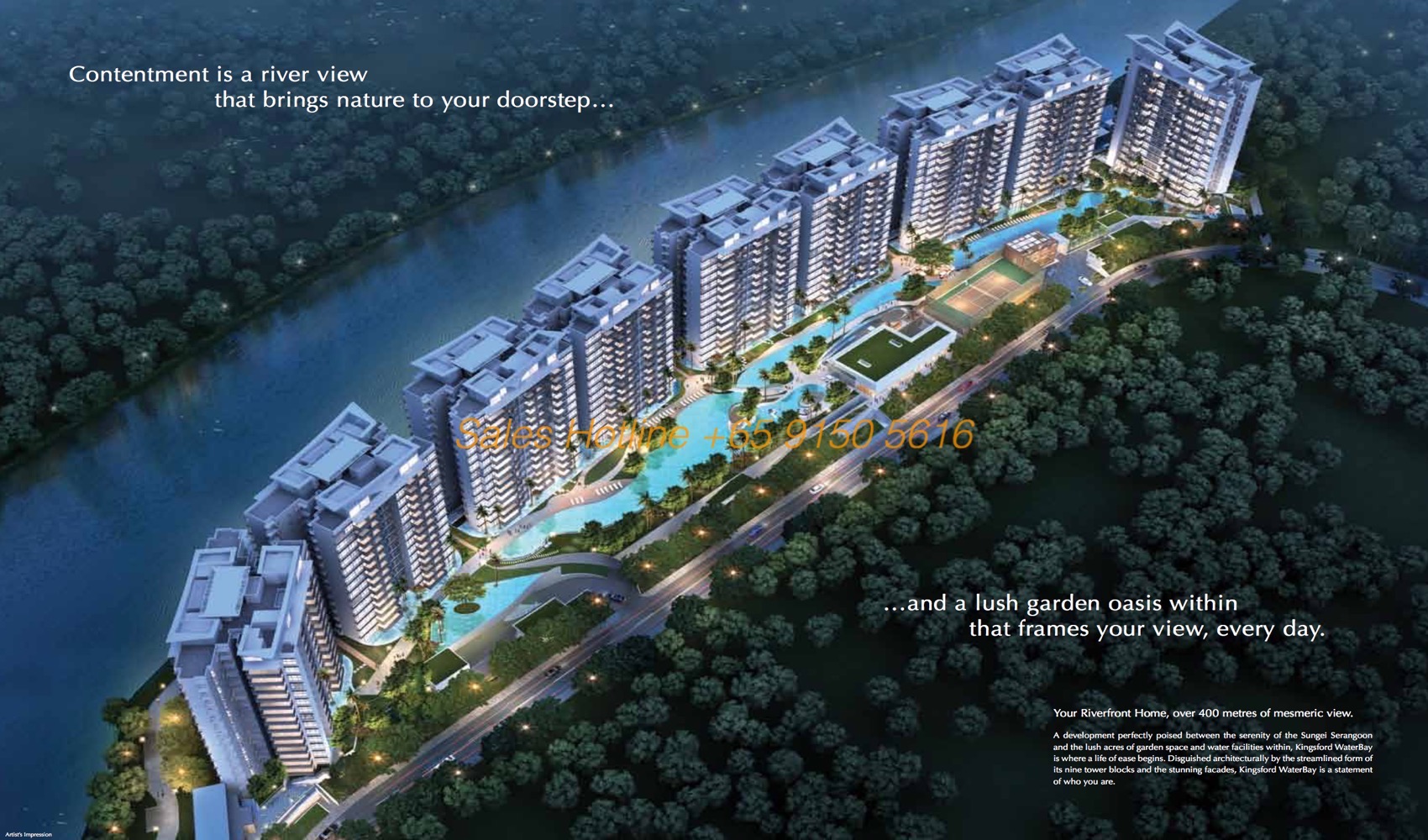 Kingsford Waterbay is a residential development comprised of a total 9 blocks 16 storey high with a total of 1165 residential units and 6 commercial shops. Developed by Kingsford Property Development Pte Ltd, the development is located along Serangoon View with choice of residential units facing the river front. A short drive away takes residents to the Kallang Paya Lebar Expressway (KPE) which takes residents to the city centre of Singapore. Also accessible is the Tampines Expressway (TPE) which can bring residents to the eastern or western part of Singapore.
Kingsford Waterbay sits on a huge plot of 293,806 sqft of land space. Having such a huge size is advantageous as residents may benefit from having to pay low maintenance fees due to the large number of units, as well as to enjoy the many amenities that the development have to offer. There will be 6 different zones of facilities that residents may enjoy from. Scroll through the different themes below to see the list of facilities
Register your interest today to know more about Kingsford Waterbay. Also note that Kingsford Waterbay showroom is now open for viewing by appointment basis only. Fill in the forms below to fix an appointment and enjoy the best pricing, availability, and discounts.
Kingsford Waterbay Factsheet
Project Name: Kingsford Waterbay
Developer: Kingsford Development Pte Ltd
Address: 50 – 84 Serangoon View S533876 – S533893
Architect: P&T Consultants Pte Ltd
Landscape Architect: EcoPlan Asia Pte Ltd
Interior Designer: StudioMuse Pte Ltd
Main Contractor: Kingsford Construction Pte Ltd
M&E Consultants: United Project Consultants Pte Ltd
District: 19
Plot Ratio: 3.0
Brief Description: Proposed residential development comprising of 9 blocks 16 storeys high, 6 units of 2 storey strata terraces, 2 units of strata semi-D, 6 commercial shops, and full condominium facilities with basement carpark
Site Area: est. 27,295.3 sqm / 293806.6 sqft
Tenure: 99 years leasehold
Total Units: 
 1157 typical residential units
 6 Strata Terrace Units
2 Semi-D
 6 Commercial Units
Parking:
1165 Residential Lots
8 Handicapped Lots
12 Childcare lots, 1 School Bus Lot, and 1 Handicapped Lot
Estimated T.O.P: 1st December 2018
Estimated Legal Completion: 30th November 2021
Kingsford Waterbay Nearby Schools
Within 1km
Punggol Primary School
Serangoon Secondary School
Holy Innocent High School
Within 1-2km
North Vista Primary School
Holy Innocent Primary School
Montford Secondary School
Above 2km
Xinmin Primary School
Nan Chiau Primary school
Montford Junior School
Xinmin Secondary School
Serangoon Junior College
*Note that the research made on Kingsford Waterbay school proximity, as above, is based on rough estimates. It is still advisable to contact your school of interest to check if it falls within the distance stated above.
Kingsford Waterbay Location Map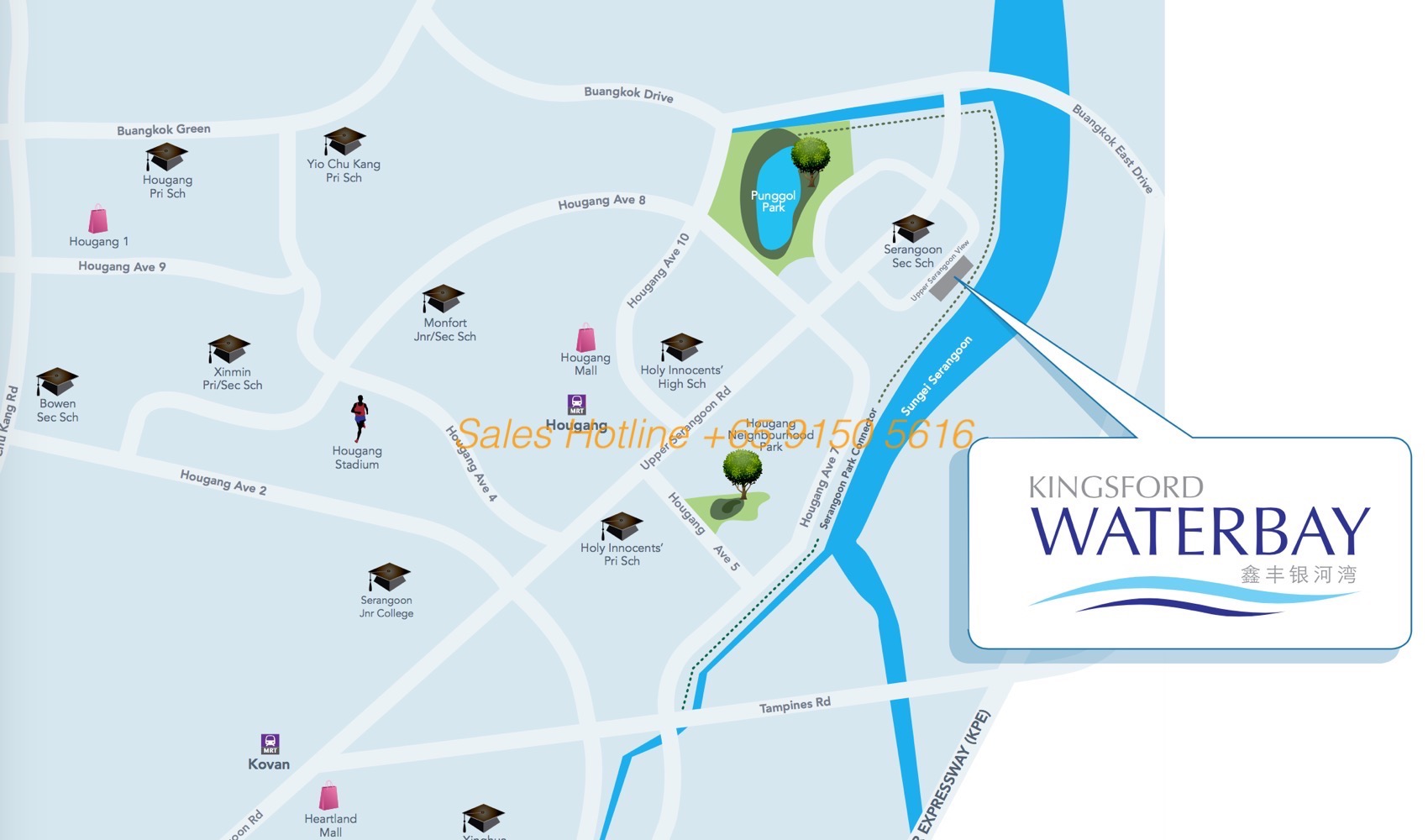 Kingsford Waterbay Condo Site Plan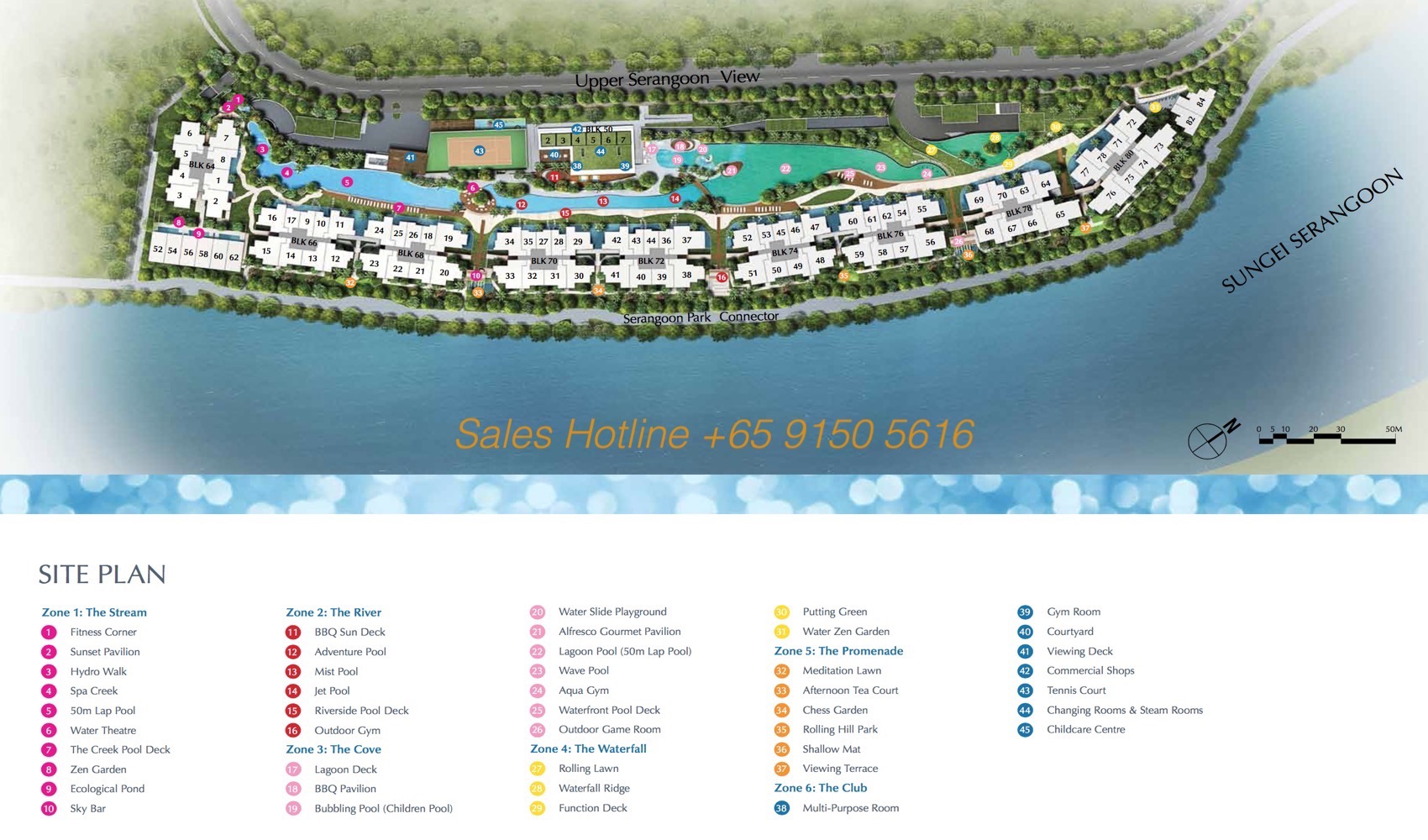 Kingsford Waterbay Floor Plan
1 Bedroom (474-484 sqft / 44-45 sqm)
2 Bedroom (614-775 sqft / 57-72 sqm)
3 Bedroom (850-1044 sqft / 79-97 sqm)
4 Bedroom (980-1216 sqft / 91-113 sqm)
5 Bedroom (1302-1356 sqft / 121-126 sqm)
Penthouse
Strata Terrace
Strata Semi-D
Shops
Kingsford Waterbay Price
Indicative Prices as of 2nd April 2017
Residential
1 Bedroom: FULLY SOLD
2 Bedroom (with 2 Bath): From S$843k
3 Bedroom (Enclose kitchen): From S$936k
3+Study (Pool View): From S$1.139mil
3 Dualkey (River View): From S$1.116mil
4 Bedroom (Pool View): From S$1.137mil
5 Bedroom: From S$1.472mil
Strata Terrace: From S$1.805mil
For an exact pricing of a unit, register for an appointment to view Kingsford Waterbay showroom / showflat by calling or filling the form at the bottom of this page.
Register Interest for Kingsford Waterbay
Like It Share It! Kingsford Waterbay