Ideo Mobi Asoke (ไอดีโอ โมบิ อโศก)
Ideo Mobi Asoke Showflat/Showroom Gallery: Call (+65) 6100 1380
Register interest by SMS/Whatsapp to (+65) 91505616:
"Ideo Mobi Asoke"_"Name"_"Email"_"Your Messages"
Ideo Mobi Asoke ไอดีโอ โมบิ อโศก features a next generation development by well-renowned Thai Developer Ananda. Known for developing iconic properties near the BTS station, Ideo Mobi Asoke will be the latest development located within 290metres away from Petchaburi MRT and in between 2 CBD including "The New CBD" Rama 9. 1 station away takes residents to Asoke BTS & Sukhumvit MRT interchange. Ideo Mobi Asoke have established its ground in the future of modern city living, and have integrated the latest innovation that includes smart home, smart design, smart building, and smart location, into the development. Scroll further down for more information on some of the latest ideas that Ananda have put in place over at Ideo Mobi Asoke.
ไอดีโอ โมบิ อโศก - สำหรับคนไทย
สำหรับผู้ซื้อที่สนใจในประเทศไทยไม่จำเป็นต้องรอคิวที่โชว์รูม เป็นคนแรกที่คุณสามารถจองได้ในสิงคโปร์ก่อนที่จะเปิดตัวในประเทศไทย (ไอดีโอโมบิอโศก) คุณสามารถจองได้ที่ตัวแทนจำหน่ายสิงคโปร์ ซึ่งพวกเขาจะให้คำแนะนำคุณได้ในทุกๆเรื่อง
ลงทะเบียนในรูปแบบดังต่อไปนี้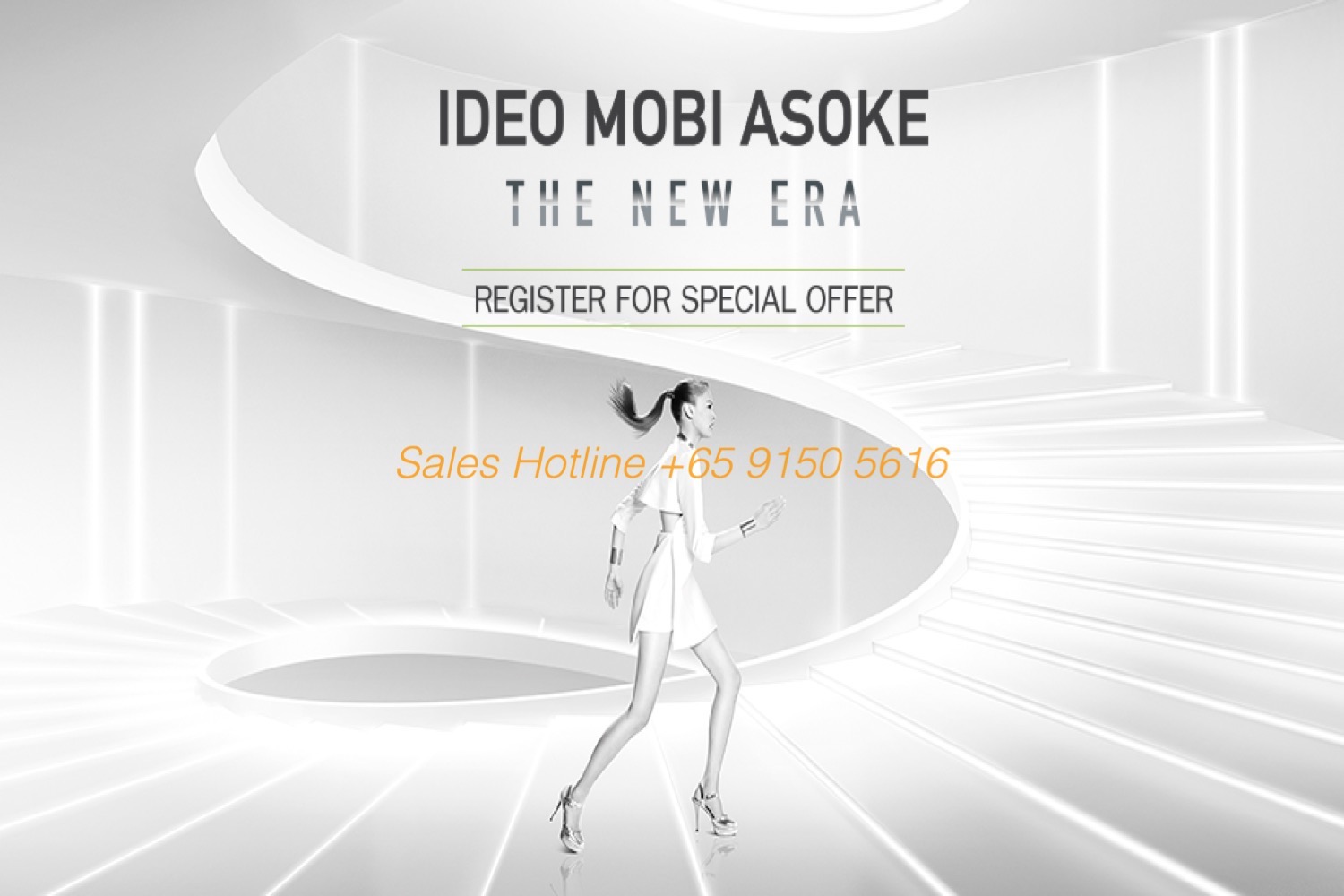 Be the first to purchase your unit by registering your interest in the form below. VIP Preview Sales will commence over at Grand Hyatt Hotel Singapore. Have your choice selection of units before the public launch in Thailand.
*Note that units will be open for sale in Singapore on launch day to both locals Thais and international buyers. Enquire now for details and procedures for advance booking of unit online (Call/Whatsapp/SMS: +65 9150 5616, Email: janson.huttons@gmail.com
Register Interest for Ideo Mobi Asoke
Ideo Mobi Asoke Updates & News
5th September: Parametric Fins integrated into Ideo Mobi Asoke building facade dissipate heat from the building to a certain extent. This in return, requires lesser energy for air conditioning unit to cool the apartment down during hot days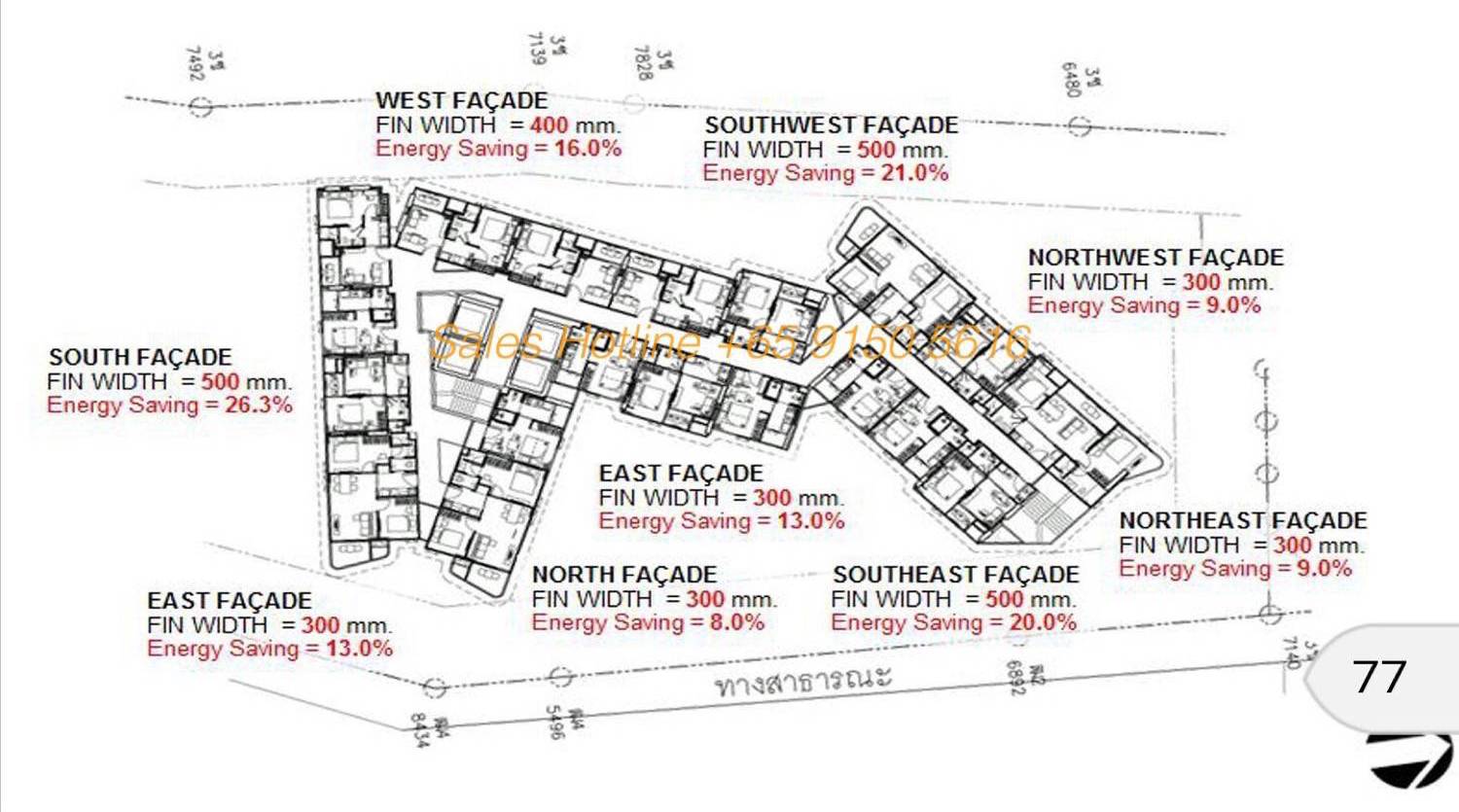 1st September: Ideo Mobi Asoke Public seminar held in Singapore this weekend 3rd & 4th September at the sales gallery. Register your interest for this seminar
31st August: Prices will be available soon. Enquire now on your choice units for exact pricing
30th August: New updates on Ideo Mobi Asoke units up for sale – Level 8, 16, 28. Level purchasers entitled to any level request
29th August: Worldwide preview hotel event held at the Grand Hyatt Hotel Singapore on the 10th September
Ideo Mobi Asoke (ไอดีโอ โมบิ อโศก) - The Development
In this development, Ideo Mobi Asoke will have 4 features that stands out among other developments:
Smart Location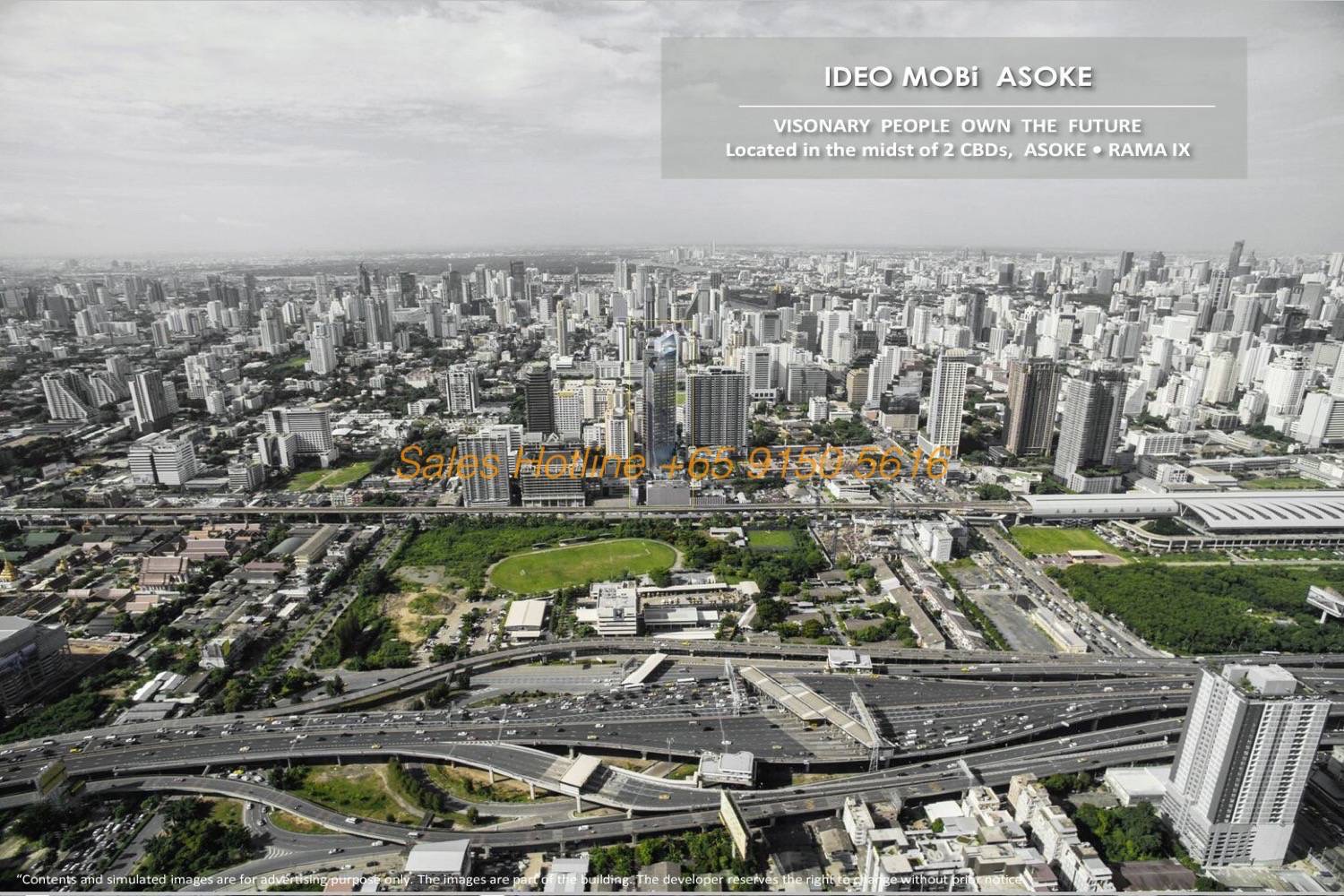 Ananda have secure its latest land purchase in a strategic location with future potential growth and rental return
Located less than 5 minutes walk or about 290 metres to Petchaburi MRT
Less that 5 minutes walk or about 300 metres to Airport Railing station Makkasan
In between 2 Central Business District (CBD Asoke & the new Grand Rama IX CBD)
Plentiful of amenities at door step including local & International Schools, Universities, Hospital etc
1 stop away from Asoke BTS & Sukhumvit MRT Interchange
1 stop away to Rama 9 MRT
2 stops to future Orange Line BTS/MRT interchange station of Thailand Cultural Centre
Future Growth Potential in the surrounding including future Bangkok's Super Tower, Singha Complex, Makkasan Complex and many more
Ease of Access to major roads and highways to:
Ratchada/Rama IX
Chitlom/Siam
Ekamai/Thonglor
Asoke/Sukhumvit
Sirat Expressway
M.C.O.T Expressway
Smart Design
Bangkok is known for its densely high rise building and traffic. In order to maximise its city view of each unit but yet retain its contemporary facade and spacious internal unit space, Ananda have collaborated with some of the leading firms in architecture and landscape design. These includes:
Japanese architecture firm Mitsui-Fudosan well known for its sophisticated building design
Multi-award winning architect A49
World renowned interior designing firm DWP
Thailand's very own landscaping architect LAB
Smart Building
With the above collaboration, the following features can be found in Ideo Mobi Asoke:
"M Master Plan" that is unique to the development so as to maximised pocket views of the city in each unit
Curved windows that enhances the beauty of the facade
Efficient layout design that maximise the living spaces of each unit
Advance energy saving design such as parametric fins in the facade itself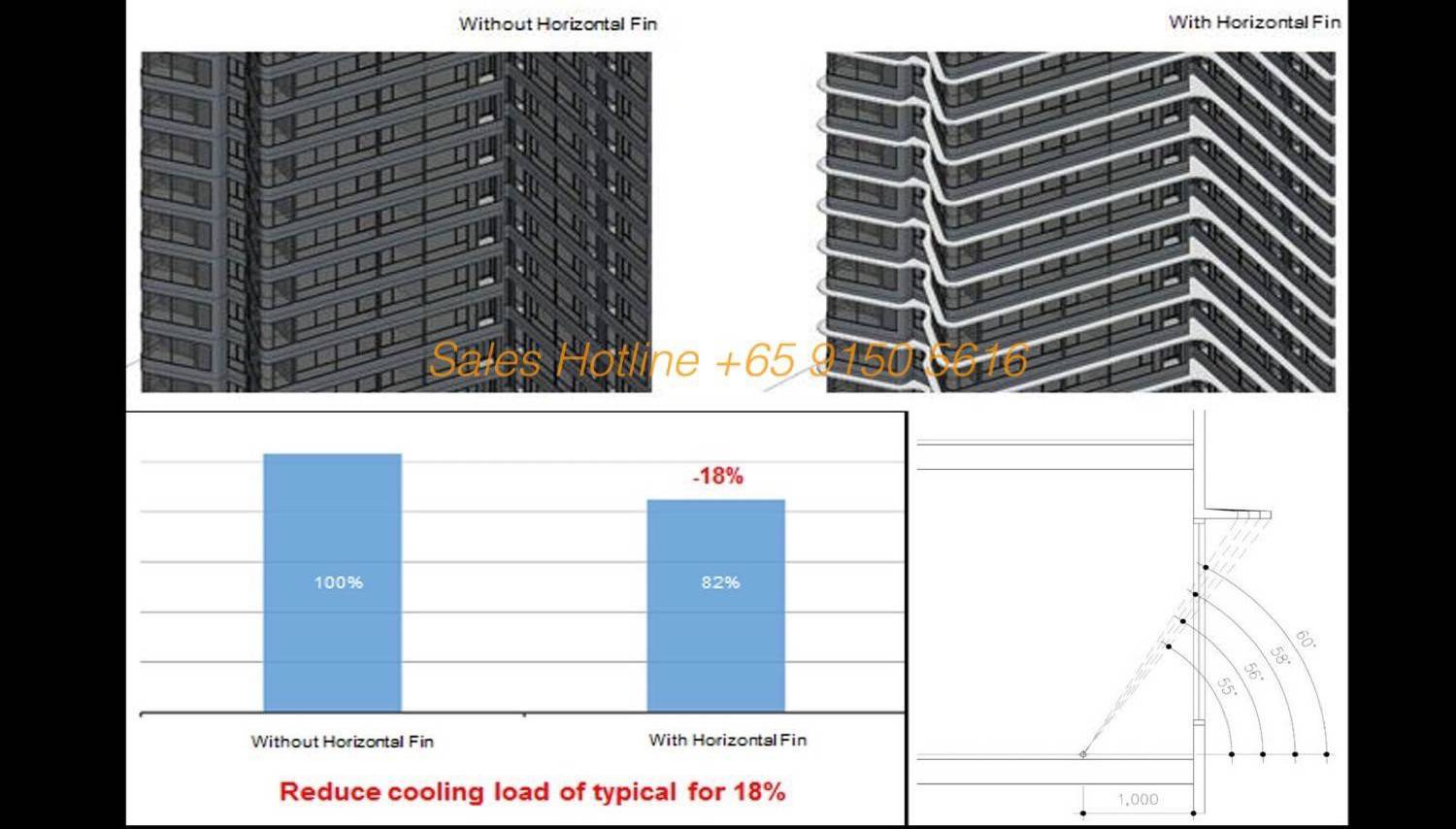 Smart Home
Some of the features that is integrated into Ideo Mobi Asoke includes the Smart Hub, Digital locks, IP Camera in each unit, and many more technological advances of smart living
Ideo Mobi Asoke (ไอดีโอ โมบิ อโศก) - The Building and Facilities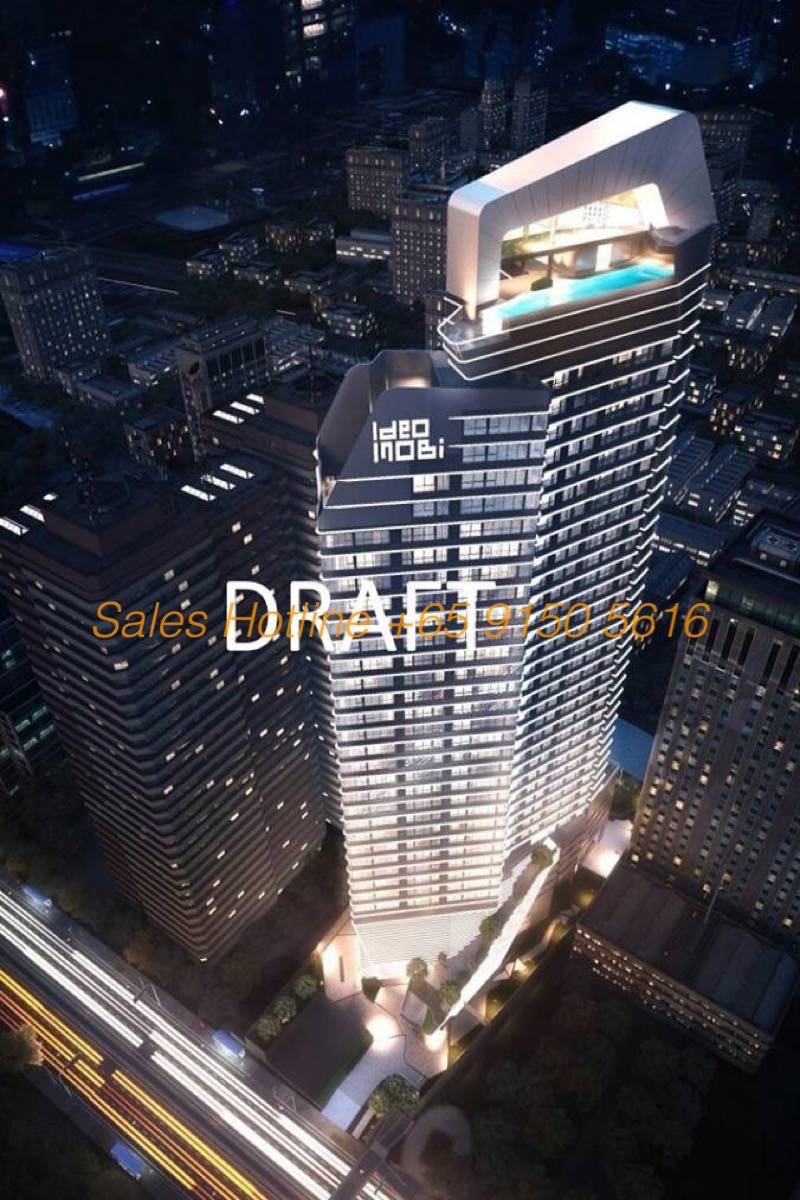 Level 1: Grand reception with lobby, Starbucks Cafe, Ozone Grand Lobby, Garden
Level 1-6: Carpark
Level 1-7: 1st of its kind Mountain Urban Trail Running
Level 7: Retreat Garden
Level 7-35: Residential units (Studio, 1 bedroom, 1 bedroom duplex, 2 bedroom)
Level 36: Sky lounge, Cloud fitness room with 360 panoramic view of the city, Library, Co-Working Space, Pool with aqua sonic sound under water, Jacuzzi, and many more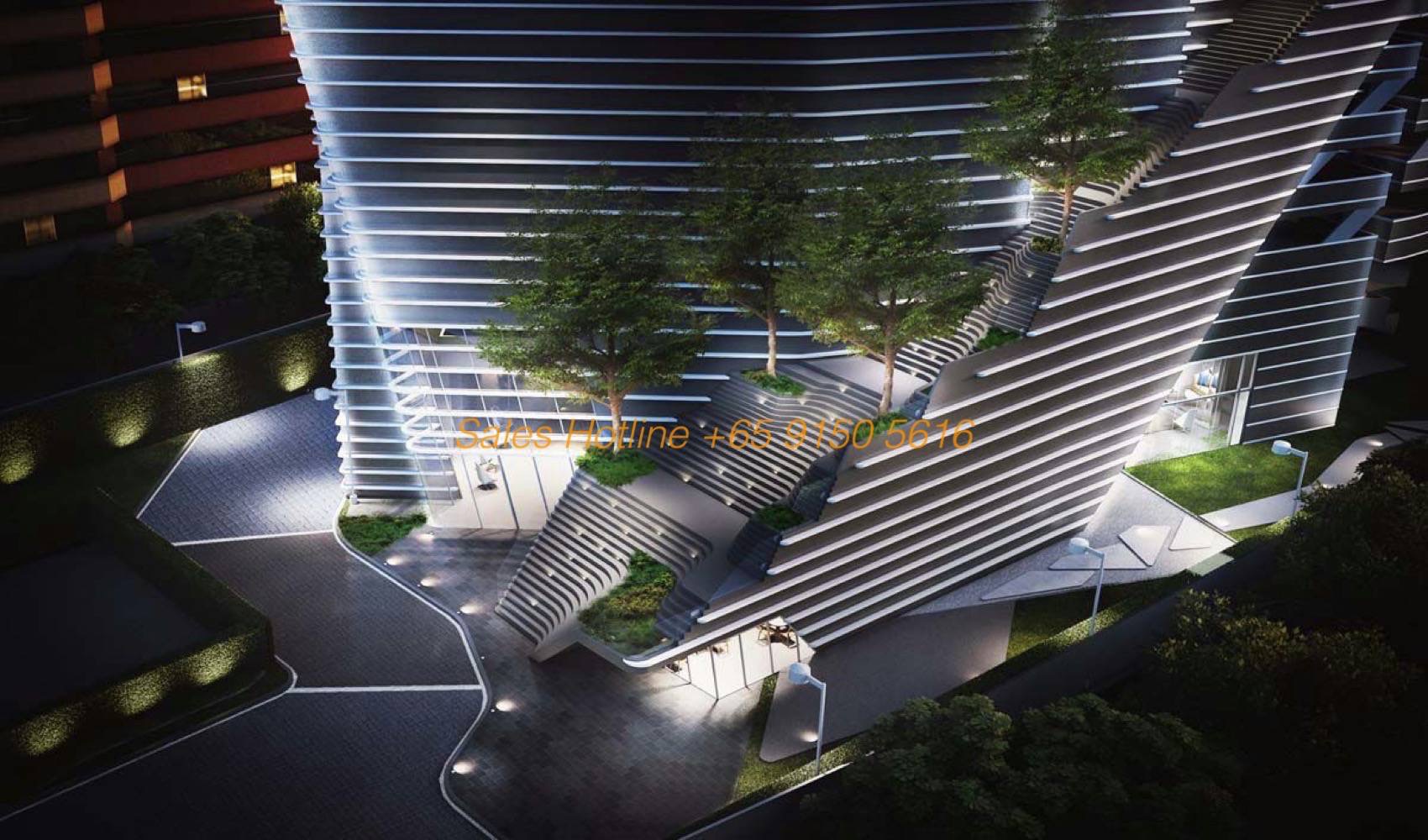 Surrounding Developments and Potential Capital Appreciation
Singha Complex

Just a stroll away from Ideo Mobi Asoke, there will be a future mix development by famous Thai brewery company Singha. Their complex will feature a mix development comprising of 28-floor Grade A office spaces and 5 levels of commercial shops.
Bangkok Super Tower
Bangkok's tallest tower standing at 615metre will be fixed in the heart of Rama IX new CBD. The 125 storey development is Thailand's biggest investment yet, featuring an open-air multipurpose plaza, conference facilities, retail mall, 24 hour office facilities, 6 star hotel, fine dining restaurants, observation deck, and many more.
Stock Exchange of Thailand

Replacing the current stock exchange centre over at Klongtoey, the new stock exchange building will be located over at 93 Ratchadapisek Road, Dindaeng, just opposite the Thailand Culture Centre
AIA Capital Centre (Completed)
Thailands biggest life insurer AIA Thailand, is banking into property investment over in Bangkok CBD. The 6 billion baht investment has a total rentable area of 54,000 sqm. With the limited bond supply and unfavourable domestic market, AIA is looking at the long run with property investment, particularly in Grade A offices.
Central Plaza (Completed)

Central Plaza is the One stop shopping and lifestyle entertainment located in Rama 9. The building comprise of a mix of office and shopping complex owned by Central Pattana. The building have been fulfilling the concept of work & play lifestyle over the past decades.
The 9th Towers Grand Rama 9 (Completed)

The recently completed (2013) 9th Towers Grand Rama 9 features a 34-storey Grade A office building that is a short walk away from Rama 9 MRT station. The asking rent is around the region of 700 baht/sqm/month comprising of units in the range of 150-1500 sqm
G Tower

The G Tower features an iconic designed building with 26 and 36 floors. The mix development will comprise of both retail section on the lower floors, and office spaces on the higher levels. The G Tower is part of the "Grand Rama IX" project and is set to be completed in the later quarter of 2016.
Hotel New World Grand Rama 9

The hotel development is set to be ready by 2017. Located in Grand Rama 9, the hotel will be part of Bangkok's new CBD and is located near the new Stock Exchange of Thailand. New World hotel at Grand Rama 9 will feature 285 hotel rooms, modern facilities with 24 hours dining restaurants, exclusive lobby lounge, cafe, rooftop pool bar and many other function rooms for business related meetings.
The Shoppes Grand Rama 9 (Completed)

The Shoppes Grand Rama 9 will connect multiple shopping arcades in Grand Rama 9 covering a whopping 35,000 sqm comprising of shopping, restaurants, supermarket, fashion shops, and banks
Unilever House (Completed)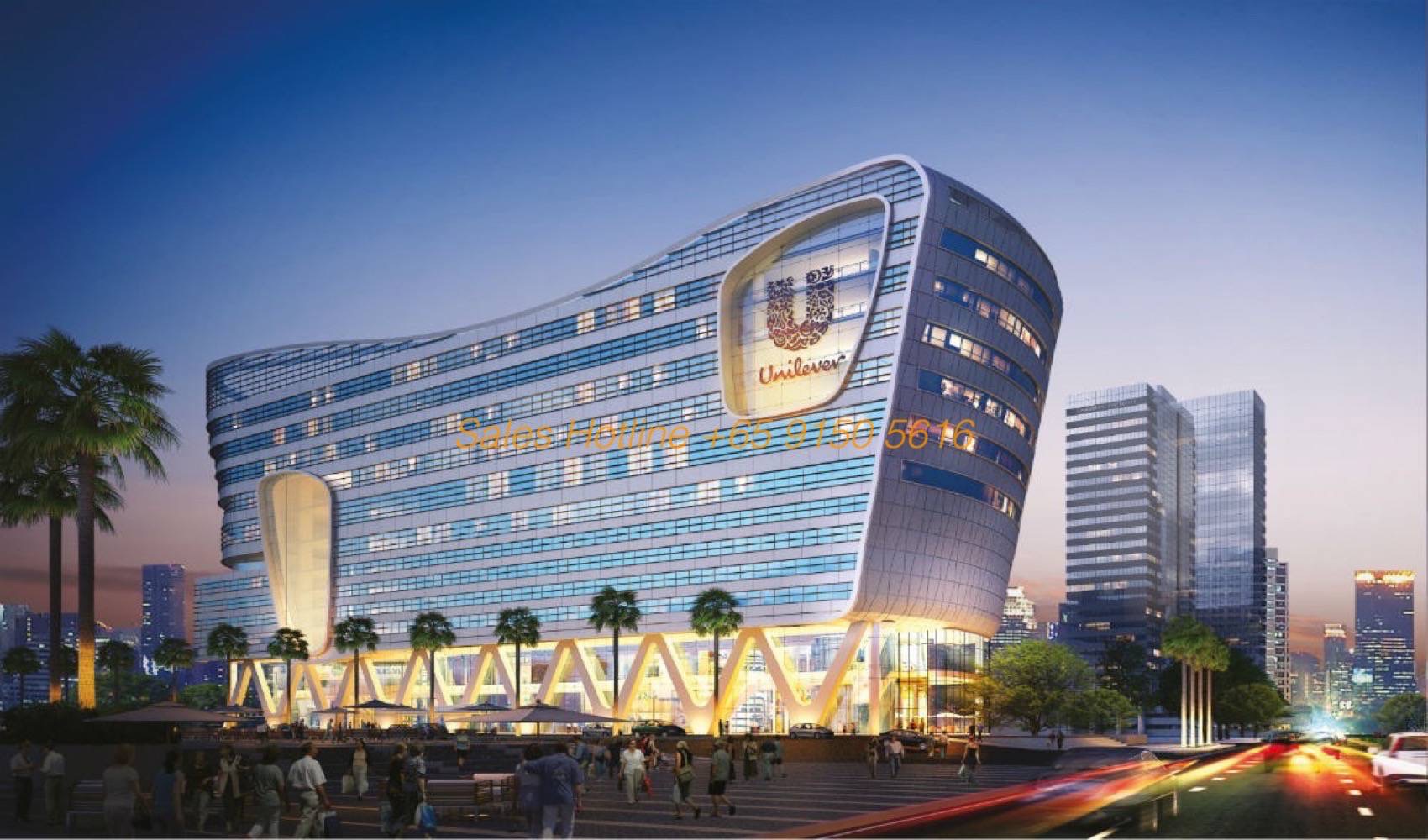 Unilever House is the headquarter for Thailand's and Asia-Pacific trading company "Unilever". The building features a 12 storey high will be part of The Grand Rama 9 new CBD
Ideo Mobi Asoke Factsheet
Project Name: Ideo Mobi Asoke (ไอดีโอ โมบิ อโศก)
Developer: Ananda Development PLC – Joint with Mitsui Fudosan
Address: Phetchaburi Road
Brief Description: Proposed freehold residential development 36 storeys tall comprising of studio to 2 bedrooms apartments
Site Area: Approximately 2.6 rai/ 4253.2 sqm / 45,781 sqft
Tenure: Freehold
Eligibility: For sale to Foreigners
Total Units: 507 residential apartments + 1 Retail unit
Parking: 245 carpark
Estimated Completion: September 2018
Ideo Mobi Asoke Phetchaburi Location Map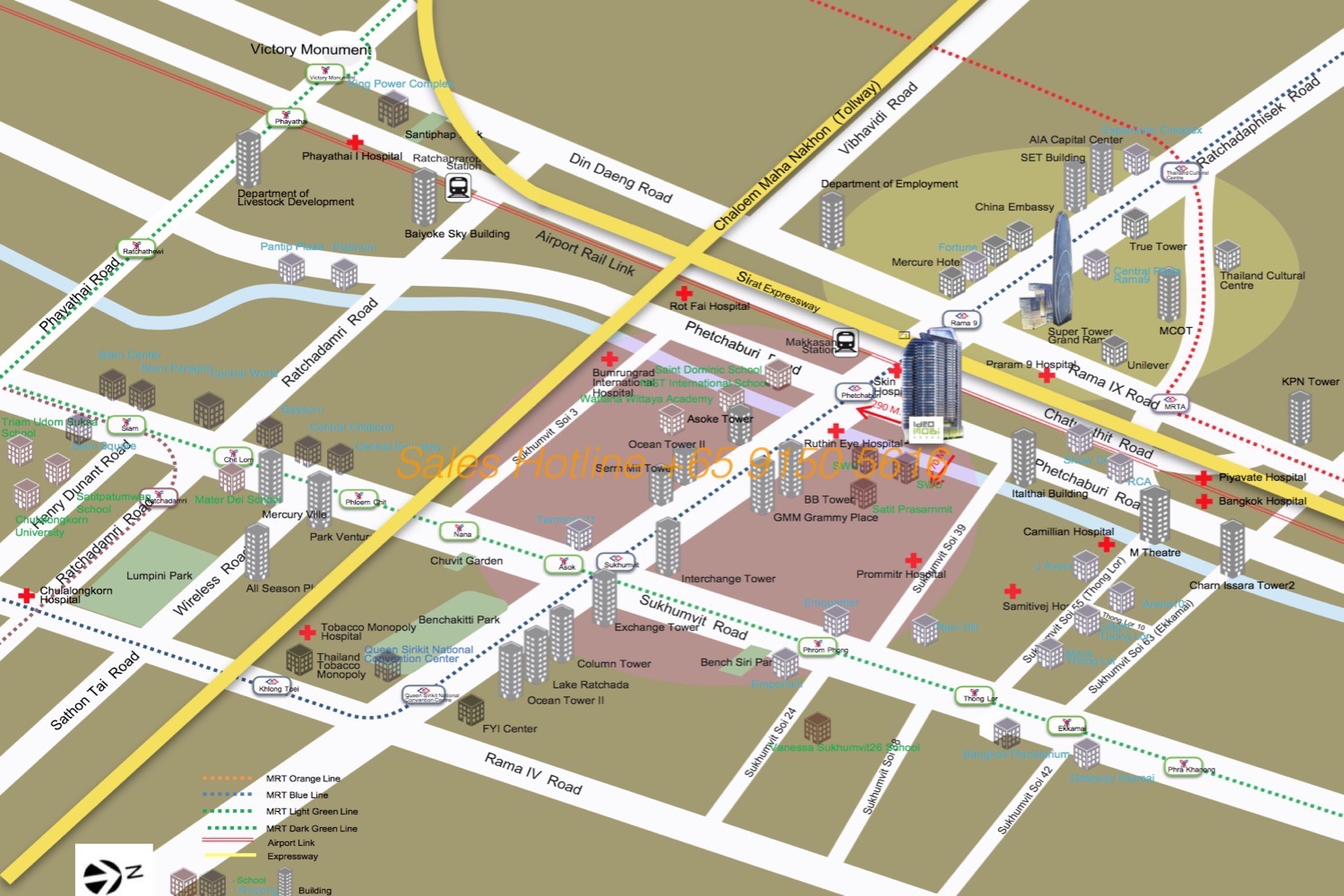 Ideo Mobi Asoke Condo Site Plan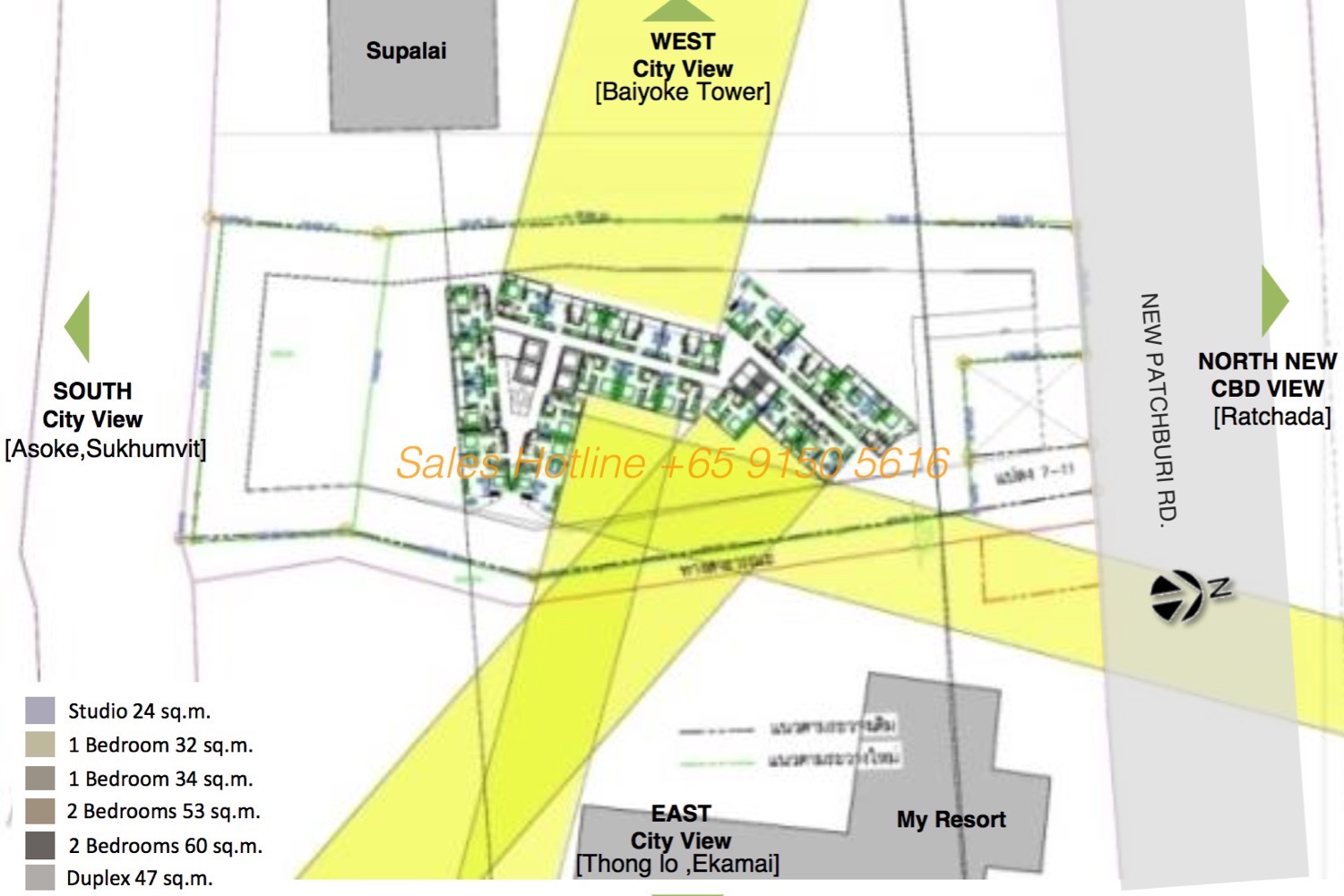 3 Levels will be open for sale to international buyers – Level 8, 16, 28. Level purchasers have the option to choose any level
Level 8
Level 16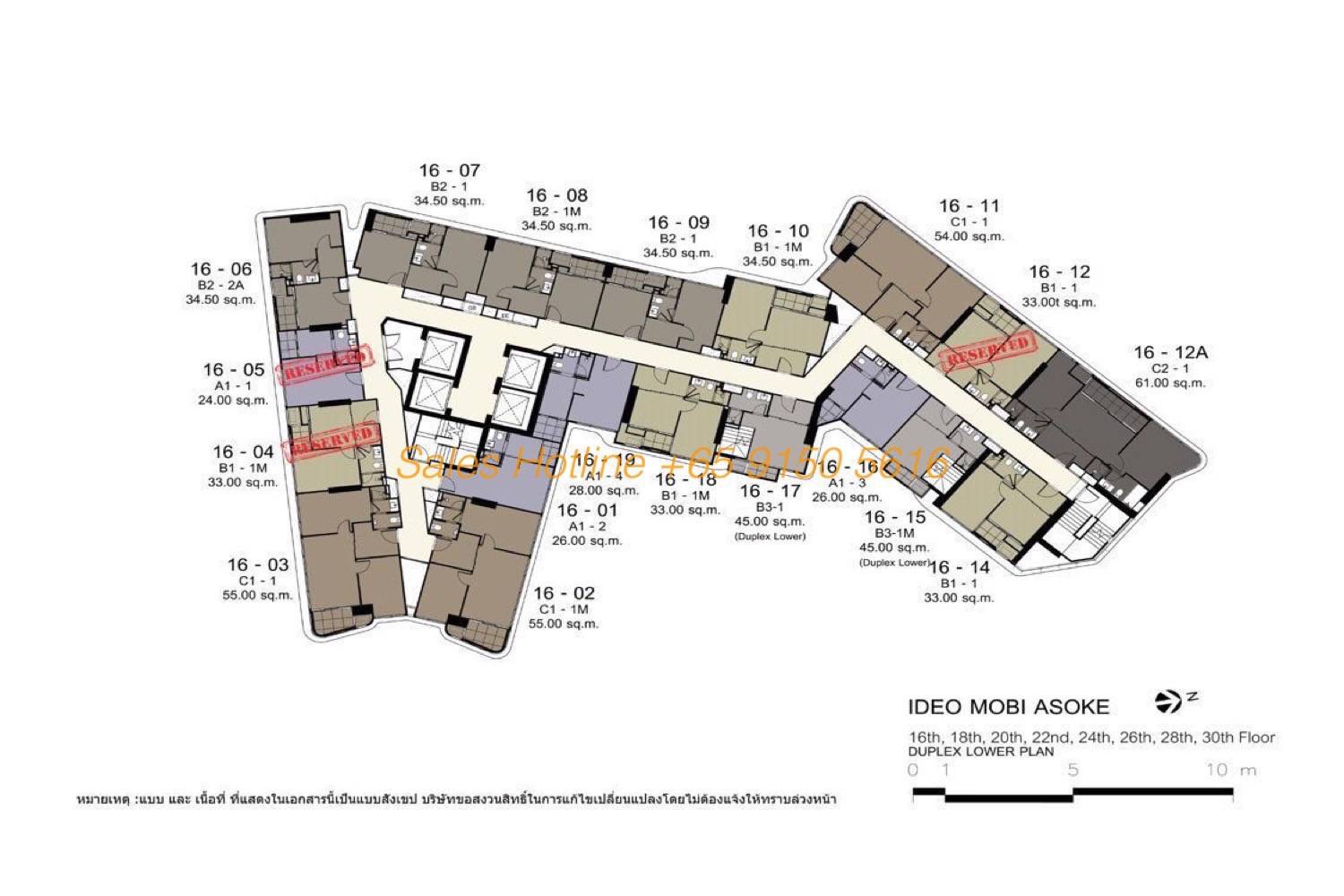 Level 28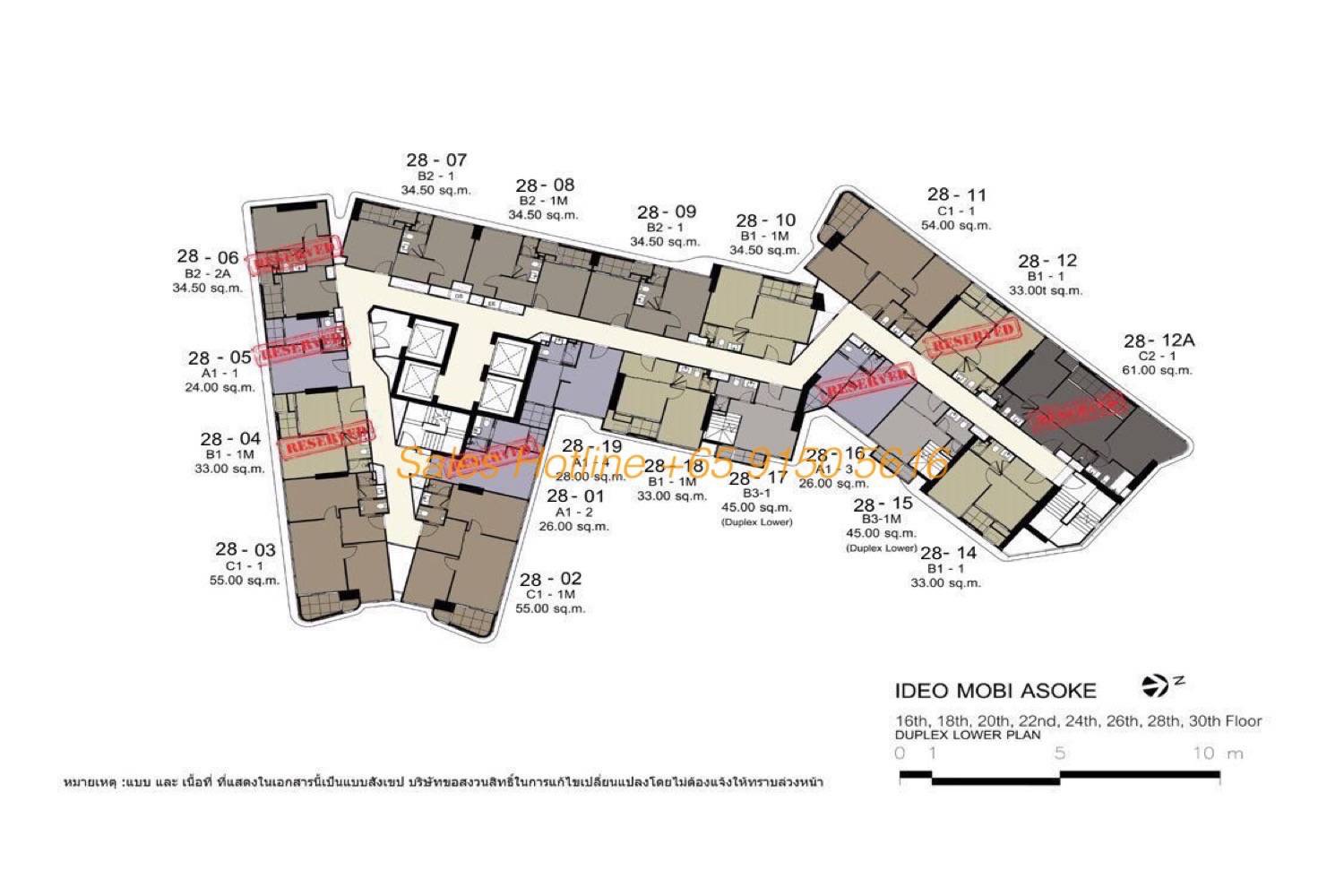 Ideo Mobi Asoke Floor Plan
Studio (from 258 sqft / 24 sqm)
1 Bedroom (from 344-3366 sqft / 32-34 sqm)
1 Bedroom Duplex (from 463 sqft / 43 sqm) – 2 bathroom with 5.9m ceiling height
2 Bedroom with 1 bathroom (from 570 sqft / 53 sqm)
2 Bedroom with 2 bathroom (from 646 sqft / 60 sqm)
Register Interest for Ideo Mobi Asoke detail floor plan and unit facing
Ideo Mobi Asoke Payment Schedule
For Singapore Purchaser
Booking Fee of S$5000 (Cheque)
20% telegraphic transfer to project account, thereafter return of booking cheque
80% payment on completion estimated 2018
For Thailand and other international buyers
20% telegraphic transfer to project account
80% payment on completion
Documents will be courier to and fro for signing
Ideo Mobi Asoke Miscellaneous Charges on Completion
THB500-THB700 per sqm one time payment for Ideo Mobi Asoke Sinking Fund
THB45-THB75 per sqm / month for Maintenance Fee (Paid Annually)
2% Transfer Fee
Estimated THB2000 for administration charges
Estimated THB4000 for electrical activation charges
Ideo Mobi Asoke Price
Indicative Prices
Residential
Studio: Estimated SGD17x,xxx or 4,3xx,xxx THB
Average PSM is THB180,000
For an exact pricing of a unit, register for an appointment to view Ideo Mobi Asoke showroom / showflat by calling or filling the form at the bottom of this page.
Register Interest for Ideo Mobi Asoke
Like It Share It! Ideo Mobi Asoke