Chapter One Eco รัชดา-ห้วยขวาง
Chapter One Eco Showflat/Showroom Gallery: (+65) 6100 1380
Register interest by SMS/Whatsapp to (+65) 91505616:
"Chapter One Eco"_"Name"_"Email"_"Your Messages"
Chapter One Eco is the latest project launch by one of Thailand's Top property developer – Pruksa Real Estate. This freehold development is set in Ratchada, Bangkok, and features a Scandinavian theme design with a blend of Eco friendly features within the development. Set to be near to Ratchada – Huaikwang MRT, Chapter One Eco will be the most value for money high rise residential condominium for sale in Bangkok's New CBD.
Chapter One Eco Ratchada – Huay Kwang will comprise of 8 residential buildings of 25 floors. The development comes with a full range of condominium facilities, energy savings integration, eco-oriented design, and many more. Units will comprise of studio and 1 bedrooms, all fully furnished. Only Tower A will be allocated for international purchasers.
Reasons to Invest in Chapter One Eco:
Rare mega Freehold Condo in the area with mega facilities
Fully furnished units starting from S$108,000, with low downpayment from est. S$20k + deferred payment of remaining 80% at completion in 2019
Located in Bangkok New CBD – Close to many Grade A Offices and upscale department stores
In close proximity to Huai Khwang MRT, amenities, malls, international Schools
Developed by listed and multi-award winning developer – Pruksa Real Estate
Development on a huge scale with the most facilities in the area
Real focus on going green, with energy savings and eco design integrated into the development
Stylish Scandinavian design and theme
Potential for steady capital gain in the mid-long term
Low and affordable quantum – Best choice for investment!
Hurry and register your interest today for the latest updates and enjoy the best discounts and pricing on launch. Open for sale to local Thais and foreigners.
Register Interest for Chapter One Eco Ratchada
Chapter One Eco Updates
11th November 2016: Chapter One Eco to be launch this weekend. Come down and register now  to attend our public seminar on Bangkok's property market and the development
31st October 2016: Chapter One Eco is currently open for viewing. Hurry and register your interest today. There will be a showflat in Singapore for Singapore Buyers. For International buyers who cannot be physically present, registration of interest and booking can be done online. Communication will be carried out via email and text message. Enquire now for more details
Chapter One Eco - The Development & Facilities
Clubhouse
Glasshouse
Glasshouse
Fitness Station
Pool View
BBQ Area
Library
Work House
These are some of the facilities available in the development. Some other facilities includes basketball court, swimming pool, jacuzzi, pool terrace, home theatre room, jogging track, and many more. In addition, there will be cafes and shops at the entrance of the development.
Chapter One Eco by Pruksa Factsheet
Project Name: Chapter One Eco Ratchada – Huay Kwang
Developer: Pruksa Real Estate Public Company Limited
District: Huay Kwang District
Address: Pracha Uthit Road
Brief Description: Proposed residential development comprising of 8 buildings of 25 floors with full condominium facilities. Allocation for international purchasers will be only Tower A
Site Area: est. 20,845.7 sqm / 224,374 sqft
Tenure: Freehold
Total Units: 1907 Units (International Allocation for Tower A: 207 Units)
Estimated Completion: 2nd quarter of 2019
Chapter One Eco Ratchada Location Map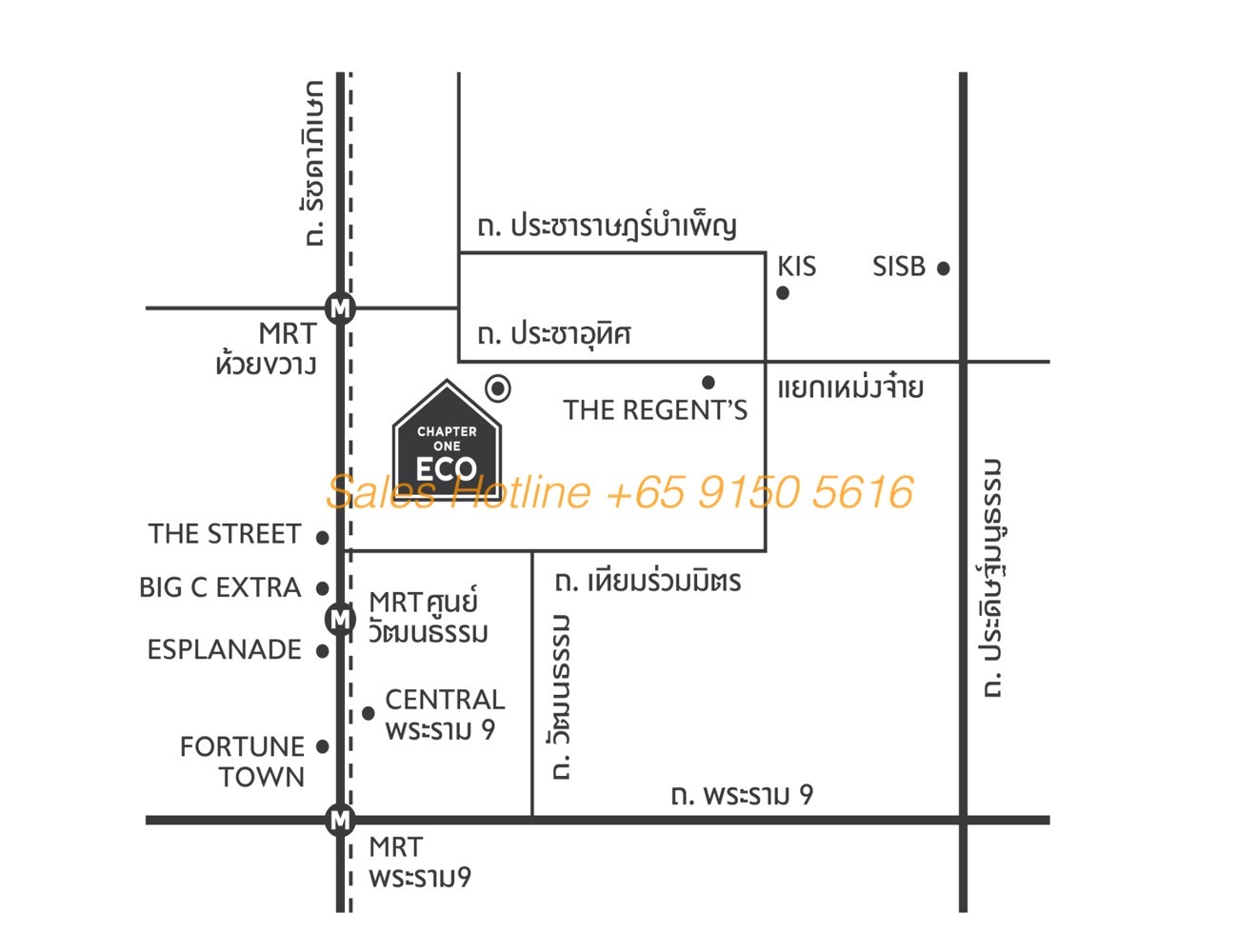 Chapter One Eco Condo Site Plan
Building A released for sale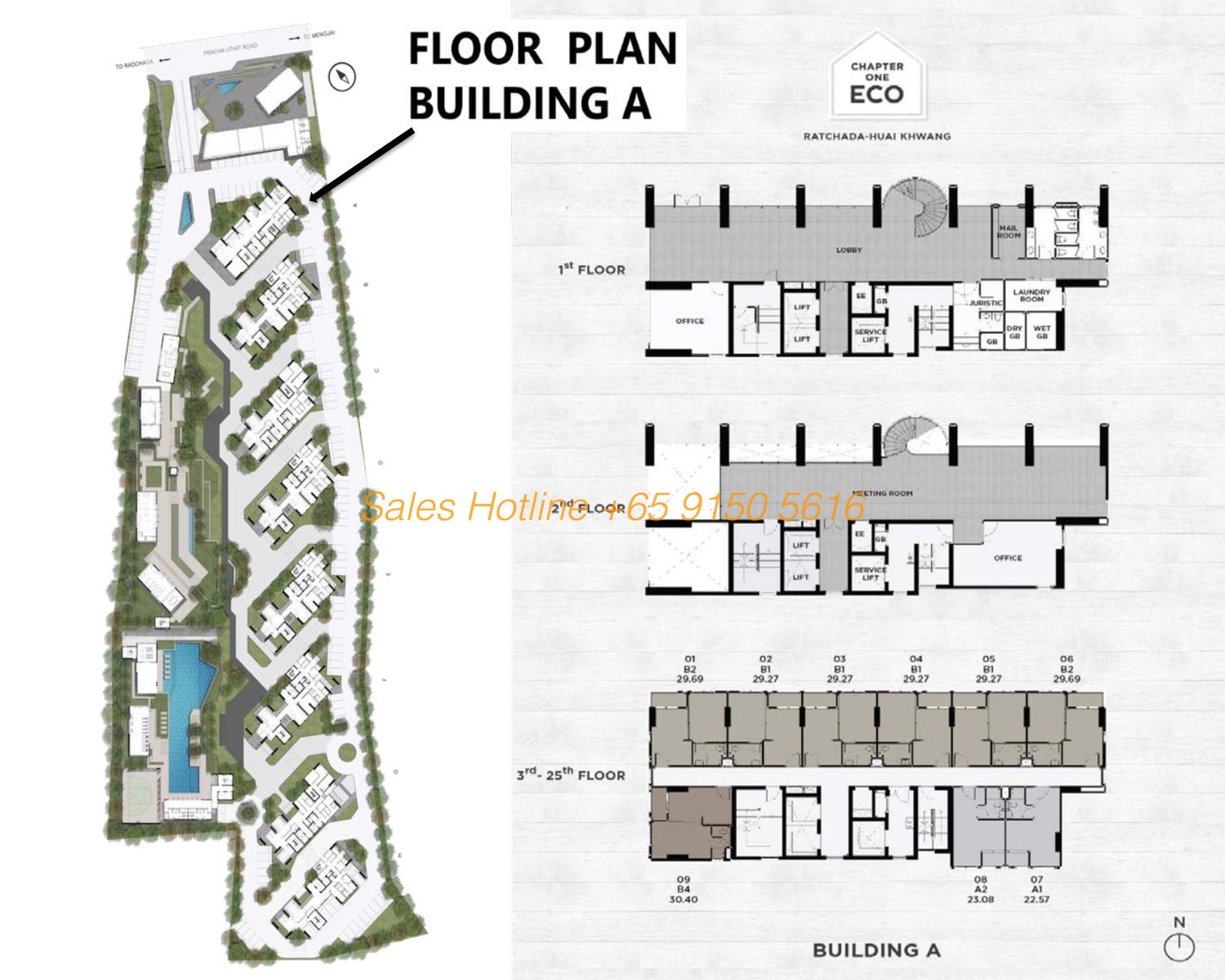 Chapter One Eco Floor Plan
Studio (243-250 sqft / 22.57-23.26 sqm)
1 Bedroom (315-393 sqft / 29.27-36.53 sqm)
Chapter One Eco Ratchada Huaikwang Price
Indicative Prices
Starting from S$108,000 only! Hurry and enquire today!
For an exact pricing of a specific unit, register for an appointment to view Chapter One Eco showroom / showflat by calling or filling the form at the bottom of this page.
Payment Schedule
Admin Fee of SGD5,000 + THB50,000 Booking Fee
20% Downpayment less SGD5,000 within 14 days
80% Balance on completion estimated 2019
*Note that for all International purchases, transfer must be made in foreign currency except Thai Baht
**Up to 70% financing available
Other Charges
One Time Sinking Fund of THB500 per sqm
Maintenance Fee of THB55 per sqm/month
2% Transfer fee on registered value
Administration charges of THB2,000
Estimated Electrical Activation Charges of THB4,000
Taxation on Resale
0.5% Stamp duty tax of purchase price or appraised value (whichever is higher). This is to be paid by seller, only if sold after first 5 years from transfer of title
3.3% Specific business tax of purchase price or appraised value (whichever is higher). This is to be paid by seller, only if sold after first 5 years from transfer of title
1% or 5-35% withholding tax of appraised value. For companies, 1% of purchase price or appraised value (whichever is higher). For Individuals, based on personal marginal tax rate of 5-35%. This is all to be paid by seller
Register Interest for Chapter One Eco by Pruksa
Like It Share It! Chapter One Eco