28 Chidlom
28 Chidlom Condo Showflat/Showroom Gallery: (+65) 6100 1380
Register interest by SMS/Whatsapp to (+65) 91505616:
"28 Chidlom"_"Name"_"Email"_"Your Messages"
There will be allocation for international purchasers to book a unit at 28 Chidlom. Register now before the quota is filled! Complete your interest in the form below for more information on the development. A sales representative will contact you and walk you through the process of booking a unit at 28 Chidlom. Other enquiries, if any, will be address. Such includes property laws, taxes, etc. Scroll below for step by step guide to go about purchasing a unit
Register Interest for 28 Chidlom Bangkok
28 Childom - Latest News and Updates
18th Feb 17: 28 Chidlom will be holding a hotel event in Singapore on the 19 Feb 17, Sunday. Register now for a private invitation to our exclusive event held over at Hilton Hotel
7 Feb 17: International allocation units will enjoy additional 3% discounts. 28 Chidlom will be set to have their launch in Thailand to the locals on the 25 Feb 2017. Enquire now for more information if you are not a resident of Thailand and is interested to book a unit!
3rd Feb 17: New updates for 28 Chidlom! New Project information, Floor Plans, Site Plan uploaded
18th Jan 17: International launch will be carried out first before their public launch in Bangkok. There will be limited allocation to international buyers and will enjoy extra discounts for their pre-launch. Register your interest today for updates on the launch for 28 Chidlom Bangkok!
28 Chidlom - Surrounding The Development
28 Chidlom by SC Asset is located in one of the best location in Bangkok Thailand. The development sits on 52,700 sqft or 4896 sqm plot which is a rare and luxurious size considering the highly dense location in prime district of Bangkok. The 5 most popular BTS stops as shown below includes Siam, Chidlom, Ploenchit, Nana, and Asoke.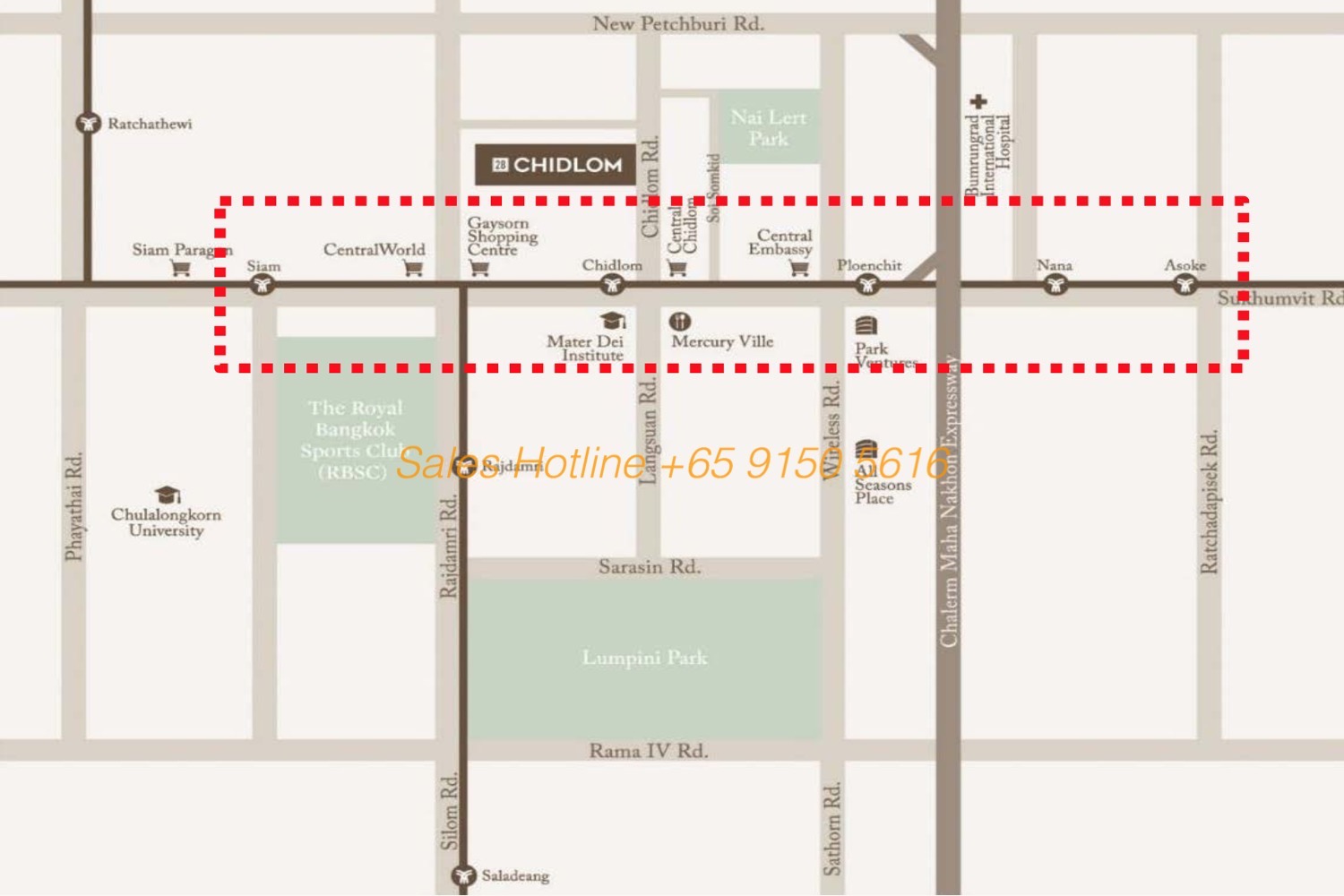 28 Chidlom (28 ชิดลม, or sometimes spelt as 28 Chitlom or 28 Chit Lom) is a residential condominium located along 19 Soi Chidlom, Khwaeng Lumphini, Khet Pathumwan. This super luxury high rise development is developed by Thailand's listed developer, SC Asset, and have a track record of developing numerous projects across Thailand. 28 Chidlom Condo is conveniently located around 470m away from the Chidlom BTS station and other amenities including Chidlom Central Department Store, Central World Shopping Mall, Aussino, 7-11, and many more.
Schools located near 28 Chidlom Bangkok includes:
Mater Dei School
Mulberry House International School
Webster University
Maha Nakhon University
Thai Massage Art School
In addition to the added convenience, residents will get to enjoy the many fine dining and restaurants in the vicinity just within minutes walk. They include The Catch Bistro, Viet Cuisine, Zabbver, Hagi, and many more. More importantly, in case of any emergency, the nearest hospital is located just 810m away from the development. These factors makes 28 Chidlom an ideal place for investment and ownstay.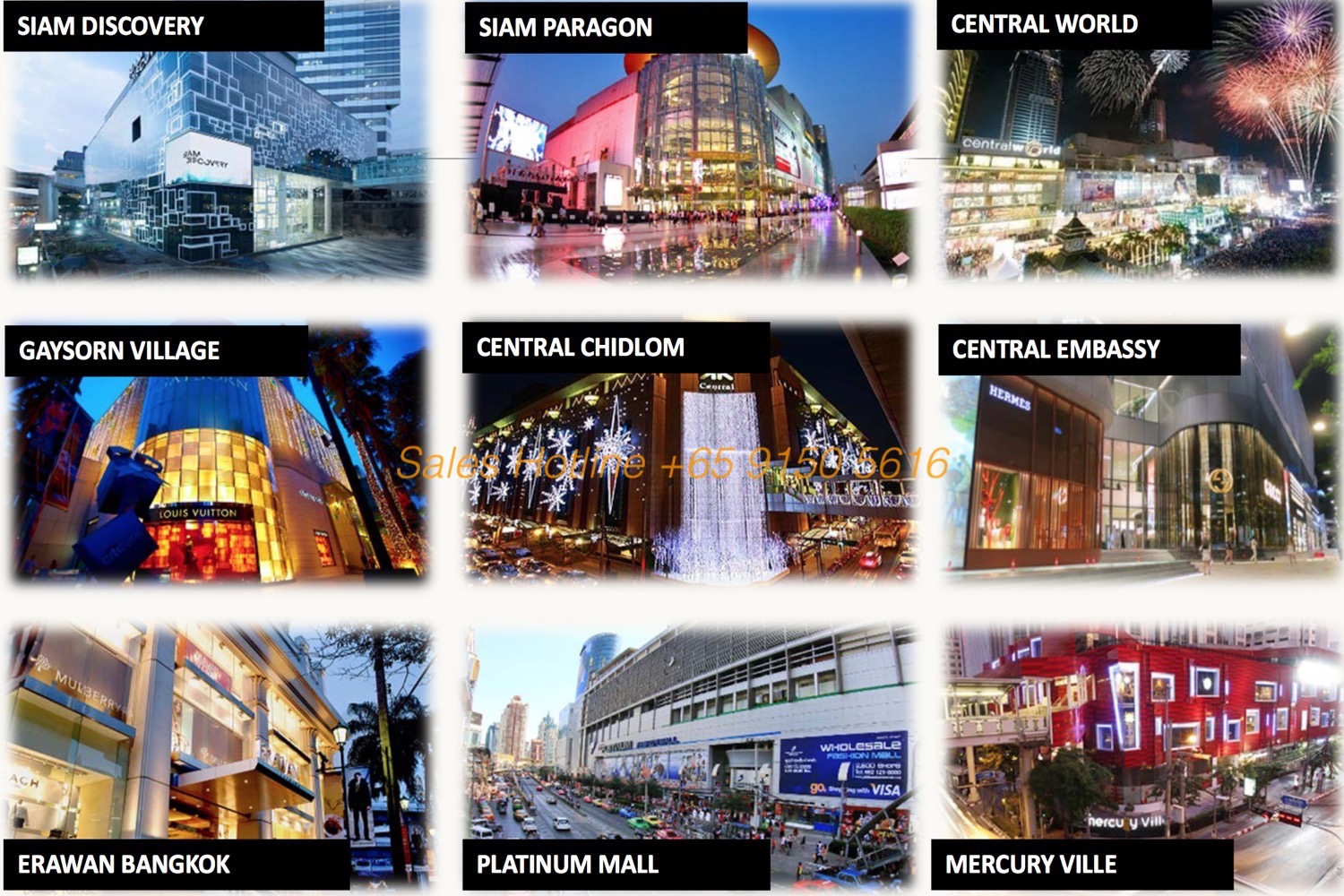 28 Chidlom condo, being located in a prime land, residents may find themselves surrounded by Bangkok's high end 5 star hotel strips nearby including St Regis, Park Hyatt, Hotel Intercontinental, and many more. In addition, residents may enjoy their everyday shopping just down the lane including Siam Paragon, Central World, Central Chidlom, Platinum Mall, and many more. This heart of the city is considered to be comparable to prime cities in other parts of the world such as New York City, Tokyo, London, and Orchard Road Singapore.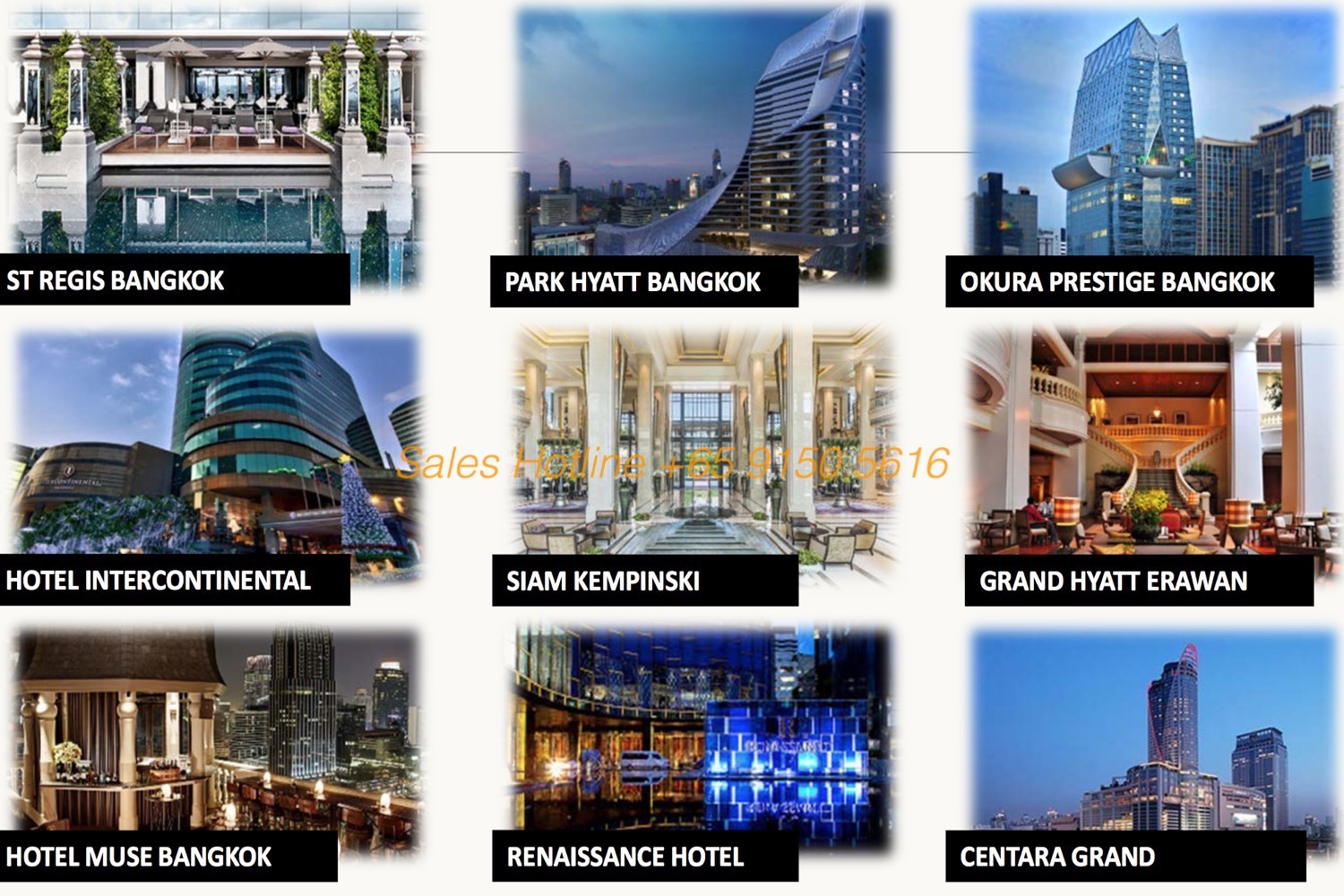 28 Chidlom comes with a price tag and is built for those who enjoy a luxurious lifestyle setting in a prime city. Just 5 minutes drive from 28 Chidlom will take residents to Bangkok's top international hospital. For those who intend to get a unit at 28 Chidlom for investment, renting out will be ideal for expats working in the nearby Central Business District. There are also many embassies located in this part of town including the British Embassy, America, Japan, Switzerland, and many more.
Immerse yourself in the beauty of many landmarks located in this region. All within minutes drive you will find the famous Lumpini Park, Erawan Shrine, Wat Pathum Wanaram, and the Royal Bangkok Sports centre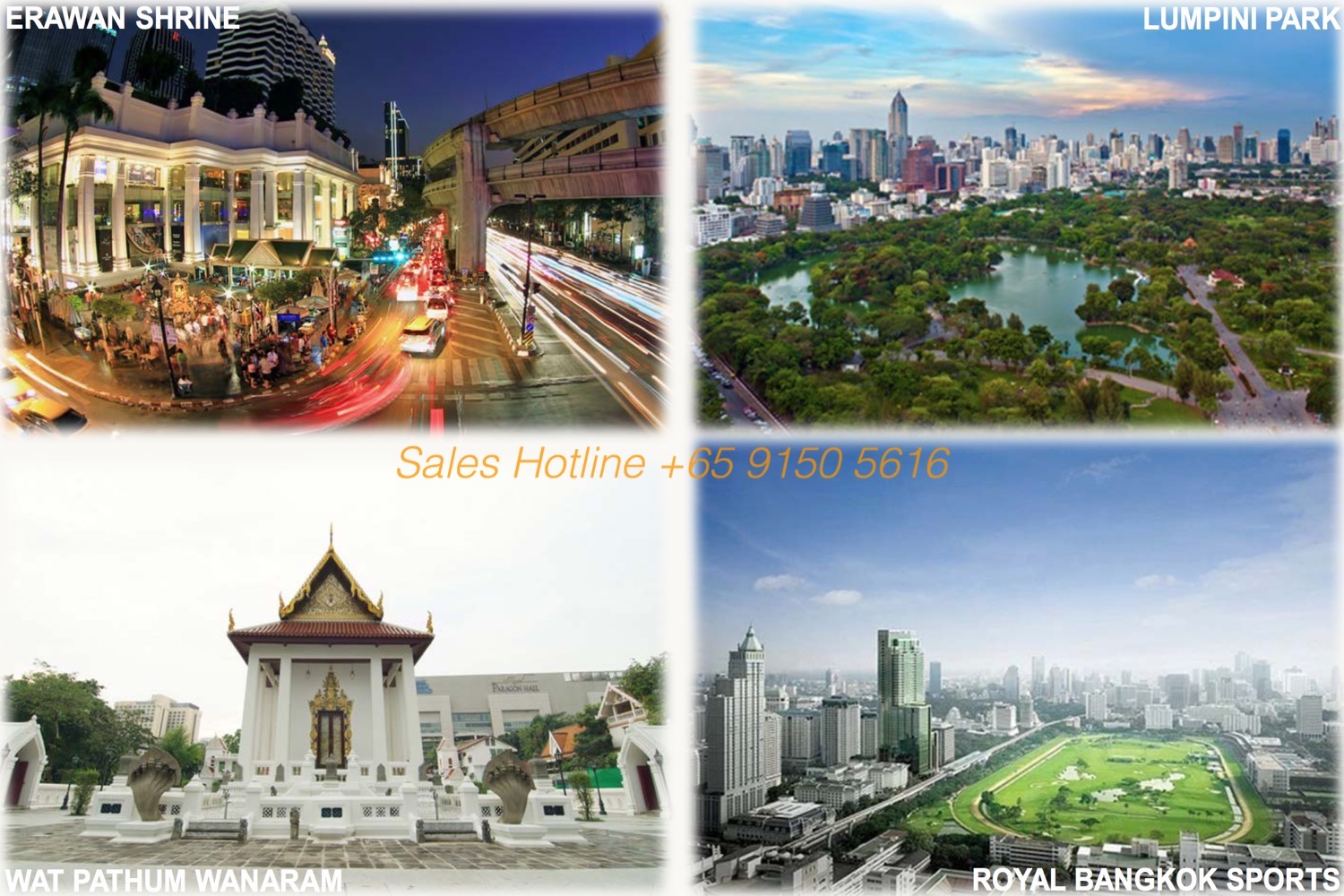 Expats looking for a place to rent will enjoy their stay over at 28 Chidlom by SC asset. With Gaysorn Tower located in close proximity, the one of a kind Grade A office tower have a total leasable area of a whooping 63,000 sqm or 678,126 sqft.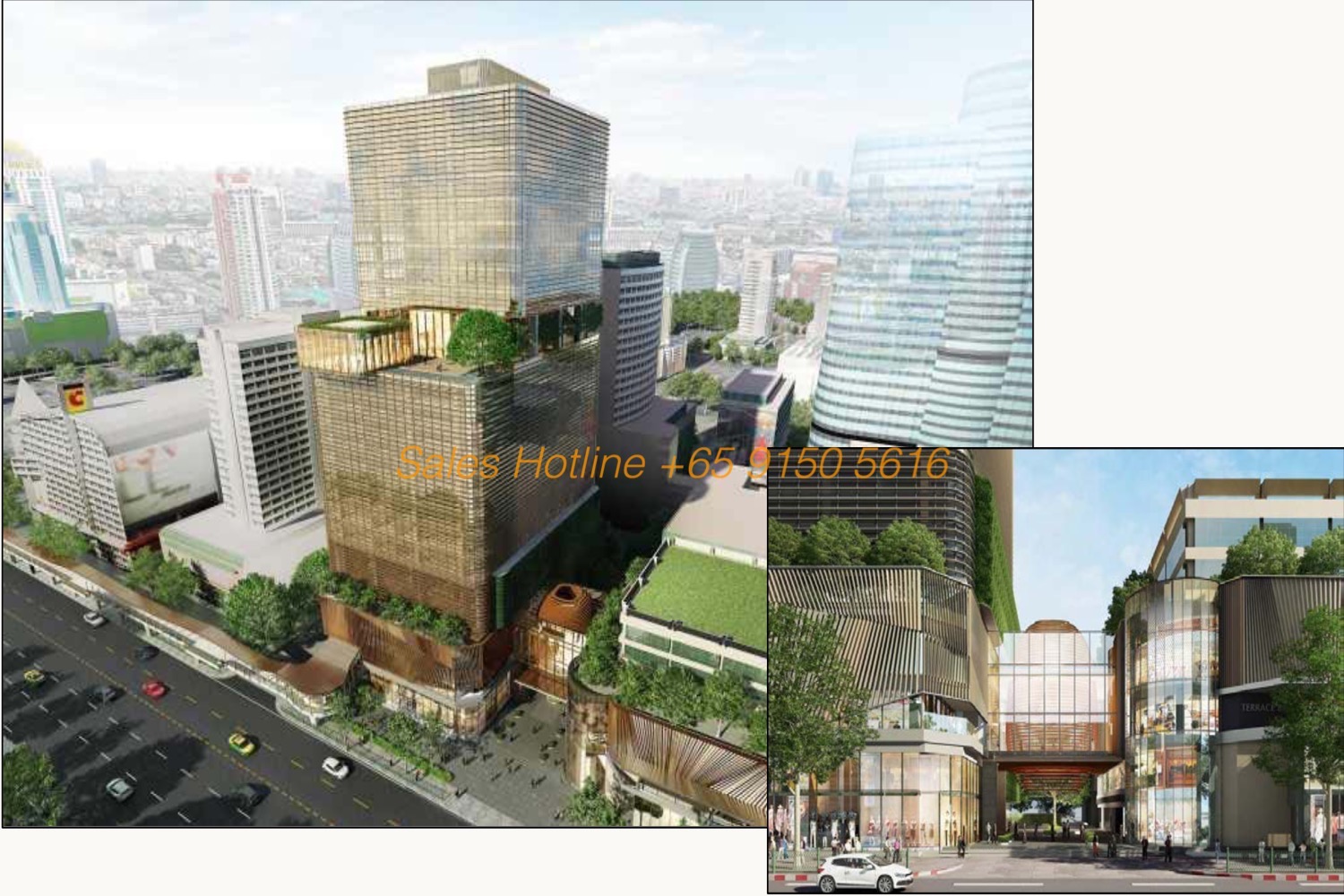 Not to mention the upcoming Market by Platinum, this is the first fully air-conditioned market comprising of 12 storey Shopping and lifestyle mall for the masses. The mall is set to have an estimated 3000 shops and 2000 seating food court, which is targeted to be completed by the end of 2018. Once completed, it will further boost land pricing surround this area.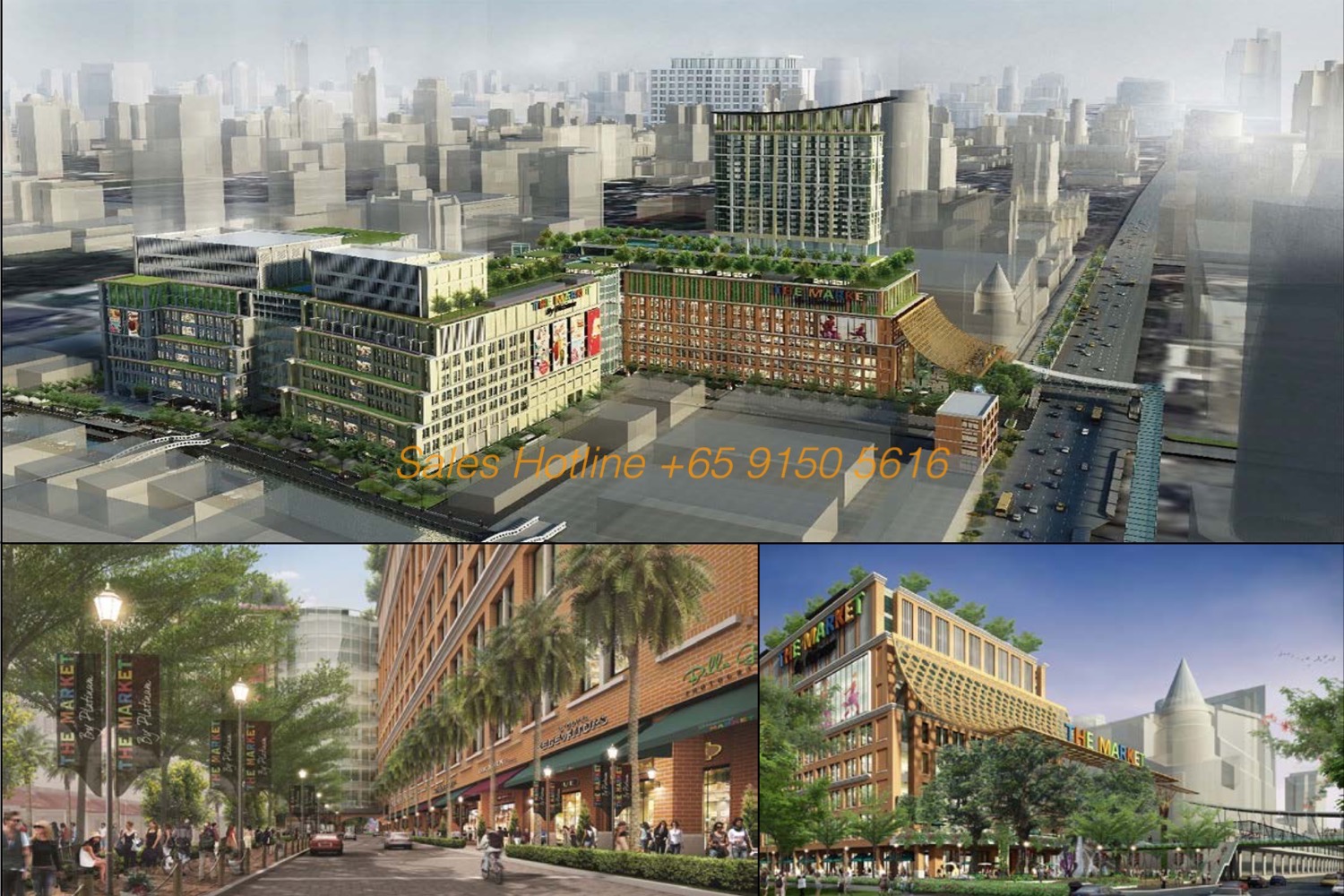 28 Chidlom - Bangkok's Skywalk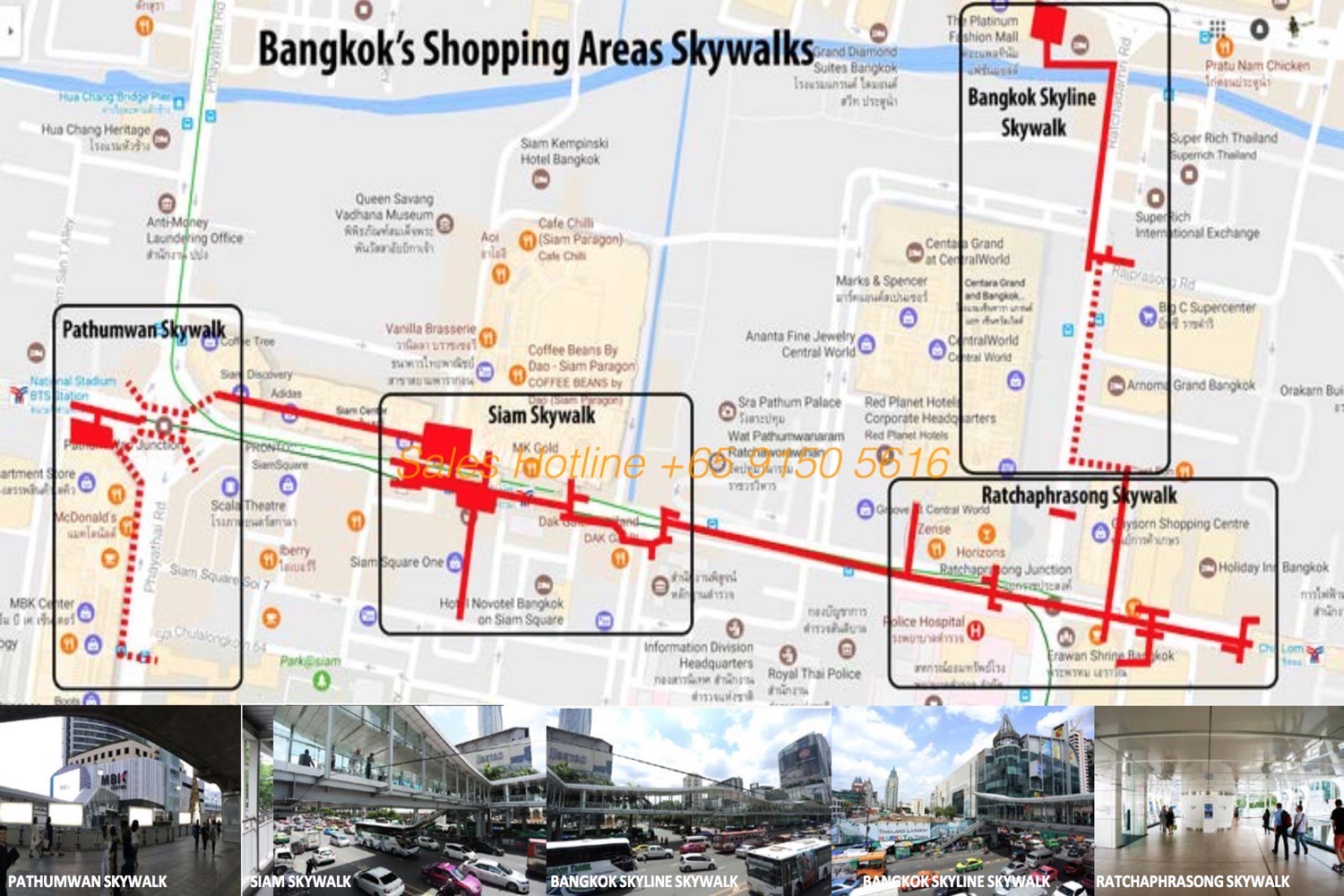 Bangkok's famous skywalk will link 28 Chidlom to other parts of Bangkok's prime and key location. These comprise of many other skywalks including Pathuwan Skywalk, Siam Skywalk, Ratchaphrasong Skywalk, and Bangkok Syline Skywalk. Some parts of the Skywalks are currently undergoing construction, while some are already completed. Bangkok city, being one of the most dense city in the world, will bring residents and tourist to ease with these skywalks put in place. These Skywalks were constructed to ease the human traffic on the ground, which have limited walkways, bringing them up onto these bridges. 28 Chidlom is just a stone throw away and residents will benefit from the convenience once completed.
28 Chidlom Condominium - The Development & Facilities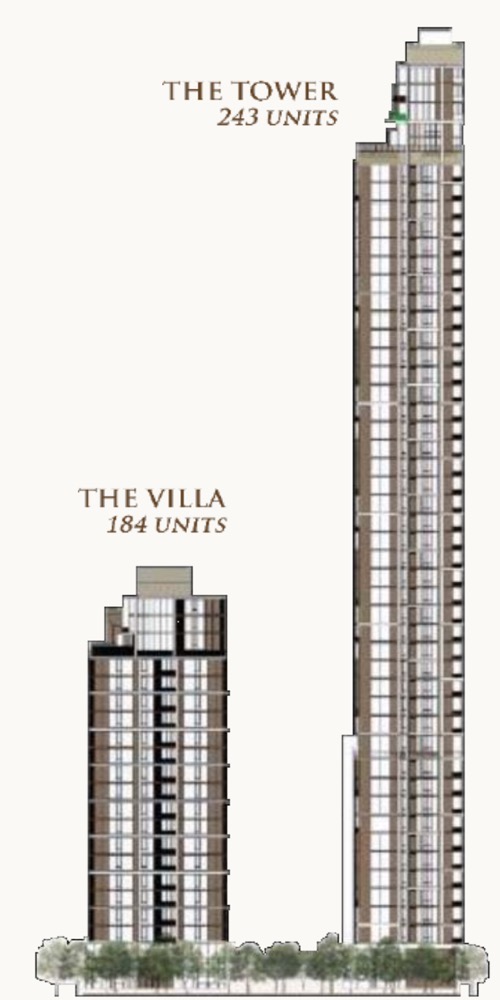 28 Chidlom Condo is a freehold development and will comprise a total of 427 units. The development will feature 2 components, The Villa with 184 units at 20 stories, and The Tower with 243 Units at 47 stories. Resident's guest will have an amazing first impression when they step into 28 Chidlom. There will be a stunning lobby and reading lounge on the ground floor. Located on the 12th floor will be the heated Spa, Sauna & Steam Room. The infinity pool, kid's pool and 2 storey fitness area will be on the 44th floor.
Each unit is spaciously design to maximise the internal space and enjoy views of the city landscape. Fitted with quality furnishing and finishes, units are well design both internally and external facade. Choice of unit types includes 1 bedroom, 2 bedrooms, 3 bedrooms, all at an affordable and attractive pricing considering the location of where the condominium sits.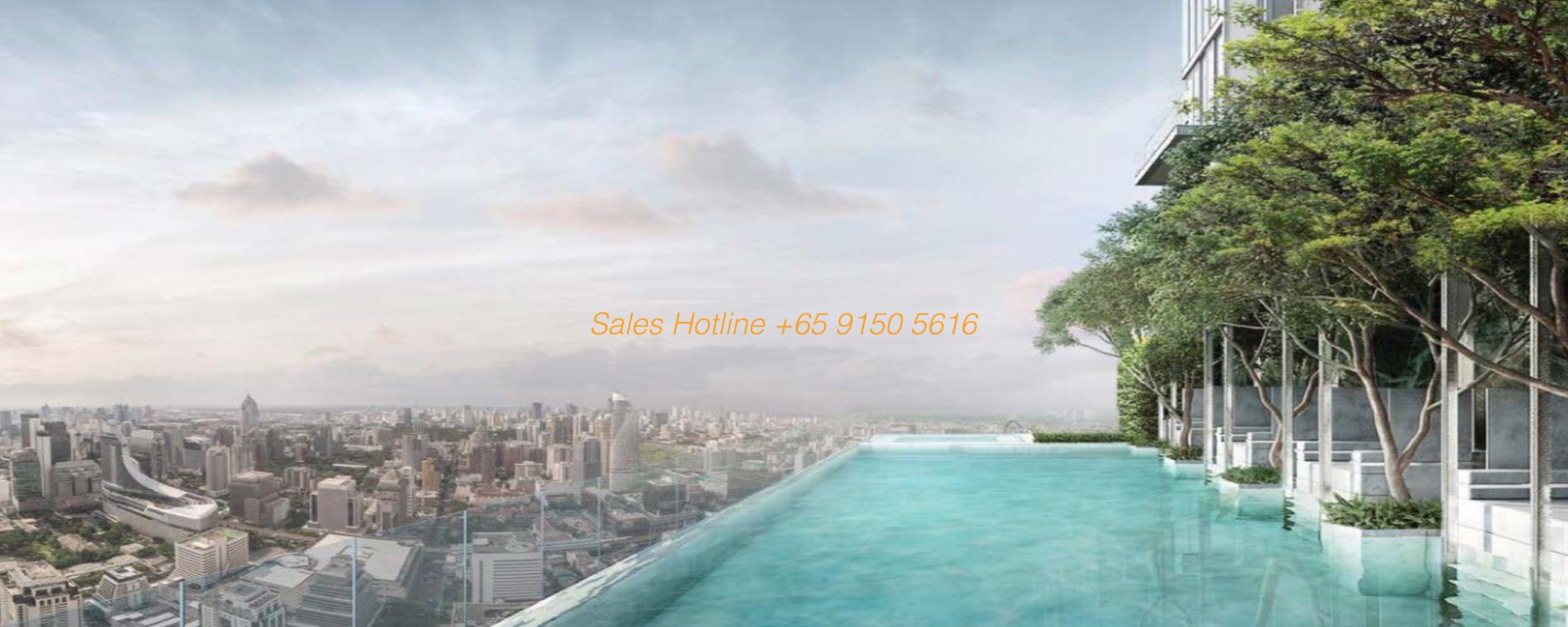 Other Condominium facilities includes the following:
 24-hour security
CCTV monitoring
Car Park
Swimming pool
Sauna
Gym
Parking
BBQ Area
Playground and Kid's Area
Wifi Zone
Shop and restaurant
28 Chidlom Condo Factsheet
Project Name: 28 Chidlom
Developer: SC Asset
Brief Description: 2 Towers comprising of 427 residential units in total. The Villa standing at 20 stories with 184, The Tower standing at 47 stories with 243 residential units
Site Area: 3-0-24 rai
Tenure: Freehold
Total Units: 427
Parking: 348 Lots (222 + 136)
28 Chidlom Bangkok Location Map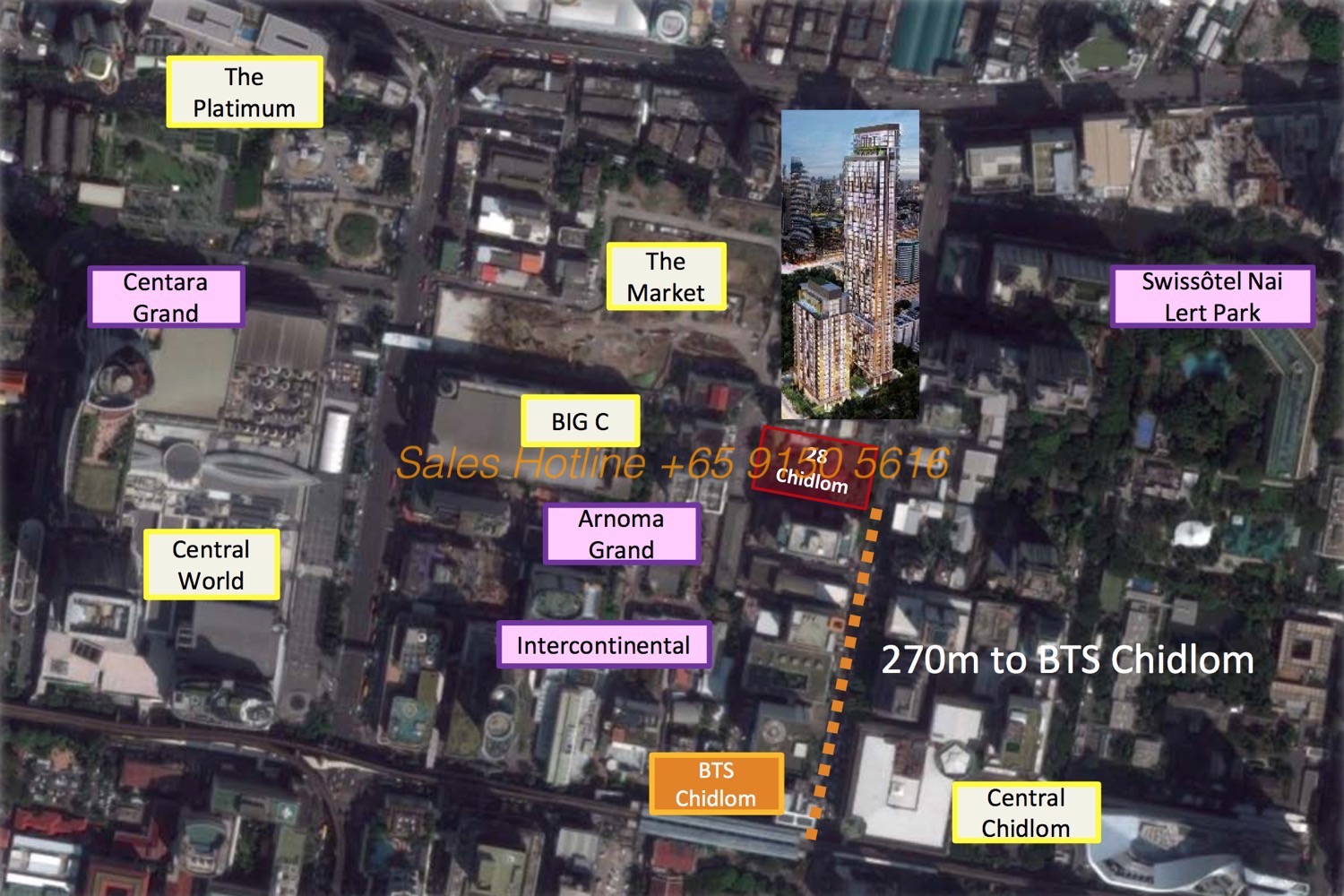 28 Chidlom Condo Site Plan
28 Chidlom comprise of 2 Towers – The Villa and The Tower
Units on The Tower will be open for sale together with international allocation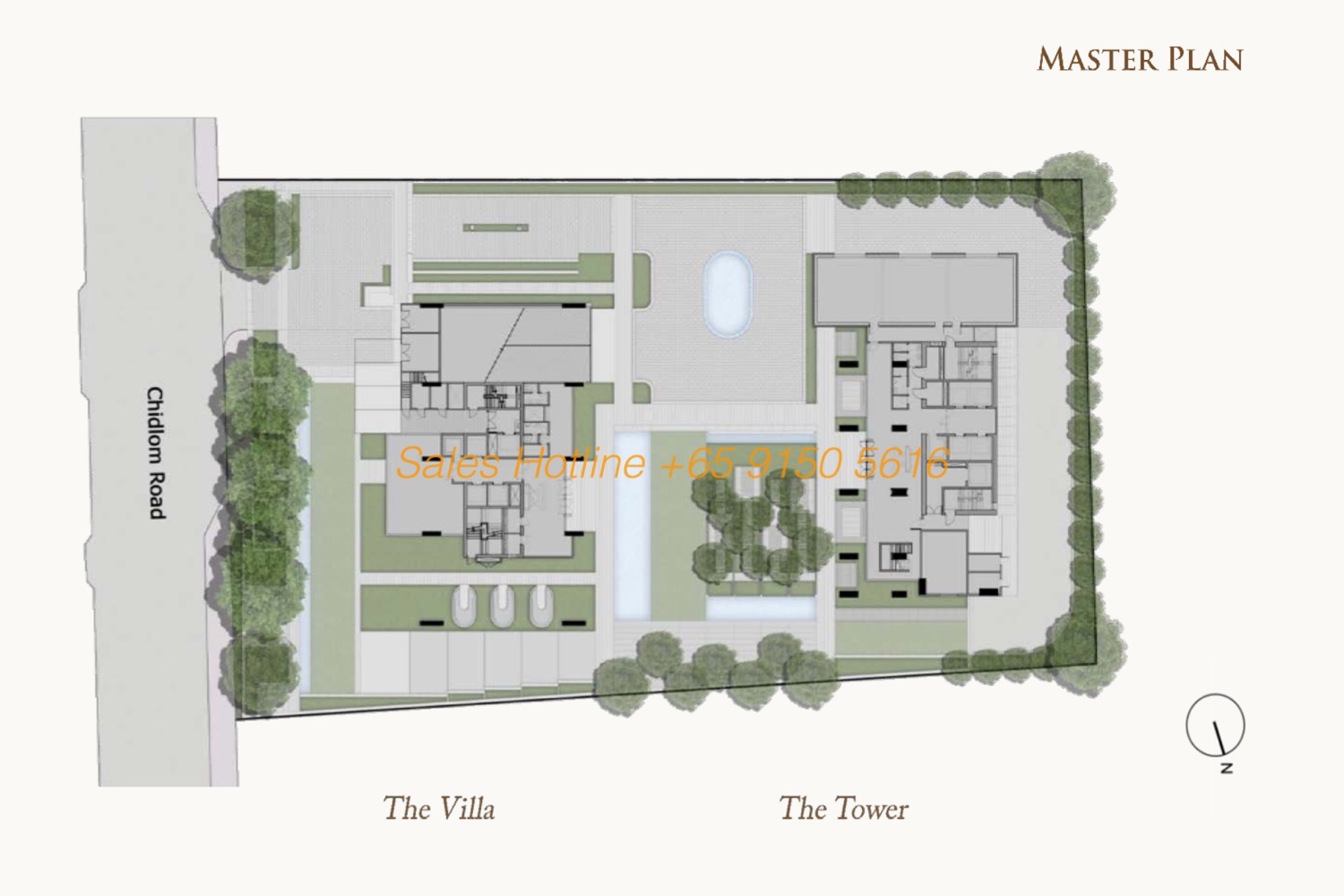 Facilities on the level 12 includes the Spa Pool, Sauna, and Steam Room
Main facilities will be located on the top floor. These includes the Fitness Room, Kid's Pool, and Infinity Pool overlooking the city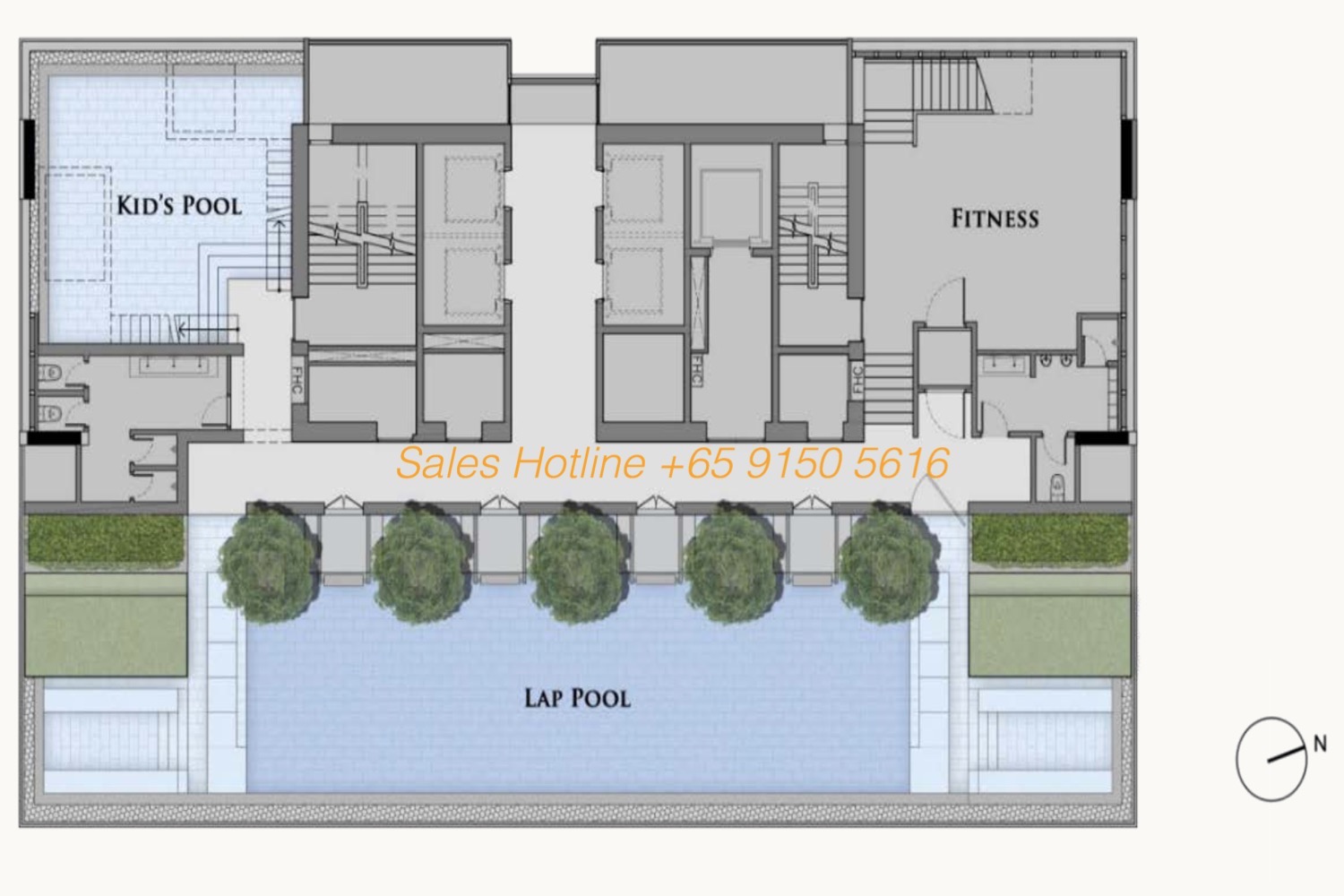 28 Chidlom – Guide to Choosing your Dream Unit
Step 1:
Units on the 16th and 40th floor of 28 Chidlom will enjoy the view as shown below:
28 Chidlom Condo – 16th Floor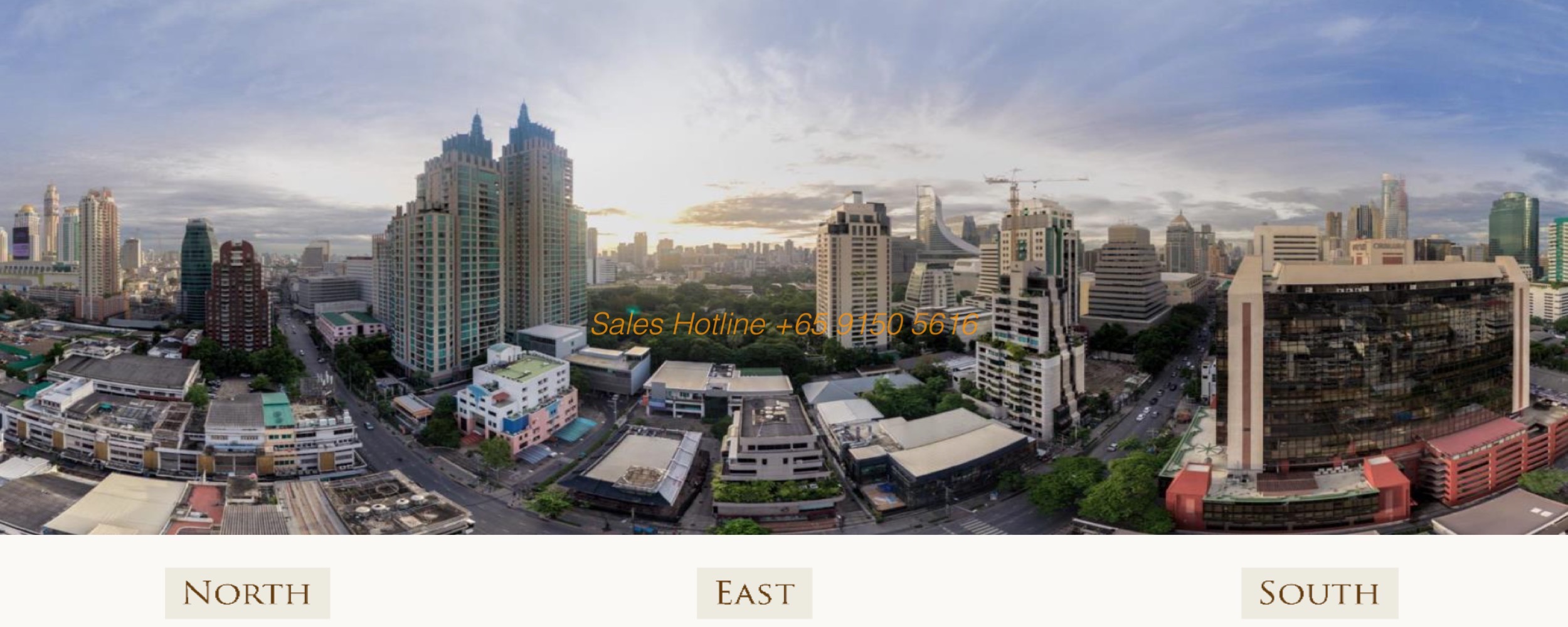 28 Chidlom Condo – 40th Floor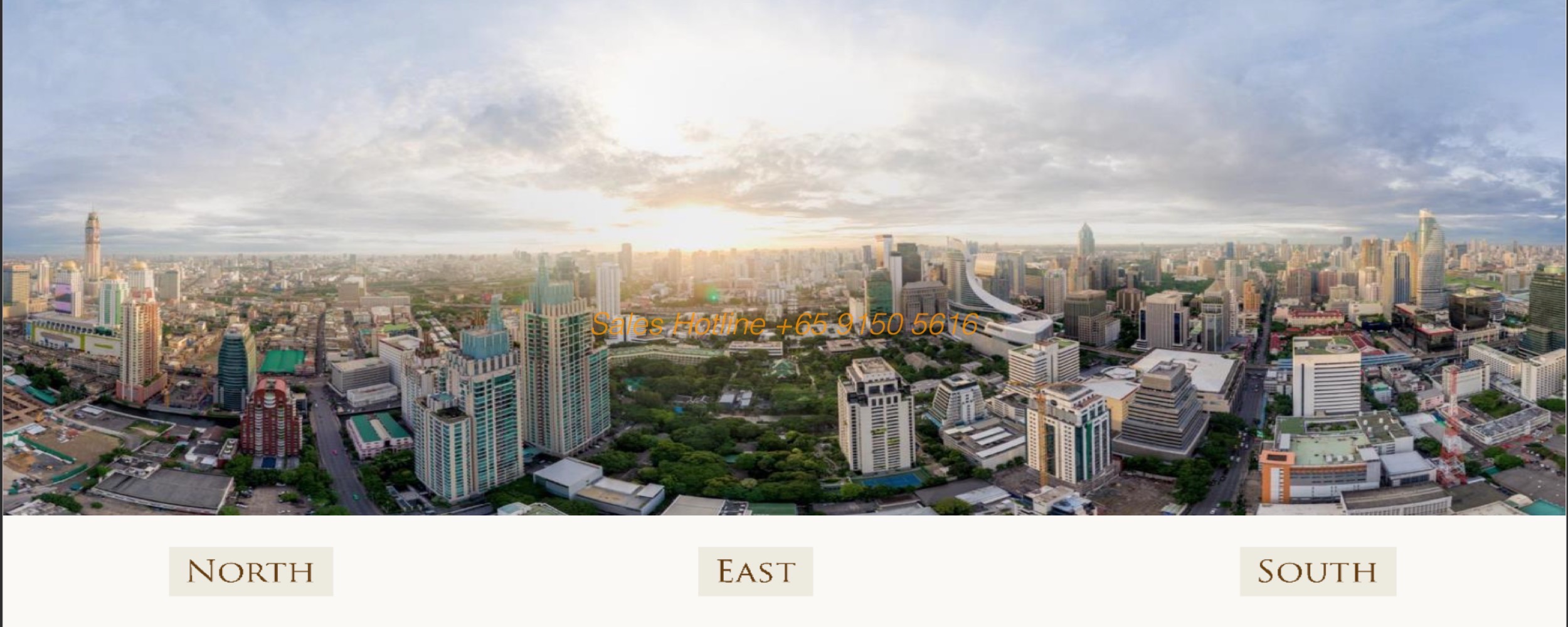 Step 2
From the Views above, choose your desired level in the site plan below:
Step 3
Choose your desirable bedroom types and layout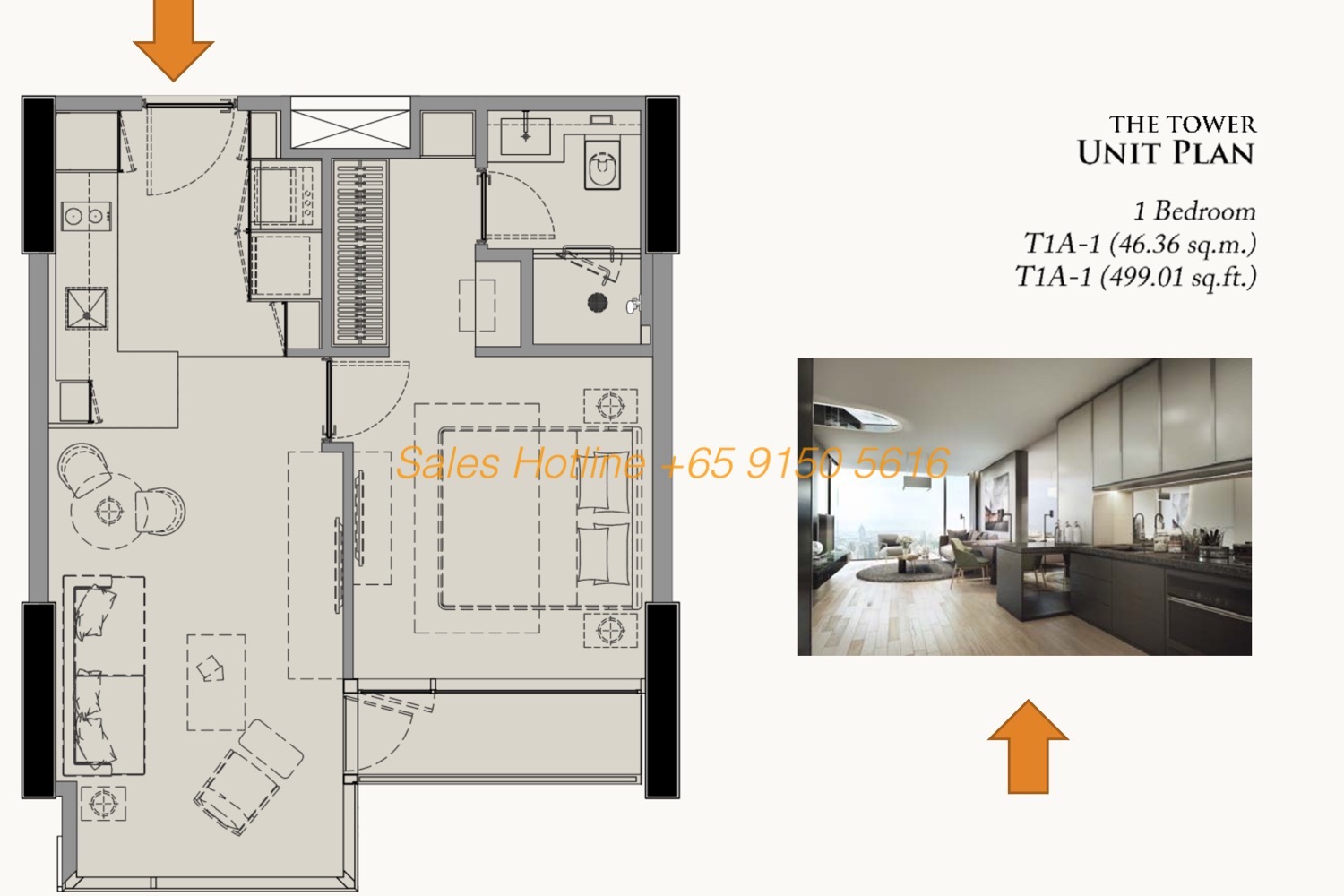 Click the bottom images to enlarge
28 Childom - Booking a unit and other Charges
Booking a unit at 28 Chidlom requires a sales representative for administrative purposes and advice. Register your interest in the form provided at the bottom of the page
Sales Procedure for 28 Chidlom Condominium
Booking fee of SGD5000 or equivalent to project account provided by a sales representative (Register your interest here and a sales representative will contact you shortly)
15% of purchase price less booking fee within 14 days
85% balance payable within 30-60 days prior to transfer of title
Other Charges:
Sinking Fund of THB1000 / psm (One Time Fee)
Common Fee of THB100 psm / month (upfront payment of 1 year)
2% Transfer fee on Registered Value (One Time Fee)
Administration Charges of Est. THB2000 (One Time Fee)
Electrical Activation fee of Est. THB4000 (One Time Fee)
28 Chidlom Condo Price
Indicative Prices
1 Bedroom (43.85 sqm / 472 sqft) from around USD420k or SGD592k
2 Bedroom (69.25 sqm / 745 sqft) from USD638k or SGD900k
3 Bedroom (123.27 sqm / 1,327 sqft)from USD 1.453mil or SGD2.049mil
Register Interest for Project Name
Like It Share It! 28 Chidlom